Abstract
A 60-year-old woman and her 67-year-old male partner, admitted for pneumonia and non-ST elevation myocardial infarction, respectively, had severe anaemia (Hb 5.3 and 5.2 g/dL, respectively), as a result from massive infestation with Cimex lectularius. After two erythrocyte transfusions and thorough decontamination, their clinical course was unremarkable.
This is a preview of subscription content, log in to check access.
Access options
Buy single article
Instant access to the full article PDF.
US$ 39.95
Price includes VAT for USA
Subscribe to journal
Immediate online access to all issues from 2019. Subscription will auto renew annually.
US$ 199
This is the net price. Taxes to be calculated in checkout.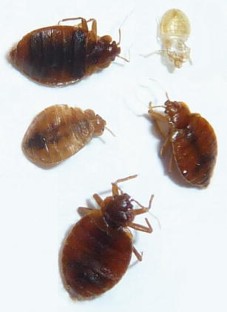 References
Abdel-Naser MB, Lotfy RA, Al-Sherbiny MM, Sayed Ali NM (2006) Patients with papular urticaria have IgG antibodies to bedbug (Cimex lectularius) antigens. Parasitol Res 98(6):550–556

Criado PR, Belda Junior W, Criado RFJ, Vasconcellos e Silva R, Vasconcellos C (2011) Bedbugs (Cimicidae infestation): the worldwide renaissance of an old partner of human kind. Brazil J Infect Dis 15(15):74–80

Delaunay P, Blanc V, Del Giudice P, Levy-Bencheton A, Chosidow O, Marty P, Brouqui P (2011) Bedbugs and infectious diseases. Clin Infect Dis 52(2):200–210

Goddard J, deShazo R (2009) Bed bugs (Cimex lectularius) and clinical consequences of their bites. JAMA 301(13):1358–1366

Harlan H (2006) Bed bugs 101: the basics of Cimex lectularius. American Entomologist 52(2):99–101

Janisch E (1934) Über die Vermehrung der Bettwanze Cimex lectularius in verschiedenen Temperaturen-Beobachtungen bei der Aufzucht von Bettwanzen. Parasitol Res 7(4):408–439

Kilpinen O, Kristensen M, Jensen KM (2011) Resistance differences between chlorpyrifos and synthetic pyrethroids in Cimex lectularius population from Denmark. Parasitol Res 109(5):1461–1464

Marx R (1955) Host determination and the significance of type specific odors in Cimex lectularius Linné. Parasitol Res 17(1):41–73

Masetti M, Bruschi F (2007) Bedbug infestations recorded in Central Italy. Parasit Int 56(1):81–83

Mumcuoglu K (2008) A case of imported bedbug (Cimex lectularius) infestation in Israel. Isr Med Assoc J 10(5):388–389

Mumcuoglu Y, Rufl T (1982) Dermatologische Entomologie. Humanpathologisch bedeutsame Milben und Insekten in Mitteleuropa. Perimed Fachbuch-Verlagsgesellschaft Erlangen, Wiesbaden

Pritchard M, Hwang S (2009) Cases: severe anemia from bedbugs. CMAJ 181(5):287–288

Romero A, Potter M, Potter D, Haynes K (2007) Insecticide resistance in the bed bug: a factor in the pest's sudden resurgence? J Med Entomol 44(2):175–178

Venkatachalam P, Belavady B (1962) Loss of haemoglobin iron due to excessive biting by bed bugs. A possible aetiological factor in the iron deficiency anaemia of infants and children. Trans R Soc Trop Med Hyg 56:218–221
About this article
Cite this article
Paulke-Korinek, M., Széll, M., Laferl, H. et al. Bed bugs can cause severe anaemia in adults. Parasitol Res 110, 2577–2579 (2012). https://doi.org/10.1007/s00436-011-2777-6
Received:

Accepted:

Published:

Issue Date:
Keywords
Blood Meal

Mirtazapine

Mean Corpuscular Haemoglobin

Tramal

Acetylsalicylate