Abstract
Clonorchiasis is a common zoonosis in southern and northeastern parts of China, especially in Guangdong, Guangxi and Jilin province. Anti-Clonorchis sinensis antibody detection by enzyme-linked immunosorbent assay (ELISA) has been used for epidemiological surveys of clonorchiasis for its convenience and celerity, but it is still a meaningful work to screen ideal diagnostic antigen or antibody subtype for improvement of diagnostic sensitivity and specificity and for judgement of curative effect. In the present study, recombinant CsCatL-propeptide (rCsCatL-propeptide) was highly expressed in form of inclusion body in Escherichia coli. Soluble rCsCatL-propeptide with high purity were obtained after purification in denatured condition by using His Bind Purification kit, and then renatured. The major antibody subtypes responding to rCsCatL-propeptide in sera from clonorchiasis patients were IgG1 and IgG4, but the level of IgG4 was more predominant (P < 0.05). The sensitivity of specific IgG4 detection (91.7%) was statistically significantly higher than that of IgG1 (25.0%) with rCsCatL-propeptide (P < 0.01). The specificities of IgG1 and IgG4 detection with rCsCatL-propeptide were 83.3% and 88.5%, respectively, and the difference between them was not statistically significant (P > 0.05). Cross-reactions took place when we detected IgG1 of sera from patients infected with Schistosoma japonicum, Paragonimus westermani, hookworm, Trichuris trichiura and Ascaris lumbricoides with rCsCatL-propeptide, while cross-reactions only took place in sera from patients infected with S. japonicum and P. westermani when we detected specific IgG4. The positive rate of IgG4 detection in sera from clonorchiasis patients with <1,000, 1,000–4,999, 5,000–9,999, and ≥10,000 eggs per gram faeces (EPG) were 76.9%, 89.3%, 95.6%, and 100.0%, respectively. The positive rates of serodiagnosis correlated well with the EPG (r = 0.93). Overall, rCsCatL-propeptide is a valuable candidate for specific IgG4 detection in sera from clonorchiasis patients by the method of ELISA for its few cross-reaction and acceptable sensitivity. In addition, specific IgG4 detection can be used to valuate infected degree and therapeutic effect of clonorchiasis patients.
This is a preview of subscription content, log in to check access.
Access options
Buy single article
Instant access to the full article PDF.
US$ 39.95
Price includes VAT for USA
Subscribe to journal
Immediate online access to all issues from 2019. Subscription will auto renew annually.
US$ 199
This is the net price. Taxes to be calculated in checkout.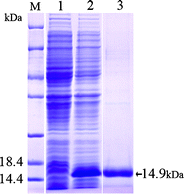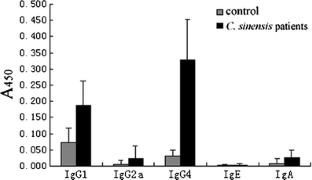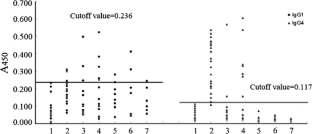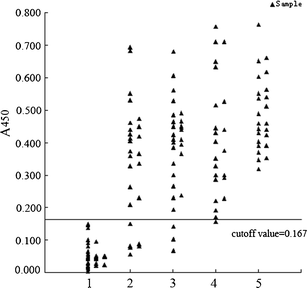 References
Aceti A, Pennica A, Teggi A, Fondacaro LM, Caferro M, Leri O, Tacchi G, Celestino D, Quaranta G, De Rosa F (1993) IgG subclasses in human hydatid disease: prominence of the IgG4 response. Int Arch Allergy Immunol 102(4):347–351

Choi BI, Han JK, Hong ST, Lee KH (2004) Clonorchiasis and cholangiocarcinoma: etiologic relationship and imaging diagnosis. Clin Microbiol Rev 17(3):540–552

Cornelissen JB, Gaasenbeek CP, Borgsteede FH, Holland WG, Harmsen MM, Boersma WJ (2001) Early immunodiagnosis of fasciolosis in ruminants using recombinant Fasciola hepatica cathepsin L-like protease. Int J Parasitol 31:728–737

Dalton JP, Clough KA, Jones MK, Brindley PJ (1996) Characterization of the cathepsin-like cysteine proteinases of Schistosoma mansoni. Infect Immun 64:1328–1334

Hong ST (1988) Changes of anti-Clonorchis sinensis IgG antibody in serum after praziquantel treatment in human clonorchiasis. Korean J Parasitol 26:1–8

Hu X, Li Y, Xu J, Hu F, Zhao J, Yu X (2008) Cloning and bioinformatic analysis of cathepsin L1-like full-length gene from Clonorchis sinensis. J Pathogen Biol 3(7):508–5013 (in Chinese)

Huang B, Li G, Jia F, Liu F, Ge L, Li W, Cheng Y (2002) Determination of specific IgG4 for diagnosis and therapeutic evaluation of cerebral cysticercosis. Chin Med J 115(4):580–583

Huang SY, Tang JD, Song HQ, Fu BQ, Xu MJ, Hu XC, Zhang H, Weng YB, Lin RQ, Zhu XQ (2011) A specific PCR assay for the diagnosis of Clonorchis sinensis infection in humans, cats and fishes. Parasitol Int. doi:10.1016/j.parint.2011.07.010

Kang SY, Ahn IY, Park CY, Chung YB, Hong ST, Kong Y, Cho SY, Hong SJ (2001) Clonorchis sinensis: molecular cloning and characterization of 28-ku glutathione S-transferase. Exp Parasitol 97(4):186–195

Lee JY, Kim TY, Gan XX, Kang SY, Hong SJ (2003) Use of a recombinant Clonorchis sinensis pore-forming peptide, clonorin, for serological diagnosis of clonorchiasis. Parasitol Int 52(2):175–l78

Li Y, Hu X, Liu X, Xu J, Hu F, Ma C, Yu X (2009) Molecular cloning and analysis of stage and tissue-specific expression of Cathepsin L-like protease from Clonorchis sinensis. Parasitol Res 105(2):447–452

Lim MK, Ju YH, Franceschi S, Oh JK, Kong HJ, Hwang SS, Park SK, Cho SI, Sohn WM, Kim DI, Yoo KY, Hong ST, Shin HR (2006) Clonorchis sinensis infection and increasing risk of cholangiocarcinoma in the Republic of Korea. AmJTrop Med Hyg 75(1):93–96

Lin YL, Chen ER, Yen CM (1995) Antibodies in serum of patients with clonorchiasis before and after treatment. Southeast Asian J Trop Med Publ Health 26:114–119

Lun ZR, Gasser RB, Lai DH, Li AX, Zhu XQ, Yu XB, Fang YY (2005) Clonorchiasis: a key foodborne zoonosis in China. Lancet Infect Dis 5:31–41

Müller B, Schmidt J, Mehlhorn H (2007) Sensitive and species-specific detection of Clonorchis sinensis by PCR in infected snails and fishes. Parasitol Res 100(4):911–914

Nagano I, Pei F, Wu Z, Wu J, Cui H, Boonmars T, Takahashi Y (2004) Molecular expression of a cysteine proteinase of Clonorchis sinensis and its application to an enzyme-linked immunosorbent assay for immunodiagnosis of clonorchiasis. Clin Diagn Lab Immunol 11(2):411–416

Naus CW, Booth M, Jones FM, Kemijumbi J, Vennervald BJ, Kariuki CH, Ouma JH, Kabatereine NB, Dunne DW (2003) The relationship between age, sex, egg-count and specific antibody responses against Schistosoma mansoni antigens in a Ugandan fishing community. Trop Med Int Health 8(6):561–568

Sajid M, McKerrow JH (2002) Cysteine proteases of parasitic organisms. Mol Biochem Parasitol 120(1):1–21

Santra A, Bhattacharya T, Chowdhury A, Ghosh A, Ghosh N, Chatterjee BP, Mazumder DN (2001) Serodiagnosis of ascariasis with specific IgG4 antibody and its use in an epidemiological study. Trans R Soc Trop Med Hyg 95(3):289–292

Yen CM, Chen ER, Hou MF, Chang JH (1992) Antibodies of different immunoglobulin isotypes in serum and bile of patients with clonorchiasis. Ann Trop Med Parasitol 86:263–269

Yoo WG, Kim DW, Ju JW, Cho PY, Kim TI, Cho SH, Choi SH, Park HS, Kim TS, Hong SJ (2011) Developmental transcriptomic features of the carcinogenic liver fluke, Clonorchis sinensis. PLoS Negl Trop Dis 5(6):e1208

Yun DH, Chung JY, Chung YB, Bahk YY, Kang SY, Kong Y, Cho SY (2000) Structural and immunological characteristics of a 28-kilo-dalton cruzipain-like cysteine protease of Paragonimus westermani expressed in the definitive host stage. Clin Diagn Lab Immunol 7:932–939

Zhao QP, Moon SU, Lee HW, Na BK, Cho SY, Kong Y, Jiang MS, Li AH, Kim TS (2004) Evaluation of Clonorchis sinensis recombinant 7-kilodalton antigen for serodiagnosis of clonorchiasis. Clin Diagn Lab Immunol 11(4):814–8l7
Acknowledgements
The experimental work was supported by the National Basic Research Program of China (973 program, 2010CB530000), the National S & T Major Program (Grant No. 2008ZX10004-011) and the China National Natural Science Foundation (No. 30771887).
About this article
Cite this article
Li, Y., Hu, X., Liu, X. et al. Serological diagnosis of clonorchiasis: using a recombinant propeptide of cathepsin L proteinase from Clonorchis sinensis as a candidate antigen. Parasitol Res 110, 2197–2203 (2012). https://doi.org/10.1007/s00436-011-2749-x
Received:

Accepted:

Published:

Issue Date:
Keywords
Specific IgG4

Schistosoma Japonicum

Ascaris Lumbricoides

Fascioliasis

Clonorchiasis