Abstract
The housefly, Musca domestica L., is one of the most common insects, associated with vectoring of various etiological agents. In order to search for effective control agent, the essential oil of sweet orange [Citrus sinensis (L.) Osbeck] was evaluated for its insecticidal activity against the larvae and pupae of housefly using contact toxicity and fumigation bioassays. In the contact toxicity assay, lethal concentration, LC50 of C. sinensis essential oil against housefly larvae, varied between 3.93 and 0.71 μl/cm2 for different observation days, while lethal time, LT50, varied between 5.8 to 2.3 days. Mortality of larvae were significant with different concentrations (F = 2.79, df = 4, P < 0.05) and time (F = 6.69, df = 3, P < 0.01). In fumigant assay for housefly larvae, LC50 of 71.2 and 52.6 μl/l was obtained in 24 and 48 h, respectively. Scanning electron microscopy of oil treated larvae revealed extreme dehydration and surface distortion while control larvae were free from any of the above symptoms and presented smooth surface, conforming effect of essential oil on housefly larvae. Percentage inhibition rate of oil against housefly pupae was 27.3–72.7% for contact toxicity and 46.4–100% for fumigation assay. Compositional analysis of C. sinensis essential oil using gas chromatography/mass spectrometry (GC-MS) revealed d-limonene (73.24%), α-pinene (5.86%) and myrcene (4.45%) as major components whereas its vapour profile (solid-phase micro extraction-GC/MS) was dominated by d-limonene at 92.57%. Significant activity of C. sinensis essential oil against larvae and pupae of housefly, pave the way for its use as eco-friendly housefly control measure.
This is a preview of subscription content, log in to check access.
Access options
Buy single article
Instant access to the full article PDF.
US$ 39.95
Price includes VAT for USA
Subscribe to journal
Immediate online access to all issues from 2019. Subscription will auto renew annually.
US$ 199
This is the net price. Taxes to be calculated in checkout.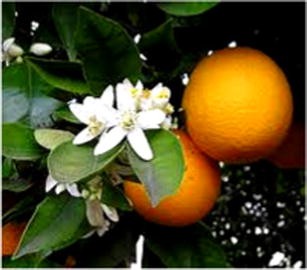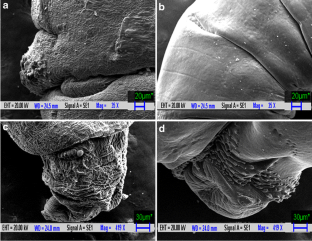 References
Anaso HU, Houno LE, Onuora D, Umerie SC (1990) Potency of orange peel as a mosquito fumigant. Biol Waste 34:83–89

Batish RB, Harminder PS, Ravinder KK, Shalinder K (2008) Eucalyptus essential oil as a natural pesticide. For Ecol Manag 256:2166–2174

Celikel N, Kavas G (2008) Antimicrobial properties of some essential oils against some pathogenic microorganisms. Czech J Food Sci 26:174–181

Chantraine JM, Laurent D, Ballivian C, Saavedra G et al (1998) Insecticidal activity of essential oils on Aedes aegypti larvae. Phytother Res 12:350–354

Chungsamarnyart N, Jansawan W (1996) Acaricidal activity of peel oil of Citrus spp. on Boophilus microplus. Kasetsart J 30:112–117

Cox SD, Mann CM, Markham JL, Bell HC et al (2000) The mode of antimicrobial action of the essential oil of Melaleuca alternifolia (tea tree oil). J Appl Microbiol 88:170–175

Ezeonu FC, Chidume GI, Udedi SC (2001) Insecticidal properties of volatile extracts of orange peels. Bioresour Technol 76:273–274

Finney DJ (1971) Probit analysis, 3rd edn. Cambridge University Press, London

Fotedar R (2001) Vector potential of houseflies (Musca domestica) in the transmission of Vibrio cholerae in India. Acta Trop 78:31–34

Högnadóttir A, Rouseff RL (2003) Identification of aroma active compounds in orange essence oil using gas chromatography–olfactometry and gas chromatography–mass spectrometry. J Chromatogr A 998:201–211

Kamaraj C, Rajakumar G, Rahuman AA, Velayutham K, Bagavan A, Zahir AA, Elango G (2011) Feeding deterrent activity of synthesized silver nanoparticles using Manilkara zapota leaf extract against the house fly, Musca domestica (Diptera: Muscidae). Parasitol Res. doi:10.1007/s00436-011-2689-5

Kant R, Bhatt RM (1994) Field evaluation of mosquito repellent action of neem oil. Indian J Malariol 31:122–125

Kassir JT, Mohsen ZH, Mehdi NS (1989) Toxic effects of limonene against Culex quinquefasciatus Say larvae and its interference with oviposition. Anz Schidlingskde, Pflanzenschutz, Umweltschutz 62:19–21

Knio KM, Usta J, Dagher S, Zournajian H et al (2008) Larvicidal activity of essential oils extracted from commonly used herbs in Lebanon against the seaside mosquito, Ochlerotatus caspius. Bioresour Technol 99:763–768

Kumar P, Mishra S, Malik A, Satya S (2011) Repellent, larvicidal and pupicidal properties of essential oils and their formulations against the housefly, Musca domestica. Med Vet Entomol 25:302–310

Lin CM, Sheu SR, Hsu SC, Tsai YH (2010) Determination of bactericidal efficacy of essential oil extracted from orange peel on the food contact surfaces. Food Control 21:1710–1715

Lucia A, Juan LW, Zerba EN, Harrand L, Marcó M, Masuh HM (2011) Validation of models to estimate the fumigant and larvicidal activity of Eucalyptus essential oils against Aedes aegypti (Diptera: Culicidae). Parasitol Res. doi:10.1007/s00436-011-2685-9

Malfei M, Mucciarelli M, Scannerini S (1993) Environmental factors affecting the lipid metabolism in Rosmarinus officinalis L. Biochem Syst Ecol 21:765–794

Malik A, Singh N, Satya S (2007) Housefly (Musca domestica): a review of control strategies for a challenging pest. J Environ Sci Health B 42:453–469

Michaelakis A, Papachristos D, Kimbaris A, Koliopoulos G, Giatropoulos A, Polissiou MG (2009) Citrus essential oils and four enantiomeric pinenes against Culex pipiens (Diptera: Culicidae). Parasitol Res 105:769–773

Mira B, Blasco M, Berna A, Subirats S (1999) Supercritical CO2 extraction of essential oil from orange peel. Effect of operation conditions on the extract composition. J Supercrit Fluid 14:95–104

Moretti MDL, Sanna-Passino G, Demontis S, Bazzoni E (2002) Essential oil formulations useful as a new tool for insect pest control. AAPS PharmSciTech 3:1–11

Moufida S, Marzouk B (2003) Biochemical characterization of blood orange, sweet orange, lemon, bergamot and bitter orange. Phytochem 62:1283–1289

Palacios SM, Bertoni A, Rossi Y, Santander R et al (2009a) Insecticidal activity of essential oils from native medicinal plants of Central Argentina against the housefly, Musca domestica (L.). Parasitol Res 106:207–212

Palacios SM, Bertoni A, Rossi Y, Santander R et al (2009b) Efficacy of essential oils from edible plants as insecticides against the house fly, Musca domestica L. Mol 14:1938–1947

Pavela R (2008) Insecticidal properties of several essential oils on the housefly (M. domestica L.). Phytother Res 22:274–278

Pavela R (2011) Insecticidal properties of phenols on Culex quinquefasciatus Say and Musca domestica L. Parasitol Res. doi:10.1007/s00436-011-2395-3

Qiao Y, Xie BJ, Zhang Y, Zhang Y et al (2008) Characterization of aroma active compounds in fruit juice and peel oil of Jinchen sweet orange fruit (Citrus sinensis (L.) Osbeck) by GC-MS and GC-O. Mol 13:1333–1344

Rey D, Pautou MP, Meyran JC (1999) Histopathological effects of tannic acid on the midgut epithelium of some aquatic diptera larvae. J Invertebr Pathol 73:173–181

Rice PJ, Coats JR (1994) Insecticidal properties of monoterpenoid derivatives to the house fly (Diptera: Muscidae) and red flour beetle (Coleoptera: Tene brionidae). Pestic Sci 41:195–202

Shalaby AA, Allam KAM, Mostafa AA, Fahmy SME (1998) Insecticidal properties of citrus oils against Culex pipens and Musca domestica. J Egypt Soc Parasitol 28:595–606

SPSS (2008) Statistical product and service solution, system user's guide, version 17.0.0.0. Polar Engineering and Consulting, United State. http://www.winwrap.com/

Squires JM, Foster JG, Lindsay DS, Caudell DL et al (2010) Efficacy of an orange oil emulsion as an anthelmintic against Haemonchus contortus in gerbils (Meriones unguiculatus) and in sheep. Vet Parasitol 172:95–99

Srinivasan R, Jambulingam P, Gunasekaran K, Boopathidoss PS (2008) Tolerance of housefly, M. domestica (Diptera: Muscidae) to dichlorovos (76% EC) an insecticide used for fly control in the tsunami-hit coastal villages of southern India. Acta Trop 105:187–190

Stroh J, Wan MT, Isman MB, Moul DJ (1998) Evaluation of the acute toxicity to juvenile Pacific coho salmon and rainbow trout of some plant essential oils, a formulated product, and the carrier. Bull Environ Contam Toxicol 60:923–930

Sukontason KL, Boonchu N, Sukontason K, Choochote W (2004) Effects of eucalyptol on house fly (Diptera: Muscidae) and blow fly (Diptera: Calliphoridae). Rev Inst Med trop S Paulo 46:97–101

Verzera A, Trozzi A, Dugo G, Di Bella G et al (2004) Biological lemon and sweet orange essential oil composition. Flavour Fragr J 19:544–548

Yang P, Ma Y, Zheng S (2005) Adulticidal activity of five essential oils against Culex pipiens quinquefasciatus. J Pestic Sci 30:84–89
Acknowledgements
The authors acknowledge the technical support provided by Mr. Ajai Kumar (AIRF JNU, India) for GC-MS and SPME analysis and Mr. Sabal Singh (IIT Delhi, India) for his help in experimental work. Partial financial support from KVIC Interphase project is gratefully acknowledged.
About this article
Cite this article
Kumar, P., Mishra, S., Malik, A. et al. Insecticidal Evaluation of essential oils of Citrus sinensis L. (Myrtales: Myrtaceae) against housefly, Musca domestica L. (Diptera: Muscidae). Parasitol Res 110, 1929–1936 (2012). https://doi.org/10.1007/s00436-011-2719-3
Received:

Accepted:

Published:

Issue Date:
Keywords
Limonene

Linalool

Insecticidal Activity

Contact Toxicity

Fumigation Toxicity