Abstract
The present paper deals with Proctophantastes nettastomatis (Digenea: Zoogonidae; Lepidophyllinae) found in the intestine of three species of deep-sea fish, Dicrolene longimana (Ophidiidae, Ophidiiformes), Bathyuroconger sp. (Congridae, Anguilliformes), and Venefica tentaculata (Nettastomatidae, Anguilliformes). The fish were collected near the islands of Espiritu Santo, Erromango, and Epi, respectively, in the archipelago of Vanuatu (Southern Pacific Ocean) at depths ranging from 561 to 990 m. Morphological and histological analyses showed that the Vanuatu specimens differ from Proctophantastes abyssorum, Proctophantastes gillissi, Proctophantastes glandulosum, Proctophantastes infundibulum, and Proctophantastes brayi but are close to P. nettastomatis discovered in Suruga Bay, Japan. P. nettastomatis is redescribed based both on the observations of our specimens and of the Japanese holotype and paratype. The morphological variability of the species is described. Morphometric data allowed the identification of positive allometric growth for the hindbody, negative allometric growth for the ventral sucker, and a growth phenotypic plasticity between Ophidiiformes and Anguilliformes definitive hosts.
This is a preview of subscription content, log in to check access.
Access options
Buy single article
Instant access to the full article PDF.
US$ 39.95
Price includes VAT for USA
Subscribe to journal
Immediate online access to all issues from 2019. Subscription will auto renew annually.
US$ 199
This is the net price. Taxes to be calculated in checkout.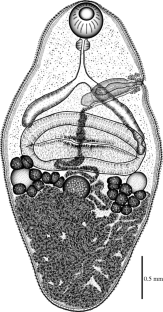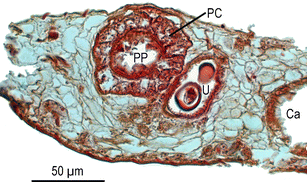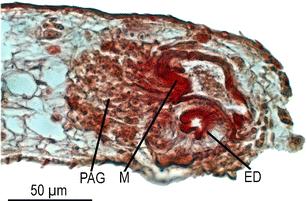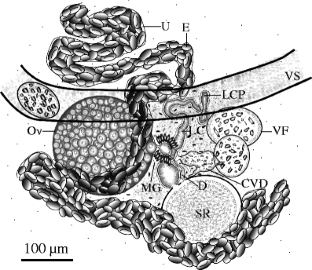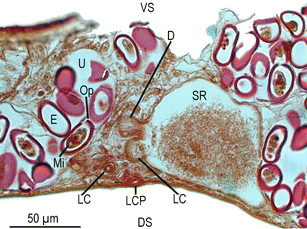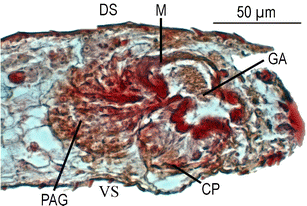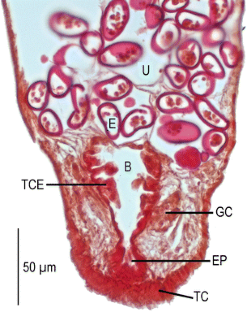 References
Bray RA (2004) The bathymetric distribution of the digenean parasites of deep-sea fishes. Folia Parasitol 51:268–274

Bray RA (2008) Family Zoogonidae. In: Bray RA, Gibson DI, Jones A (eds) Keys to the Trematoda, vol 3. CABI Publishing and Natural History Museum, Wallingford, pp 609–629

Bray RA, Gibson DI (1986) The Zoogonidae (Digenea) of fishes from the northeast Atlantic. Bull Br Mus Nat Hist Zool 51:127–206

Byrd MA (1964) Neosteganoderma glandulosa gen. n., sp. n. (Trematoda: Steganodermatidae) from an Atlantic fish. Proc Helminthol Soc Wash 31:105–108

Fischthal JH (1978a) Allometric growth in three species of digenetic trematodes of marine fishes from Belize. J Helminthol 52:29–39

Fischthal JH (1978b) Allometric growth in four species of digenetic trematodes of marine fishes from Belize. Zool Scr 7:13–18

Fischthal JH (1980) Comparative allometric growth of the digenetic trematode Matadena globosa (Linton, 1910) Manter, 1947 (Cryptogonimidae) in three species of Caribbean fishes. J Parasitol 66:642–644

Heidenhain M (1915) Über die mallorysche bindegewebsfärbjung mit karmin und azokarmin als vorfarben. Z Wiss Mikrosk Mikrosk Tech 32:361–372

Huxley JS (1932) Problems of relative growth. Lincoln MacVeagh, The Dial Press, New York

Kamegai S (1973) Zoogonid trematodes from marine fishes near the Tsushima islands in the sea of Japan. Res Bull Meguro Parasitol Mus 7:19–23

Langeron M (1949) Précis de microscopie. Masson & Cie, Paris

Machida M, Kamegai S, Kuramochi T (2006) Zoogonidae (Trematoda, Digenea) from fishes of japanese waters. Bull Natl Sci Mus ser A 32(3):95–104

Mouahid A (1989) Szidatia joyeuxi (Trematoda: Cyathocotylidae): morphological and tegumental changes during growth in the definitive host. Syst Parasitol 13:125–134

Mouahid G, Casanova JC, Moné H (1997) Plasticidad fenotipica y determinacion sistematica de parasitos: el caso de Echinoparyphium elegans. Acta Parasitologica Portuguesa 4:127

Mouahid G, Faliex E, Allienne JF, Cribb TH (2008) Proctophantastes brayi, n. sp. (Digenea: Zoogonidae) parasite of the deep-sea fish Polymixia Lowe, 1838 from Vanuatu. Parasitol Int 57:25–31. doi:10.1016/j.parint.2007.07.002

Odhner T (1911) Zum natürlichen system der digenen Trematoden II. Zool Anz 37:237–253

Overstreet RM, Pritchard MH (1977) Two new zoogonid Digenea from deep-sea fishes in the gulf of Panama. J Parasitol 63:840–844

Richer de Forges B, Faliex E, Menou JL (1996) La campagne Musorstom 8 dans l'archipel de Vanuatu Compte rendu et liste des stations. Mem Mus Natl Hist Nat 168:9–32

Yamaguti S (1970) Digenetic trematodes of Hawaiian fishes. Keigaku Publishing Company, Tokyo

Yamaguti S (1971) Synopsis of the digenetic trematodes of vertebrates. Volumes 1 and 2. Keigaku Publishing Company, Tokyo
Acknowledgments
We are grateful to B. Richer de Forges (IRD, Nouméa, New Caledonia), B. Seret (Museum National d'Histoire Naturelle, Paris France), and the crew members of the NO Alis for their help in collecting and/or identifying the fish species. We gratefully thank Miss Anne Modat for documentary assistance, Dr. Patricia A. Pilitt (US National Parasite Collection), and Dr. Takashi IWAKI (Meguro Parasitological Museum, Tokyo Japan).
About this article
Cite this article
Mouahid, G., Faliex, E., Allienne, J. et al. Proctophantastes nettastomatis (Digenea: Zoogonidae) from Vanuatu deep-sea fish: new morphological features, allometric growth, and phenotypic plasticity aspects. Parasitol Res 110, 1631–1638 (2012). https://doi.org/10.1007/s00436-011-2674-z
Received:

Accepted:

Published:

Issue Date:
Keywords
Ventral Sucker

Oral Sucker

Excretory Pore

Ejaculatory Duct

Seminal Receptacle