Abstract
An entomological survey was carried out in four rural localities situated in the state of Ceará, assessing Chagas disease seroprevalence in man, focusing on the presence of vectors in natural foci contiguous to the domestic and peridomestic environments. Fifty-three Triatoma brasiliensis, nine T. pseudomaculata and 71 Rhodnius nasutus were collected in their natural habitats as far as 10 m from the houses, and 663, 59 and 8 respectively were captured in peridomestic artificial structures, adjacent to the houses, including henhouses, pigpens, corrals, perches and piles of bricks, tiles and wood. Within the households, 37 T. brasiliensis, one specimen of T. pseudomaculata and one of R. nasutus were captured. Overall, Trypanosoma cruzi infection rates were 2.3% for T. brasiliensis and 11.3% for R. nasutus. Despite that the seroprevalence survey in man did not reveal positive results using two serological techniques, natural triatomine habitats are juxtaposed to man-made artificial ecotopes, resulting in overlapping habitats. The contiguity between natural ecotopes and human dwellings increases the interaction between vectors and humans, challenging continuous surveillance and vector control efforts.
This is a preview of subscription content, log in to check access.
Access options
Buy single article
Instant access to the full article PDF.
US$ 39.95
Price includes VAT for USA
Subscribe to journal
Immediate online access to all issues from 2019. Subscription will auto renew annually.
US$ 199
This is the net price. Taxes to be calculated in checkout.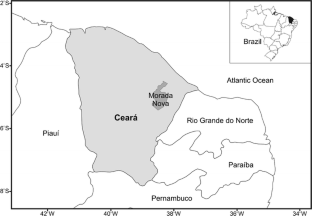 References
Abad-Franch F, Palomeque FS, Aguilar HM, Miles MA (2005) Field ecology of sylvatic populations (Heteroptera: Triatominae): risk factors for palm tree infestation in Western Ecuador. Trop Med Int Health 10:1258–1266

Alencar JE (1987) História Natural da Doença de Chagas no Estado do Ceará. Imprensa Universidade da UFC, Ceará

Borges EC, Dujardin JP, Schofield CJ, Romanha AJ, Diotaiuti L (2005) Dynamics between sylvatic, peridomestic and domestic populations of Triatoma brasiliensis (Hemiptera: Reduviidae) in Ceará State, Northeastern Brazil. Acta Trop 93:119–126

Borges-Pereira J, Sarquis O, Zauza PL, Britto C, Lima MM (2008) Epidemiology of Chagas disease in four rural localities in Jaguaruana, State of Ceará: seroprevalence of infection, parasitemia and clinical characteristics. Rev Soc Bras Med Trop 41:345–351

Carbajal-de-la Fuente AL, Minoli SA, Lopes CM, Noireau F, Lazzari CR, Lorenzo MG (2007) Flight dispersal of the Chagas disease vectors Triatoma brasiliensis and Triatoma pseudomaculata in northeastern Brazil. Acta Trop 101:115–119

Carbajal-de-la Fuente AL, Dias-Lima A, Lopes CM, Emperaire L, Walter A, Ferreira A, Sherlock I, Noireau F (2008) Behavioral plasticity of Triatominae related to habitat selection in northeast Brazil. J Med Entomol 45:14–19

Dias JC (2009) Elimination of Chagas disease transmission: perspectives. Mem Inst Oswaldo Cruz 104(Suppl 1):41–45

Dias FB, Paula AS, Belisário CJ, Lorenzo MG, Bezerra CM, Harry M, Diotaiuti L (2011) Influence of the palm tree species on the variability of Rhodnius nasutus Stål, 1859 (Hemiptera, Reduviidae, Triatominae). Infect Genet Evol in press.

Diotaiuti L, Silveira AC, Elias M (1984) Encontro de Rhodnius prolixus Stal 1959 em macaubeiras. Rev Bras Malariol D Trop 36:11–14

Emperaire L, Romaña CA (2006) Triatominae and Cactaceae: a risk for the transmission of the American trypanosomiasis in the peridomicilary space (Northeast Brazil). Parasite 13:171–178

Freitas SP, Freitas AL, Prazeres Sdo M, Gonçalves TC (2004) Influence of anthropic habits in the dispersion of Triatoma pseudomaculata Corrêa & Espínola, 1964 through Mimosa tenuiflora (Willdenow) (Mimosaceae) in the State of Ceará, Brazil. Cad Saude Publica 20:333–336

Guhl F, Pinto N, Aguilera G (2009) Sylvatic triatominae: a new challenge in vector control transmission. Mem Inst Oswaldo Cruz 104(Suppl 1):71–75

Lima MM, Sarquis O (2008) Is Rhodnius nasutus (Hemiptera; Reduviidae) changing its habitat as a consequence of human activity? Parasitol Res 102:797–800

Moncayo A, Silveira AC (2009) Current epidemiological trends for Chagas disease in Latin America and future challenges in epidemiology, surveillance and health policy. Mem Inst Oswaldo Cruz 104(Suppl 1):17–30

Noireau F, Abad-Franch F, Valente SAS, Dias-Lima A, Lopes CM, Cunha V, Valente Palomeque FS, Carvalho-Pinto CJ, Sherlock I, Aguilar M, Steindel M, Grisard EC, Jurberg J (2002) Trapping triatomines in sylvatic habitats. Mem Inst Oswaldo Cruz 97:61–63

Oliveira Filho AM, Melo MT, Santos CE, Faria Filho OF, Carneiro FC, Oliveira-Lima JW, Vieira JB, Gadelha FV, Ishihata J (2000) Focal and total residual insecticide spraying to control Triatoma brasiliensis and Triatoma pseudomaculata in Northeast Brazil. Cad Saude Publica 16(Suppl 2):105–111

Romaña CA, Pizarro JC, Rodas E, Guilbert E (1999) Palm trees as ecological indicators of risk areas for Chagas disease. Trans R Soc Trop Med Hyg 93:594–595

Sarquis O, Borges-Pereira J, Mac Cord JR, Gomes TF, Cabello PH, Lima MM (2004) Epidemiology of Chagas disease in Jaguaruana, Ceará. Brazil. I. Presence of triatomines and index of Trypanosoma cruzi infection in four localities of a rural area. Mem Inst Oswaldo Cruz 99:263–270

Sarquis O, Sposina R, de Oliveira TG, Mac Cord JR, Cabello PH, Borges-Pereira J, Lima MM (2006) Aspects of peridomiciliary ecotopes in rural areas of northeastern Brazil associated to triatomine (Hemiptera, Reduviidae) infestation, vectors of Chagas disease. Mem Inst Oswaldo Cruz 101:143–147

Silveira AC, Dias JC (2011) The control of vectorial transmission. Rev Soc Bras Med Trop 44(Suppl 2):52–63

Silveira AC, Vinhaes MC, Lira E, Araújo E (2001) O controle de Triatoma brasiliensis e Triatoma pseudomaculata. I. Estudo do tempo de reposição das condições de transmissão da doença de Chagas por Triatoma brasiliensis e Triatoma pseudomaculata em áreas submetidas a tratamento químico domiciliar, e de variáveis ambientais relacionadas. Organização Pan-Americana de Saúde, Brasília

Teixeira ARL, Monteiro PS, Rebelo JM, Argañaraz ER, Vieira D, Lauria-Pires L, Nascimento R, Vexanat CA, Silva AR, Ault SK, Costa JM (2001) Emerging Chagas disease: trophic network and cycle of transmission of Trypanosoma cruzi from palm trees in the Amazon. Emerg Infect Dis 7:100–112
About this article
Cite this article
Sarquis, O., Carvalho-Costa, F.A., Toma, H.K. et al. Eco-epidemiology of Chagas disease in northeastern Brazil: Triatoma brasiliensis, T. pseudomaculata and Rhodnius nasutus in the sylvatic, peridomestic and domestic environments. Parasitol Res 110, 1481–1485 (2012). https://doi.org/10.1007/s00436-011-2651-6
Received:

Accepted:

Published:

Issue Date:
Keywords
Triatomines

Ecology

Habitat - chagas disease