Abstract
The need for new anthelmintic with no chemical residues is becoming urgent. In a program aiming at the evaluation of plant as sources of new active molecules, the anthelmintic activities of the essential oils (EOs) obtained from either Zanthoxylum zanthoxyloides seeds or Newbouldia laevis leaves were evaluated against Strongyloides ratti by analyzing the results of two in vitro bioassays. These two plants and their tested parts were retained after an ethnopharmacology survey that confirmed their use by small-scale farmers for treatment of small ruminants affected by digestive helminths. The plants were harvested in Benin, and their EO were obtained by hydrodistillation. The EO yield of extraction was 0.65% (w/w) of for Z. zanthoxyloides seeds and 0.05% (w/w) for N. laevis. The chemical compositions of the two EOs were analyzed by gas chromatography coupled with mass spectrometry. The major constituents of the EO from Z. zanthoxyloides consisted of the following compounds: γ-terpinene (18 %), undecane (15 %), valencene (8.3 %), decanal (8.3 %), and 3-carene (6.7 %). In contrast, the major constituents of the EO from N. laevis leaves consisted of the following compounds: β-caryophyllene (36 %) and eugenol (5.8 %). An egg-hatching inhibition (EHI) assay was developed and a larval migration inhibition assay was used on S. ratti to examine the effects of the EOs and to evidence their inhibitory concentrations (IC50 and IC90) values on this nematode. Furthermore, the toxicity of the two EOs on Vero cell line was evaluated. When tested on S. ratti egg hatching, the two EOs resulted in similar IC50 values (19.5 and 18.2 μg/ml for Z. zanthoxyloides and N. laevis, respectively), which were about sevenfold higher than that of the control (thiabendazole, IC50 = 2.5 μg/ml). Larval migration was inhibited at similar concentrations for: Z. zanthoxyloides (IC50 = 46 μg/ml), N. laevis (IC50 = 51 μg/ml), and the control [levamisole (IC50 = 36 μg/ml)]. No cytotoxicity was found on Vero cells because both EOs had IC50 values higher than 50 μg/ml. Therefore, we have concluded that the EOs from two plants, used in folk medicine, may contain compounds with anthelmintic activity and could be used as improved traditional medicines or, at least, as food additives in a combined treatment for the control of helminth infections.
This is a preview of subscription content, log in to check access.
Access options
Buy single article
Instant access to the full article PDF.
US$ 39.95
Price includes VAT for USA
Subscribe to journal
Immediate online access to all issues from 2019. Subscription will auto renew annually.
US$ 199
This is the net price. Taxes to be calculated in checkout.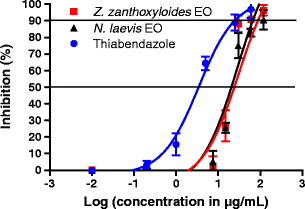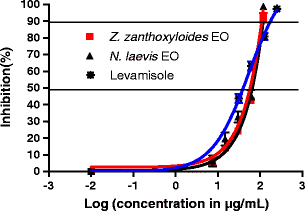 References
Adams RP (ed) (2007) Identification of essential oils components by gas chromatography/quadrupole mass spectroscopy, 4th edn. Allured Publishing, Carol Stream, IL

Ademola IO, Fagbemi BO, Idowu SO (2007) Anthelmintic activity of Spigelia anthelmia extract against gastrointestinal nematodes of sheep. Parasitol Res 101:63–69

Ahua KM, Ioset JR, Ioset KN, Diallo D, Mauel J, Hostettmann K (2007) Antileishmanial activities associated with plants used in the Malian traditional medicine. J Ethnopharmacol 110:99–104

Alonso-Diaz MA, Torres-Acosta JF, Sandoval-Castro CA, Capetillo-Leal C, Brunet S, Hoste H (2008) Effects of four tropical tanniniferous plant extracts on the inhibition of larval migration and the exsheathment process of Trichostrongylus colubriformis infective stage. Vet Parasitol 153:187–192

Assis LM, Bevilaqua CM, Morais SM, Vieira LS, Costa CT, Souza JA (2003) Ovicidal and larvicidal activity in vitro of Spigelia anthelmia Linn. extracts on Haemonchus contortus. Vet Parasitol 117:43–49

Benchaar C, Petit HV, Berthiaume R, Whyte TD, Chouinard PY (2006) Effects of addition of essential oils and monensin premix on digestion, ruminal fermentation, milk production, and milk composition in dairy cows. J Dairy Sci 89:4352–4364

Benoit-Vical F, Valentin A, Mallié M, Bastide JM, Bessiere JM (1999) In vitro antimalarial activity and cytotoxicity of Cochlospermum tinctorium and C. planchonii leaf extracts and essential oils. Planta Med 65:378–381

Bethony J, Brooker S, Albonico M, Geiger SM, Loukas A, Diemert D, Hotez PJ (2006) Soil-transmitted helminth infections: ascariasis, trichuriasis, and hookworm. Lancet 367:1521–1532

Bizimenyera ES, Githiori JB, Eloff JN, Swan GE (2006) In vitro activity of Peltophorum africanum Sond. (Fabaceae) extracts on the egg hatching and larval development of the parasitic nematode Trichostrongylus colubriformis. Vet Parasitol 142:336–343

Cabaret J (2008) Pro and cons of targeted selective treatment against digestive-tract strongyles of ruminants. Parasite 15:506–509

Cachet N, Hoakwie F, Bertani S, Bourdy G, Deharo E, Stien D, Houel E, Gornitzka H, Fillaux J, Chevalley S, Valentin A, Jullian V (2009) Antimalarial activity of simalikalactone E, a new quassinoid from Quassia amara L. (Simaroubaceae). Antimicrob Agents Chemother 53:4393–4398

Coles GC, Bauer C, Borgsteede FH, Geerts S, Klei TR, Taylor MA, Waller PJ (1992) World Association for the advancement of veterinary parasitology (W.A.A.V.P.) methods for the detection of anthelmintic resistance in nematodes of veterinary importance. Vet Parasitol 44:35–44

Fred-Jaiyesimi AA, Adepoju A, Egbebunmi O (2011) Anthelmintic activities of chloroform and methanol extracts of Buchholzia coriacea Engler seed. Parasitol Res 109:441–444

Geerts S, Gryseels B (2000) Drug resistance in human helminths: current situation and lessons from livestock. Clin Microbiol Rev 13:207–222

Hoste H, Torres-Acosta JF, Alonso-diaz MA, Brunet S, Sandoval-Castro C, Adote SH (2008) Identification and validation of bioactive plants for the control of gastrointestinal nematodes in small ruminants. Trop Biomed 25:56–72

Hounzangbé-Adote, MS (2000) La pharmacopée en Médecine Vétérinaire au Sud Bénin (cas des ovins et des caprins). Colloque Européen d'ethnopharmacologie 11–13 mai. Société Française d'Ethnopharmacologie, Metz

Hounzangbé-Adote MS, Paolini V, Fourasté I, Moutairou K, Hoste H (2005a) In vitro effects of four tropical plants on three life-cycle stages of the parasitic nematode, Haemonchus contortus. Res Vet Sci 78:155–160

Hounzangbé-Adote S, Fourasté I, Moutairou K, Hoste H (2005b) In vitro effects of four tropical plants on the activity and development of the parasitic nematode, Trichostrongylus colubriformis. J Helminthol 79:29–33

Hubert J, Kerboeuf D (1984) A new method for culture of larvae used in diagnosis of ruminant gastrointestinal strongylosis: comparison with fecal cultures. Can J Comp Med 48:63–71

Jackson F, Hoste H (2010) In vitro methods for the primary screening of plant products for direct activity against ruminant gastrointestinal nematodes. In "In vitro screening of plant resources for extra-nutritional attributes in ruminants: nuclear and related methodologies." In Vercoe HM, Schlink AC (eds) Springer Food and Agriculture Organization of the United Nations/International Atomic Energy Agency (FAO/IAEA). Edition Dordrech, pp 24–45

Kassim OO, Loyevsky M, Amonoo H, Lashley L, Ako-Nai KA, Gordeuk VR (2009) Inhibition of in vitro growth of Plasmodium falciparum by Pseudocedrela kotschyi extract alone and in combination with Fagara zanthoxyloides extract. Trans R Soc Trop Med Hyg 103:698–702

Kobaisy M, Tellez MR, Dayan FE, Duke SO (2002) Phytotoxicity and volatile constituents from leaves of Callicarpa japonica Thunb. Phytochemistry 61:37–40

Kondjoyan N, Berdagué J (eds) (1996) A compilation of relative retention indices for the analysis of aromatic compounds, 1st edn. INRA, Saint Genes Champanelle, France

Macedo IT, Bevilaqua CM, de Oliveira LM, Camurca-Vasconcelos AL, Vieira Lda S, Oliveira FR, Queiroz-Junior EM, Tome Ada R, Nascimento NR (2010) Anthelmintic effect of Eucalyptus staigeriana essential oil against goat gastrointestinal nematodes. Vet Parasitol 173:93–98

Maggiore MA, Albanese AA, Gende LB, Eguaras MJ, Denegri GM, Elissondo MC (2011) Anthelmintic effect of Mentha spp. essential oils on Echinococcus granulosus protoscoleces and metacestodes. Parasitol Res. Aug 16. [Epub ahead of print]

Mehlhorn H, Al-Quraishy S, Al-Rasheid KA, Jatzlau A, Abdel-Ghaffar F (2010) Addition of a combination of onion (Allium cepa) and coconut (Cocos nucifera) to food of sheep stops gastrointestinal helminthic infections. Parasitol Res 108:1041–1046

Ngassoum MB, Essia-Ngang JJ, Tatsadjieu LN, Jirovetz L, Buchbauer G, Adjoudji O (2003) Antimicrobial study of essential oils of Ocimum gratissimum leaves and Zanthoxylum xanthoxyloides fruits from Cameroon. Fitoterapia 74:284–287

NIST (2008) National Institute of Standards and Technology. Perkin-Elmer, Norwalk, CT

Setzer WN, Noletto JA, Lawton RO, Haber WA (2005) Leaf essential oil composition of five Zanthoxylum species from Monteverde, Costa Rica. Mol Divers 9:3–13

Smout MJ, Kotze AC, McCarthy JS, Loukas A (2010) A novel high throughput assay for anthelmintic drug screening and resistance diagnosis by real-time monitoring of parasite motility. PLoS Negl Trop Dis 4:e885

von Samson-Himmelstjerna G, Harder A, Schnieder T, Kalbe J, Mencke N (2000) In vivo activities of the new anthelmintic depsipeptide PF 1022A. Parasitol Res 86:194–199

Willcox M (2011) Improved traditional phytomedicines in current use for the clinical treatment of malaria. Planta Med 77:662–671

Wolstenholme AJ, Fairweather I, Prichard R, von Samson-Himmelstjerna G, Sangster NC (2004) Drug resistance in veterinary helminths. Trends Parasitol 20:469–476
Acknowledgments
This work was supported by the CORUS project no. 6040. Mr. A.P. Olounlade acknowledges receiving a scholarship from AUF to undergo his PhD studies. Mr. E.V. Azando is a grateful recipient of a grant provided from ARHES.
About this article
Cite this article
Olounladé, P.A., Azando, E.V.B., Hounzangbé-Adoté, M.S. et al. In vitro anthelmintic activity of the essential oils of Zanthoxylum zanthoxyloides and Newbouldia laevis against Strongyloides ratti . Parasitol Res 110, 1427–1433 (2012). https://doi.org/10.1007/s00436-011-2645-4
Received:

Accepted:

Published:

Issue Date:
Keywords
Eugenol

Levamisole

Helminth Infection

Thiabendazole

Anthelmintic Activity