Abstract
Myxobolus honghuensis n. sp. is described from allogynogenetic gibel carp Carassius auratus gibelio (Bloch), during a survey of myxosporean parasites in Honghu Lake, Hubei Province, China. It is characterized by the presence of round plasmodia of 5–12 mm in diameter in the pharynx of host. Mature spores of M. honghuensis were pyriform in frontal view and anterior pointed with bluntly round posterior, they measured 16.9 ± 0.5 (15.1–19.5) μm long, 10.4 ± 0.4 (9.0–11.3) μm wide, and 8.4 ± 0.4 (7.9–9.1) μm thick. Two polar capsules were pyriform and slightly unequal with larger polar capsule 8.4 ± 0.4 (7.6–10.2) μm × 3.9 ± 0.2 (3.0–4.5) μm and smaller capsule 7.9 ± 0.2 (7.0–9.3) μm × 3.7 ± 0.3 (2.8–4.1) μm. Polar filaments coiled with seven to eight turns. Both morphology and DNA sequence data revealed that M. honghuensis n. sp. was distinct from other described Myxobolus species. Phylogenetic analysis placed M. honghuensis n. sp. in a clade of gill-infecting myxobolids.
This is a preview of subscription content, log in to check access.
Access options
Buy single article
Instant access to the full article PDF.
US$ 39.95
Price includes VAT for USA
Subscribe to journal
Immediate online access to all issues from 2019. Subscription will auto renew annually.
US$ 199
This is the net price. Taxes to be calculated in checkout.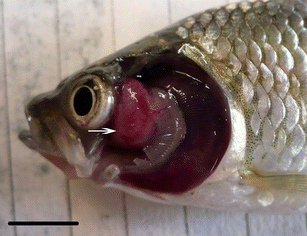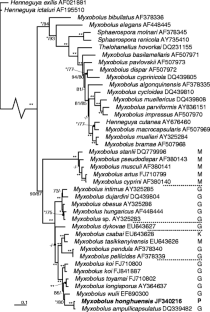 References
Andree KB, Székely C, Molnár K, Gresoviac SJ, Hedrick RP (1999) Relationships among members of the genus Myxobolus (Myxozoa: Bilvalvulidae) based on small subunit ribosomal DNA sequences. J Parasitol 85:68–74

Chen QL, Ma CL (1998) Myxozoa: Myxosporea. Science, Beijing, in Chinese with English summary

Easy RH, Johnson SC, Cone DK (2005) Morphological and molecular comparison of Myxobolus procerus (Kudo, 1934) and M. intramusculi n. sp. (Myxozoa) parasitizing muscles of the trout-perch Percopsis omiscomaycus. Syst Parasitol 61:115–122

Eiras JC, Molnár K, Lu YS (2005) Synopsis of the species of Myxobolus Butschli, 1882 (Myxozoa: Myxosporea: Myxobolidae). Syst Parasitol 61:1–46

Eszterbauer E (2004) Genetic relationship among gill-infecting Myxobolus species (Myxosporea) of cyprinids: molecular evidence of importance of tissue-specificity. Dis Aquat Org 58:35–40

Eszterbauer E, Székely C (2004) Molecular phylogeny of the kidney parasitic Sphaerospora renicola from common carp (Cyprinus carpio) and Sphaerospora sp. from goldfish goldfish (Carassius auratus auratus). Acta Vet Hung 52:469–478

Eszterbauer E, Benkő M, Dán Á, Molnár K (2001) Identification of fish parasitic Myxobolus (Myxosporea) species using a combined PCR-RFLP method. Dis Aquat Org 44:35–39

Ferguson JA, Atkinson SD, Whipps CM, Kent ML (2008) Molecular and morphological analysis of Myxobolus spp. of salmonid fishes with the description of Myxobolus fryeri n. sp. J Parasitol 94:1322–1334

Guindon S, Gascuel O (2003) A simple, fast, and accurate algorithm to estimate large phylogenies by maximum likelihood. Syst Biol 52:696–704

Hall TA (1999) BioEdit: a user-friendly biological sequence alignment editor and analysis program for Windows 95/98/NT. Nucleic Acids Symp Ser 41:95–98

Liu Y, Gu ZM, Luo YL (2010a) Some additional data to the occurrence, morphology and validity of Myxobolus turpisrotundus Zhang, 2009 (Myxozoa: Myxosporea). Parasitol Res 107:67–73

Liu Y, Whipps CM, Gu ZM, Zeng LB (2010b) Myxobolus turpisrotundus (Myxosporea: Bivalvulida) spores with caudal appendages: investigating the validity of the genus Henneguya with morphological and molecular evidence. Parasitol Res 107:699–706

Lom J, Arthur JR (1989) A guideline for preparation of species descriptions in Myxosporea. J Fish Dis 12:151–156

Lom J, Dyková I (1992) Protozoan parasites of fishes. Developments in aquaculture and fisheries science, vol 26. Elsevier, Amsterdam, p 315

Lom J, Dyková I (2006) Myxozoan genera: definition and notes on taxonomy, life-cycle terminology and pathogenic species. Folia Parasitol 53:1–36

Molnár K, Eszterbauer E, Székely C, Dan A, Harrach B (2002) Morphological and molecular biological studies on intramuscular Myxobolus spp. of cyprinid fish. J Fish Dis 25:643–652

Molnár K, Marton S, Eszterbauer E, Székely C (2006) Comparative morphological and olecular studies on Myxobolus spp. infecting chub from the River Danube, Hungary, and description of M. muellericus sp. n. Dis Aquat Organs 73:49–61

Molnár K, Székely C, Hallett SL, Atkinson SD (2009) Some remarks on the occurrence, host-specificity and validity of Myxobolus rotundus Nemeczek, 1911 (Myxozoa: Myxosporea). Syst Parasitol 72:71–79

Page RDM (1996) TREEVIEW: an application to display phylogenetic trees on personal computers. Comput Appl Biosci 12:357–358

Posada D (2008) jModelTest: phylogenetic model averaging. Mol Biol Evol 25:1253–1256

Ronquist F, Huelsenbeck JP (2003) MrBayes 3: Bayesian phylogenetic inference under mixed models. Bioinformatics 19:1572–1574

Székely C, Shaharom-Harrison F, Cech G, Ostoros G, Molnár K (2009) Myxozoan infections in fishes of the Tasik Kenyir water reservoir, Terengganu, Malaysia. Dis Aquat Org 83:37–48

Thompson JD, Gibson TJ, Plewniak F, Jeanmougin F, Higgins DG (1997) The CLUSTAL-X Windows interface: flexible strategies for multiple sequence alignment aided by quality analysis tools. Nucleic Acids Res 25:4876–4882

Whipps CM, Diggles BK (2006) Kudoa alliaria in flesh of Argentinian Hoki Macruronus magellanicus (Gadiformes; Merlucciidae). Dis Aquat Org 69:259–263

Whipps CM, Kent ML (2006) Phylogeography of the cosmopolitan marine parasite Kudoa thyrsites (Myxozoa:Myxosporea). J Eukaryot Microbiol 53:364–474

Whipps CM, El-Matbouli M, Hedrick RP, Blazer V, Kent ML (2004) Myxobolus cerebralis internal transcribed spacer 1 (ITS-1) sequences support recent spread of the parasite to North America and within Europe. Dis Aquat Org 60:105–108

Wu BH, Li ZE (1986) Six new species of myxosporidia from freshwater fishes in Zhejiang province. Acta Zootax Sin 11:1–9 (in Chinese with English summary)

Zhang JY, Wang JG, Li AH, Gong XL, Cai TZ (2005) Redescription of Myxobolus pyramidis Chen, 1958 (Myxosporea: Bivalvulida). Parasitol Res 99:65–69

Zhang JY, Wang JG, Li AH, Gong XN (2010a) Infection of Myxobolus turpisrotundus sp. n. in allogynogenetic gibel carp, Carassius auratus gibelio (Bloch), with revision of Myxobolus rotundus (s. l.) Nemeczek reported from C. auratus auratus (L.). J Fish Dis 33:625–638

Zhang JY, Yokoyama H, Wang JG, Li AH, Gong XN, Ryu-Hasegawa A, Iwashita M, Ogawa K (2010b) Utilization of tissue habitats by Myxobolus wulii Landsberg & Lom, 1991 in different carp hosts and disease resistance in allogynogenetic gibel carp: redescription of M. wulii from China and Japan. J Fish Dis 33:57–68

Zhao Y, Sun C, Kent ML, Deng J, Whipps CM (2008) Description of a new species of Myxobolus (Myxozoa: myxobolidae) based on morphological and molecular data. J Parasitol 94:737–742

Zhou L, Wang Y, Gui JF (2001) Molecular analysis of silver crucian carp (Carassius auratus gibelio Bloch) clones by SCAR markers. Aquaculture 201:219–228
Acknowledgements
The authors thank Gao Yu for his help with the drawing of spores. This study was supported by the Nature Science Foundation of China (Project Number 30800096), the New Teacher Foundation of Chinese Education Department (Project Number 200805041025), the Natural Science Foundation of Hubei Province (Project Number U2008CDB078), the Huazhong Agricultural University Scientific & Technological Self-innovation Foundation (Project Number 2009SC017), and the Fundamental research funds for the central universities (Project Number 52902-0900202037).
About this article
Cite this article
Liu, Y., Whipps, C.M., Gu, Z.M. et al. Myxobolus honghuensis n. sp. (Myxosporea: Bivalvulida) parasitizing the pharynx of allogynogenetic gibel carp Carassius auratus gibelio (Bloch) from Honghu Lake, China. Parasitol Res 110, 1331–1336 (2012). https://doi.org/10.1007/s00436-011-2629-4
Received:

Accepted:

Published:

Issue Date:
Keywords
Polar Capsule

Polar Filament

Gibel Carp

Honghu Lake

Myxobolus Species