Abstract
Micromorphology and ultrastructure of capsule forming around acanthocephalan Corynosoma strumosum in uncommon paratenic hosts—lizards Lacerta agilis and Lacerta viridis—have been studied. Experimental infestation of the lizards by acanthocephalans obtained from naturally infested sea fishes showed that only small amount of parasites occurred in the intestine of the host was able to migrate into body cavity and to be encapsulated. Micromorphology of capsules of different ages from different species of lizards and micromorphology and ultrastructure of capsules at the age of 1.5 and 10 days appeared to be similar. In the capsule's structure cells of inflammatory rank were prevailing: mononuclear and multinuclear macrophages, eosinophils, and basophils. Fibroblasts were not numerous and were located only in the outer part of a capsule; exocellular collagen fibers were absent. Inflammatory character of capsule confirms the idea that lizards are unsuitable paratenic hosts for corynosomes.
This is a preview of subscription content, log in to check access.
Access options
Buy single article
Instant access to the full article PDF.
US$ 39.95
Price includes VAT for USA
Subscribe to journal
Immediate online access to all issues from 2019. Subscription will auto renew annually.
US$ 199
This is the net price. Taxes to be calculated in checkout.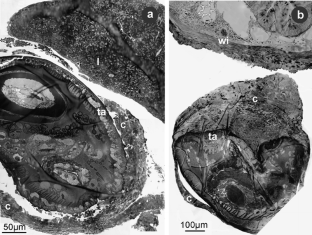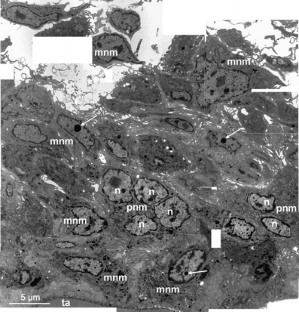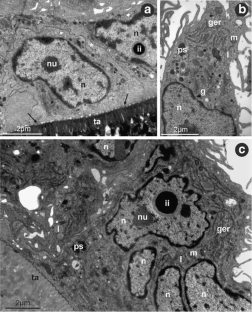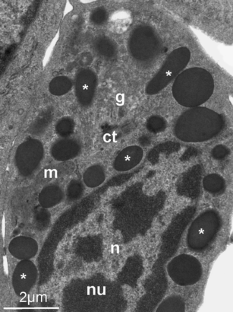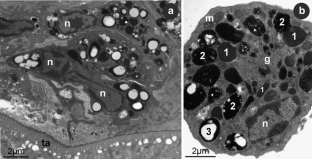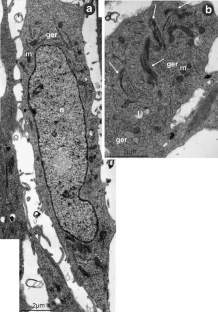 Notes
1.

Taxonomical belonging of acanthocephalan S. picae was specified by O. Amin et al. (2010).
References
Amin OM, Heckmann RA, Halajian A, Eslami A (2010) Redescription of Sphaerirostris picae (Acanthocephala: Centrothynchidae) from magpie, Pica pica, in Northern Iran, with special reference to unusual receptacle structures and notes of histopathology. J Parasitol 96:561–568

Bounous DI, Dotson TK, Brooks RL Jr, Ramsay EC (1996) Cytochemical staining and ultrastructural characteristics of peripheral blood leucocytes from the yellow rat snake (Elaphe obsoleta quadrivitatta). Comp Haemathol Int 6:86–91

Carr J (1973) The macrophages: a review of ultrastructure and function. Academic, London

Carvalho RL, Antoniazzi MM, Jared C, Silva AMJ, Santis AA, Egami MI (2006) Morphological, cytochemical, and ultrastructural observations on the blood cells of the reptile Tupinambis merianae (Squamata). Comp Clin Pathol 15:169–174

Chatterjee P (1975) Ultrastructural studies on the intranuclear inclusions of the rabbit adenohypophysis in vivo and in vitro. Cell Tiss Res 160:273–277

Ham AW, Cormack DH (1979) Histology. J.B. Lippincott Company, Philadelphia

Junqueira LC, Carneiro J (2005) Basic histology: text and atlas. McGraw-Hill, New York

Krasnoshchekov GP, Lisitsyna OI (2009) On the migration of cystacanths Sphaerirostris picae (Acanthocephala, Centrorhynchidae) in paratenic host Lacrta agilis, histopathology. Vestnik zoologii 43:433–440

Lisitsyna OI (1991) Study of the cystacanth Sphaerirostris teres (Acanthocephala, Centrorhynchidae) migration speed in a paratenic host. Vestnik zoologii 25:72–73

Nikishin VP, Skorobrechova EM (2007) Encapsulation of acanthocephalans Corynosoma sp. in two reservoir host species. Dokl Biol Sci 417:462–464

Omeliyanenko NP, Slutsky LI (2009) Connecting tissue (histophisiology and biochemistry). Isvestiya, Moscow

Ponsen S, Narkkong NA, Angwanich W (2007) Morphological and ultrastructural observations on the blood cells of sand lizards (Leiolepis belliana Rubritaeniata) Mertens 1961. J An Vet Adv 6:522–527

Pronina S, Pronin N (1988) Interactions in systems helminthes-fishes. Nauka, Moscow

Shamri R, Xenakis JJ, Spencer LA (2011) Eosinophils in innate immunity: an evolving story. Cell Tissue Res 343:57–83

Sharpilo VP (1971) The use reservoir hosts for accumulation and storage of invasion helminths larvae. Parazitologiya 5:88–91

Sharpilo VP (1983) Reptiles of fauna of the USSR as intermediate and reservoir hosts of helminthes. Parazitologiya 17:177–184

Skorobrechova EM (2007) Structure of capsules around Corynosoma sp. from marine fishes of two species. In: Chereshnev IA (ed) Proceedings of Conference dedicated to the memory of academican K.V. Simakov. NESC FEB RAS, Magadan, p 155

Skorobrechova EM (2008) Ultrastructure of capsule around acanthocephalan Corynosoma sp. in yellow-finned sole (Pleuronectes aspera Pallas, [1814]). In: Movsesjan SO (ed) Biodiversity and ecology of parasites of terrestrial and water cenoses. Center of Parasitology, Moscow, pp 362–365

Skorobrechova EM (2009) Encapsulation of acanthocephalans Corynosoma sp. in yellow-finned sole Pleuronectes aspera and masked greenling Hexagrammos octogrammus. In: Chereshnev IA (ed) Proceedings of Conference dedicated to the memory of academican K.V. Simakov. NESC FEB RAS, Magadan, pp 203–204

Skorobrechova EM (2010) The fine structure of the capsule around acanthocephalan Corynosoma strumosum in Hadropareia middendorffii. In: Proceedings of the international symposium Parasites of the Holarctic region. Institute of Biology, Petrozavodsk, pp 93–96

Skorobrechova E, Nikishin V (2011) Structure of capsule surrounding acanthocephalans Corynosoma strumosum in paratenic hosts of three species. Parasitol Res 108:467–475

Sypek J, Borysenko M (2009) Reptiles. In: Rowley AF, Ratcliffe NA (eds) Vertebrate blood cells. Cambridge University Press, Cambridge, pp 211–256

Valtonen ET (1983) Relationships between Corynosoma semerme and C. strumosum (Acanthocephala) and their paratenic fish hosts in the Bothnian Bay, Baltic Sea. Acta Universitatis Oulensis, Series A, Scientiae Rerum Naturalium 155. Biologica 21:132

Velikanov VP (1982) On the helminth fauna of the water snake from Turkmenistan. Izvestiya Akademii Nauk Turkmenskoi SSR, Biologicheskie Nauki 1:46–50
Acknowledgments
The work was supported by grants of RFBR-FEB RAS (no. 09-04-98523) and FEB RAS (no. 09-III-A-06-218 and 11-III-B-06-128). The authors thank Ms. E. Schetinina for help in preparing the English version of the article. The work was carried out under the Russian–Ukraine research project "Ecological and morphological aspects of interrelationships of acanthocephalans with paratenic hosts" of Institute of Biological Problems of the North, Far East Branch of Russian Academy of Sciences and I.I. Schmalhausen Institute of Zoology, National Academy of Sciences, Ukraine.
About this article
Cite this article
Skorobrechova, E.M., Nikishin, V.P. & Lisitsyna, O.I. Structure of capsule around acanthocephalan Corynosoma strumosum from uncommon paratenic hosts—lizards of two species. Parasitol Res 110, 459–467 (2012). https://doi.org/10.1007/s00436-011-2512-3
Received:

Accepted:

Published:

Issue Date:
Keywords
Methylene Blue

Saffron

Body Cavity

Paratenic Host

Granular Endoplasmic Reticulum