Abstract
Leishmaniasis, Chagas disease, and malaria affect the poorest population around the world, with an elevated mortality and morbidity. In addition, the therapeutic alternatives are usually toxic or ineffective drugs especially those against the trypanosomatids. In the course of selection of new anti-protozoal compounds from Brazilian flora, the CH2Cl2 phase from MeOH extract obtained from the leaves of Pentacalia desiderabilis (Vell.) Cuatrec. (Asteraceae) showed in vitro anti-leishmanial, anti-malarial, and anti-trypanosomal activities. The chromatographic fractionation of the CH2Cl2 phase led to the isolation of the bioactive compound, which was characterized as jacaranone [methyl (1-hydroxy-4-oxo-2,5-cyclohexandienyl)acetate], by spectroscopic methods. This compound showed activity against promastigotes of Leishmania (L.) chagasi, Leishmania (V.) braziliensis, and Leishmania (L.). amazonensis showing an IC50 of 17.22, 12.93, and 11.86 μg/mL, respectively. Jacaranone was also tested in vitro against the Trypanosoma cruzi trypomastigotes and Plasmodium falciparum chloroquine-resistant parasites (K1 strain) showing an IC50 of 13 and 7.82 μg/mL, respectively, and was 3.5-fold more effective than benznidazole in anti-Trypanosoma cruzi assay. However, despite of the potential against promatigotes forms, this compound was not effective against amastigotes of L. (L.) chagasi and T. cruzi. The cytotoxicity study using Kidney Rhesus monkey cells, demonstrated that jacaranone showed selectivity against P. falciparum (21.75 μg/mL) and a selectivity index of 3. The obtained results suggested that jacaranone, as other similar secondary metabolites or synthetic analogs, might be useful tolls for drug design for in vivo studies against protozoan diseases.
This is a preview of subscription content, log in to check access.
Access options
Buy single article
Instant access to the full article PDF.
US$ 39.95
Price includes VAT for USA
Subscribe to journal
Immediate online access to all issues from 2019. Subscription will auto renew annually.
US$ 199
This is the net price. Taxes to be calculated in checkout.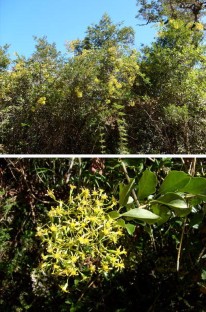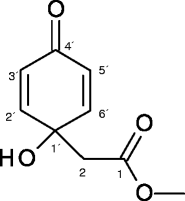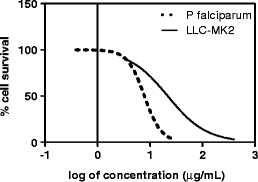 References
Bohlmann F, Ziesche J (1979) Neue germacrene-derivateaus Senecio-arten. Phytochemistry 18:1489–1494

Bohlmann F, Castro V, Ziesche J (1984) New sesquiterpenes from Pentacalia species. Rev Latinoamer Quím 14:103–106

Corrêa DS, Tempone AG, Reimão JQ, Taniwaki NN, Romoff P, F·vero OA, Sartorelli P, Mecchi MC, Lago JHG (2011) Anti-leishmanial and anti-trypanosomal potential of polygodial isolated from stem barks of Drimys brasiliensis Miers (Winteraceae). Parasitol Res doi:10.1007/s00436-010-2229-8

Di Santi SM, Neves VLFC, Boulos M, Dutra AP, Ramos AMSV, Santos M, Barata LCB (1988) Avaliação da resposta do Plasmodium falciparum à cloroquina, quinino e mefloquina. Rev Inst Med Trop São Paulo 30:147–152

Duran N, Muz M, Culha G, Duran G, Ozer B (2011) GC-MS analysis and antileishmanial activities of two Turkish propolis types. Parasitol Res 108:95–105

Gachet MS, Kunert O, Kaiser M, Brun R, Muñoz RA, Bauer R, Schühly W (2010) Jacaranone-derived glucosidic esters from Jacaranda glabra and their activity against Plasmodium falciparum. J Nat Prod 73:553–556

Ghosh S, Debnath S, Hazra S, Hartung A, Thomale K, Schultheis M, Kapkova P, Schurigt U, Moll H, Holzgrabe U, Hazra B (2011) Valeriana wallichii root extracts and fractions with activity against Leishmania spp. Parasitol Res 108:861–871

Grecco SS, Reimão JQ, Tempone AG, Sartoreli P, Romoff P, Ferreira MJP, Fávero OA, Lago JHG (2010) Isolation of an antileishmanial and antitrypanosomal flavanone from the leaves of Baccharis retusa DC. (Asteraceae). Parasitol Res 106:1245–1248

Guimarães LRC, Rodrigues APD, Marinho PSB, Muller AH, Guilhon GMS, Santos LS, do Nascimento JLM, Silva EO (2010) Activity of the julocrotine, a glutarimide alkaloid from Croton pullei var. glabrior, on Leishmania (L.) amazonensis. Parasitol Res 107:1075–1081

Hase T, Kawamoto Y, Ohtani K, Kasai R, Yamasaki K, Picheamsoonthon CH (1995) Cyclohexylethanoids and related glucoside from Millingtonia hortensis. Phytochemistry 39:235–241

Kahla-Nakbi AB, Haouas N, El-Ouaer A, Guerbej H, Ben Mustapha K, Babba H (2010) Screening of antileishmanial activity from marine sponge extracts collected off the Tunisian coast. Parasitol Res 106:1281–1286

Lajide L, Escoubas P, Mizutani J (1996) Cyclohexadienones insect growth inhibitors from the foliar surface and tissue extracts of Senecio cannabifolius. Experientia 52:259–263

Lane JE, Ribeiro-Rodrigues R, Suarez CC, Bogitsh BJ, Jones MM, Singh PK, Carter CE (1996) In vitro trypanocidal activity of tetraethylthiuram disulfide and sodium diethylamine-N-carbodithioate on Trypanosoma cruzi. Am Soc Trop Med Hyg 55:263–266

Loizzo MR, Tundis R, Statti GA, Menichini F (2007) Jacaranone: a cytotoxic constituent from Senecio ambiguus subsp. ambiguus (Biv.) DC. against renal adenocarcinoma ACHN and prostate carcinoma LNCaP cells. Arch Pharm Res 30:701–707

Mancini I, Guella G, Defant A (2008) Synthesis of marine products with antimalarial activity. Mini Rev Med Chem 8:1265–1284

Pedrozo JA, Torrenegra RD, Téllez AN, Granados A (2006) Nueva fuente de quinoles, la superficie foliar de Pentacalia ledifolia y Pentacalia corymbosa y sus propiedades antif˙ngicas. Rev Bras Farm 16(Supl):591–595

Quashie NB, Koning HP, Ranford-Cartwright LC (2006) An improved and highly sensitive microfluorimetric method for assessing susceptibility of P. falciparum to antimalarial drugs in vitro. Malar J 5:95

Rieckmann KH, Campbell GH, Sax LJ, Mrema JE (1978) Drug sensitivity of Plasmodium falciparum. An in-vitro microtechnique. Lancet 1:22–23

Samudio F, Santamaría AM, Obaldía NIII, Pascale JM, Bayard V, Calzada JE (2005) Short report: prevalence of Plasmodium falciparum mutations associated with antimalarial drug resistance during an epidemic in Kuna Yala, Panama, Central America. Am J Trop Med Hyg 73:839–841

Santin MR, dos Santos AO, Nakamura CV, Dias Filho BP, Ferreira ICP, Ueda-Nakamura T (2009) In vitro activity of the essential oil of Cymbopogon citratus and its major component (citral) on Leishmania amazonensis. Parasitol Res 105:1489–1496

Sartorelli P, Carvalho CS, Reimão JQ, Ferreira MJP, Tempone AG (2009) Antiparasitic activity of biochanin A, an isolated isoflavone from fruits of Cassia fistula (Leguminosae). Parasitol Res 104:311–314

Sharma U, Velpandian T, Sharma P, Singh S (2009) Evaluation of anti- leishmanial activity of selected Indian plants known to have antimicrobial properties. Parasitol Res 105:1287–1293

Stauber LA, Franchino EM, Grun J (1958) An eight-day method for screening compounds against Leishmania donovani in golden hamster. J Protozool 5:269–273

Tada H, Shiho O, Kuroshima K, Koyama M, Tsukamoto K (1986) An improved colorimetric assay for interleukin 2. J Immunol Methods 93:157–165

Teles AM, Stehmann JR (2008) Plantae, Magnoliophyta, Asterales, Asteraceae, Senecioneae, Pentacalia desiderabilis and Senecio macrotis: distribution extensions and first records for Bahia, Brazil. Check List 4:62–64

Tempone AG, Perez D, Rath S, Vilarinho AL, Mortara RA, de Andrade HF Jr (2004) Targeting Leishmania (L.) chagasi amastigotes through macrophage scavenger receptors: the use of drugs entrapped in liposomes containing phosphatidylserine. J Antimicrob Chemother 54:60–68

Tempone AG, Sartorelli P, Mady C, Fernandes F (2007) Natural products to anti- trypanosomal drugs: an overview of new drug prototypes for American Trypanosomiasis. Cardiovasc Hematol Agents Med Chem 5:222–235

Tempone AG, Martins de Oliveira C, Berlinck RG (2011) Current approaches to discover marine antileishmanial natural products. Planta Med. doi:10.1055/s-0030-1250663.

Torrenegra RD, Pedrozo JA, Téllez AN, Cabeza G, Granados A, Méndez D (2000) Química y actividad antif˙ngica de Pentacalia corymbosa (Asteraceae-Senecioneae). Rev Latinoamer Quím 28:31–34

Velozo LSM, Ferreira MJP, Santos MIS, Moreira DL, Emerenciano VP, Kaplan MAC (2006) Unusual chromenes from Peperomia blanda. Phytochemistry 67:492–496

WHO (2009) World Health Organization. World Malaria Report WHO/HTM/GMP/2009. 66 p.
Acknowledgments
This work was funded by grants and fellowships from MACKPESQUISA, CNPq (473405/2008-3 and 477422/2009-8), and FAPESP (06/57626-5 and 08/11496-9). We thank Giovanni Saraceni for Plasmodium culture maintenance and CNPq for the scientific research award to AGT, JHGL, and MJPF.
About this article
Cite this article
Morais, T.R., Romoff, P., Fávero, O.A. et al. Anti-malarial, anti-trypanosomal, and anti-leishmanial activities of jacaranone isolated from Pentacalia desiderabilis (Vell.) Cuatrec. (Asteraceae). Parasitol Res 110, 95–101 (2012). https://doi.org/10.1007/s00436-011-2454-9
Received:

Accepted:

Published:

Issue Date:
Keywords
Malaria

Nuclear Magnetic Resonance Spectrum

Visceral Leishmaniasis

Leishmaniasis

Pentamidine