Abstract
The mature Holorchis micracanthum spermatozoon exhibits an apical cone of electron-dense material forming a lateral extension, extramembranar ornamentations, and two fields of cortical microtubules, delimited by attachment zones. The axonemes, of the 9 + "1" pattern of the Platyhelminthes, are shifted longitudinally, one compared to the other. The nucleus, with a fibrous chromatin and a more or less circular section, granules of electron-dense material, and a moniliform mitochondrion are present. The latter, in longitudinal sections, appears in the form of successive bulges, connected to each other by a fine mitochondrial cord, and extends along almost the whole length of the gamete. To our knowledge, a moniliform mitochondrion has never been described before in a digenean. Likewise, the presence of a lateral extension of an apical cone of electron-dense material has never been previously reported in the Lepocreadioidea. In addition, in this work, we show for the first time the existence of extramembranar ornamentations in a species of the Lepocreadiidae.
This is a preview of subscription content, log in to check access.
Access options
Buy single article
Instant access to the full article PDF.
US$ 39.95
Price includes VAT for USA
Subscribe to journal
Immediate online access to all issues from 2019. Subscription will auto renew annually.
US$ 199
This is the net price. Taxes to be calculated in checkout.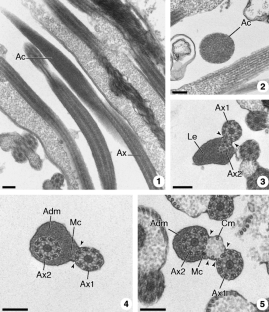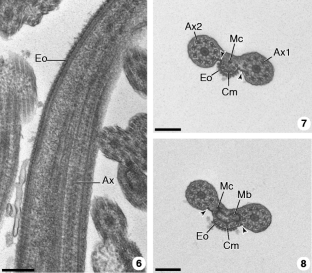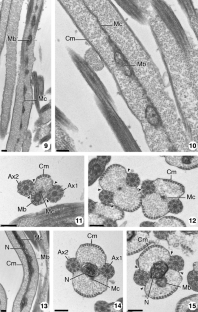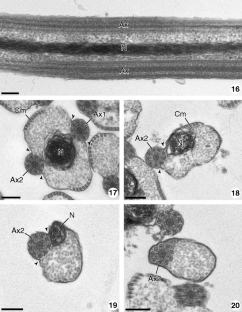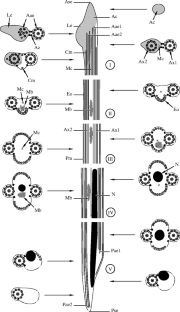 References
Agostini S, Miquel J, Ndiaye P, Marchand B (2005) Dicrocoelium hospes Looss, 1907 (Digenea, Dicrocoeliidae): spermiogenesis, mature spermatozoon and ultrastructural comparative study. Parasitol Res 96:38–48

Bakhoum AJS, Bâ CT, Fournier-Chambrillon C, Torres J, Fournier P, Miquel J (2009) Spermatozoon ultrastructure of Euryhelmis squamula (Rudolphi, 1819) (Digenea, Opisthorchiodea, Heterophyidae), an intestinal parasite of Mustela vison (Carnivora, Mustelidae). Rev Ibero-latinoam Parasitol 1:37–45

Bakhoum AJS, Bâ CT, Shimalov VV, Torres J, Miquel J (2011) Spermatological characters of the digenean Rubenstrema exasperatum (Rudolphi, 1819) (Plagiorchioidea, Omphalometridae). Parasitol Res (in press)

Baptista-Farias MFD, Kohn A, Cohen SC (2001) Ultrastructure of spermiogenesis and sperm development in Saccocoelioides godoyi Kohn and Froes, 1986 (Digenea, Haploporidae). Mem Inst Oswaldo Cruz 96:61–70

Foata J, Quilichini Y, Marchand B (2007) Spermiogenesis and sperm ultrastructure of Deropristis inflata Molin, 1859 (Digenea, Deropristidae), a parasite of Anguilla Anguilla. Parasitol Res 101:843–852

Gracenea M, Ferrer JR, Gonzalez-Moreno O, Trullols M (1997) Ultrastructural study of spermatogenesis and the spermatozoon in Postorchigenes gymnesicus (Trematoda, Lecithodendriidae). J Morphol 234:223–232

Hendow HT, James BL (1988) Ultrastructure of spermatozoon and spermatogenesis in Maritrema linguilla (Digenea: Microphallidae). Int J Parasitol 18:53–63

Iomini C, Justine JL (1997) Spermiogenesis and spermatozoon of Echinostoma caproni (Platyhelminthes, Digenea): transmission and scanning electron microscopy, and tubulin immunocytochemistry. Tissue Cell 29:107–118

Iomini C, Mollaret I, Albaret JL, Justine JL (1997) Spermatozoon and spermiogenesis in Mesocoelium monas (Platyhelminthes: Digenea): ultrastructure and epifluorescence microscopy of labeling of tubulin and nucleus. Folia Parasitol 44:26–32

Jamieson BGM, Daddow LM (1982) The ultrastructure of the spermatozoon of Neochasmus sp. (Cryptogonimidae, Digenea, Trematoda) and its phylogenetic significance. Int J Parasitol 12:547–559

Justine JL (1991) Phylogeny of parasitic Platyhelminthes: a critical study of synapomorphies proposed on the basis of the ultrastructure of spermiogenesis and spermatozoa. Can J Zool 69:1421–1440

Justine JL (1995) Spermatozoal ultrastructure and phylogeny in the parasitic Platyhelminthes. Mem Mus Natl Hist Nat 166:55–86

Justine JL (1997) La classification générale des Plathelminthes parasites: changements récents et utilisation des caractères ultrastructuraux, en particulier des spermatozoïdes. Bull Soc Zool Fr 122:69–277

Justine JL (1999) Spermatozoa of Platyhelminthes: comparative ultrastructure, tubulin immunocytochemistry and nuclear labeling. In: Gagnon C (ed) The male gamete: from basic science to clinical applications. Cache River, Vienna, Illinois, pp 351–362

Justine JL (2001) Spermatozoa as phylogenetic characters for the Platyhelminthes. In: Littlewood DTJ, Bray RA (eds) Interrelationships of the Platyhelminthes. Taylor and Francis, London, pp 231–238

Kacem H, Bakhoum AJS, Neifar L, Miquel J (2010) Spermiogenesis and spermatozoon ultrastructure of the digenean Neoapocreadium chabaudi (Apocreadiidae), a parasite of Balistes capriscus (Pisces, Teleostei). Parasitol Int 59:358–366

Levron C, Ternengo S, Marchand B (2003) Ultrastructure of the spermiogenesis and the spermatozoon of Helicometra fasciata (Digenea, Opecoelidae), a parasite of Labrus merula (Pisces, Teleostei). Acta Parasitol 48:255–264

Levron C, Ternengo S, Marchand B (2004a) Spermiogenesis and sperm ultrastructure of Diphterostomum brusinae (Digenea, Zoogonidae), a parasite of Diplodus annularis (Pisces, Teleostei). Parasitol Res 94:147–154

Levron C, Ternengo S, Marchand B (2004b) Spermiogenesis and sperm ultrastructure of Poracanthium furcatum (Digenae, Opecoelidae), a parasite of Mullus surmuletus (Pisces, Teleostei). Acta Parasitol 49:190–200

Levron C, Ternengo S, Marchand B (2004c) Ultrastructure of spermiogenesis and spermatozoon of Monorchis parvus (Digenea, Monorchiidae), a parasite of Diplodus annularis (Pisces, Teleostei). Parasitol Res 93:102–110

Littlewood DTJ, Rohde K, Clough KA (1999) The interrelationships of all major groups of Platyhelminthes: phylogenetic evidence from morphology and molecules. Biol J Linn Soc 66:75–114

Littlewood DTJ, Cribb TH, Olson PD, Bray RA (2001) Platyhelminth Phylogeneticsa—key to understanding parasitism? Belg j zool 131:35–46

Miquel J, Nourrisson C, Marchand B (2000) Ultrastructure of spermiogenesis and the spermatozoon of Opecoeloides furcatus (Trematoda, Digenea, Opecoelidae), a parasite of Mullus barbatus (Pisces, Teleostei). Parasitol Res 86:301–310

Miquel J, Fournier-Chambrillon C, Fournier P, Torres J (2006) Spermiogenesis and spermatozoon ultrastructure of the cranial Digenea Troglotrema acutum (Leuckart, 1842). J Parasitol 92:441–453

Ndiaye PI, Miquel J, Ba CT, Feliu C, Marchand B (2002) Spermiogenesis and sperm ultrastructure of Scaphiostomum palaearcticum Mas-Coma, Esteban et Valero, 1986 (Trematoda, Digenea, Brachylaimidae). Acta Parasitol 47:259–271

Ndiaye PI, Miquel J, Feliu C, Marchand B (2003a) Ultrastructure of spermiogenesis and spermatozoa of Notocotylus neyrai Gonzalez castro, 1945 (Digenea, Notocotylidae), intestinal parasite of Microtus agrestis (Rodentia: Arvicolidae) in Spain. Invertebr Dev 43:105–115

Ndiaye PI, Miquel J, Fons R, Marchand B (2003b) Spermiogenesis and sperm ultrastructure of the liver fluke Fasciola hepatica Linnaeus, 1758 (Digenea, Fasciolidae): transmission and scanning electron microscopy, and tubulin immunocytochemistry. Acta Parasitol 48:182–194

Ndiaye PI, Miquel J, Ba CT, Marchand B (2004) Ultrastructure of spermiogenesis and the spermatozoon of the liver fluke Fasciola gigantica Cobbold, 1856 (Digenea, Fasciolidae), a parasite of cattle in Senegal. J Parasitol 90:30–40

Olson PD, Cribb TH, Tkach VV, Bray RA, Littlewood DTJ (2003) Phylogeny and classification of the Digenea (Platyhelminthes: Trematoda). Int J Parasitol 33:733–755

Orido Y (1988) Ultrastructure of spermatozoa of the lung fluke, Paragonimus ohirai (Trematoda: Troglotrematidae), in the seminal receptacle. J Morphol 196:333–343

Quilichini Y, Foata J, Marchand B (2007a) Ultrastructural study of the spermatozoon of Pronoprymna ventricosa (Digenea, Baccigerinae), a parasite of the twaite shad Alosa fallax Lacepede (Pisces, Teleostei). Parasitol Res 101:1125–1130

Quilichini Y, Foata J, Marchand B (2007b) Ultrastructural study of the spermatozoon of Nicolla testiobliquum (Digenea, Opecoelidae) parasite of brown trout Salmo trutta (Pisces, Teleostei). Parasitol Res 101:1295–1301

Quilichini Y, Foata J, Orsini A, Marchand B (2007c) Ultrastructural study of spermiogenesis and spermatozoon of Crepidostomum metoecus (Digenea, Allocridiidae), a parasite of Salmo trutta (Pisces, Teleostei). J Parasitol 93:458–468

Quilichini Y, Foata J, Orsini A, Marchand B (2007d) Spermiogenesis and spermatozoon ultrastructure of Nicolla wisniewskii (Digenea, Opecoelidae), an intestinal parasite of brown trout Salmo trutta (Pisces: Teleostei). J Parasitol 93:469–478

Quilichini Y, Foata J, Justine J-L, Bray RA, Marchand B (2009) Sperm ultrastructure of the Digenean Siphoderina elongata (Platyhelminthes, Cryptogonimidae) intestinal parasite of Nemipterus furcosus (Pisces, Teleostei). Parasitol Res 105:87–95

Quilichini Y, Foata J, Justine J-L, Bray RA, Marchand B (2010a) Spermatozoon ultrastructure of Aponurus laguncula (Digenea: Lecithasteridae), a parasite of Aluterus monoceros (Pisces, Teleostei). Parasitol Int 59:22–28

Quilichini Y, Foata J, Justine JL, Bray RA, Marchand B (2010b) Ultrastructure study of the spermatozoon of Heterolebes maculosus (Digenea, Opistholebetidae), a parasite of the porcupinefish Diodon hystrix (Pisces, Teleostei). Parasitol Int 59:427–434

Seck MT, Marchand B, Ba CT (2007) Spermiogenesis and the spermatozoon of Paramphistomum microbothrium (Fischoeder 1901; Digenea, Paramphistomidae), a parasite of Bos taurus in Senegal. Parasitol Res 101:259–268

Seck MT, Marchand B, Ba CT (2008a) Spermiogenesis and sperm ultrastructure of Carmyerius endopapillatus (Trematoda, Digenea, Gastrothylacidae), a parasite of Bos taurus in Senegal. Acta Parasitol 53:9–18

Seck MT, Marchand B, Ba CT (2008b) Spermiogenesis and sperm ultrastructure of Cotylophoron cotylophorum (Trematoda, Digenea, Paramphistomidae), a parasite of Bos taurus in Senegal. Parasitol Res 103:157–166

Ternengo S, Quilichini Y, Katharios P, Marchand B (2009) Sperm ultrastructure of the gall bladder fluke Anisocoelium capitellatum (Digenea: Cryptogonimidae), a parasite of Uranoscopus scaber (Pisces: Uranoscopidae). Parasitol Res 104:801–807
About this article
Cite this article
Bâ, C.T., Ndiaye, P.I., Dione, A. et al. Ultrastructure of the spermatozoon of Holorchis micracanthum (Digenea: Lepocreadiidae), an intestinal parasite of Plectorhinchus mediterraneus (Pisces, Teleostei) in Senegal. Parasitol Res 109, 1099–1106 (2011). https://doi.org/10.1007/s00436-011-2352-1
Received:

Accepted:

Published:

Issue Date:
Keywords
Osmium Tetroxide

Ultrastructural Study

Propylene Oxide

Lateral Extension

Sodium Cacodylate Buffer