Abstract
Philophthalmus aweerensis, a new eye fluke species, was discovered in the conjunctival cavities of a rhea in the UAE. This fluke was described and differentiated from other eye flukes that had been found in birds in the Middle East such as Philophthalmus palpebrarum, Philophthalmus nocturnus, Philophthalmus gralli, Philophthalmus lucipetus, Philophthalmus distomatosa, and Philophthalmus hegeneri. The new species lacks spination and is characterized by a long cirrus pouch extending behind the caudal margin of the acetabulum, long vitellaria of tubular type reaching the midbody, and a genital opening situated anteriorly to the bifurcation of the caeca.
This is a preview of subscription content, log in to check access.
Access options
Buy single article
Instant access to the full article PDF.
US$ 39.95
Price includes VAT for USA
Subscribe to journal
Immediate online access to all issues from 2019. Subscription will auto renew annually.
US$ 199
This is the net price. Taxes to be calculated in checkout.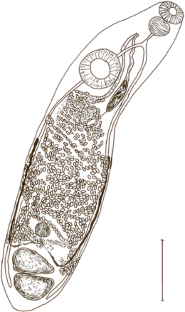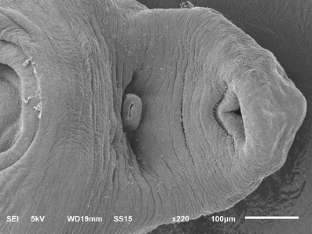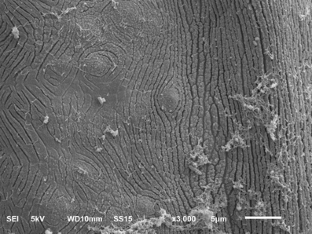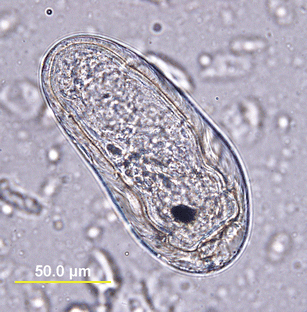 Notes
1.

Lucipetum unites the two latin stems: lucidus: bright and petere: towards and means towards the light
References
Abdul-Salam J, Sreelatha BS, Ashkanani H (2004) The eye fluke Philophthalmus hegeneri (Digenea: Philophthalmidae) in Kuwait Bay. Kuwait J Sci Eng 31:119–133

Alicata JE (1962) Life cycle and developmental stages of Philophthalmus gralli in the intermediate and final hosts. J Parasitol 48:47–54

Braun M (1897) Über Distomum lucipetum. Zool Anz 20:2–3

Braun M (1902) Fascioliden der Vögel. Zool Jahrb Syst 16:1–162

Bremser, JG (1824): Icones Helminthum. Systema Rudolphi Entozoologicum Illustrantes. Viennae, 1–12

Diaz MT, Hernandez LE, Bashirullah AK (2002) Experimental life cycle of Philphthalmus gralli (Trematoda: Philopthalmidae) in Venezuela. Rev Biol Trop 50:629–641

Dujardin MF (1845) Histoire naturelle des helminthes ou vers intestinaux. Librairie Encyclopedique de Roret, Paris, p 654

Gold D, Lang Y, Lengy J (1993) Philophthalmus species, probably P. palpebrarum in Israel: description of the eye fluke from experimental infection. Parasitol Res 79:372–377

Greve JH, Harrison GJ (1980) Conjunctivitis caused by eye flukes in captive-reared ostriches. JAVMA 177:909–910

Ismail NS, Arif MS (1991) Larval trematodes of Melanoides tuberculatus (Müller, 1774) (Gastropoda: Prosobranchia) in a Brackish Spring, United Arab Emirates. Jpn J Parasitol 40:157–169

Ismail NS, Issa IM (1987) The life cycle of Philophthalmus gralli (Mathis and Leger, 1910) (Trematoda: Philophthalmidae) in Azraq Oasis, Jordan. Jpn J Parasitol 36:53–62

Kalantan AMN, Arfin M, Al-Arefi HA, Bobshait HI, Hamada SA, Al-Thawab FH, Shamrani AA (1997) Occurrence of larval Philophthalmus gralli (Mathis and Leger, 1910) in freshwater snail Melanoides tuberculatus (Muller) from Al-Hafuf, Saudi Arabia and its development into adult in various experimental hosts. Parasitol Internat 46:127–136

Kanev I, Nollen P, Vassilev I, Radev V, Dimitrov V (1993) Redescription of Philophthalmus lucipetus (Rudolphi, 1819) (Trematoda: Philophthalmidae) with a discussion of its identity and characteristics. Ann Naturhist Mus Wien 94/95 B:11–34

Looss A (1899) Weitere Beiträge zur Kenntnis der Trematoden-Fauna Aegyptens, zugleich Versuch einer natürlichen Gliederung des Genus Distomum Retzius. Zool Jahrbuch Syst 12:521–784

Looss A (1907) Philophthalmus nocturnus nov. sp. Centralbl Bakteriol Parasitenkd Infektionskr 43:479–480

Mukaratirwa S, Hove T, Cindzi ZM, Maononga DB, Taruvinga M, Matenga E (2005) First report of a field outbreak of the oriental eye-fluke, Philophthalmus gralli, in commercially reared ostriches (Struthio camelus) in Zimbabwe. Ondestepoort J Vet Res 72:203–206

Nollen PM, Kanev I (1995) The taxonomy and biology of philophthalmid eyeflukes. Adv Parasitol 36:205–269

Penner LR, Fried B (1963) Philophthalmus hegeneri sp. n. an ocular trematode from birds. J Parasitol 49:974–977

Radev V, Kanev I, Nollen PM, Gold D (1999) Life history and identification of Philophthalmus lucipetus from Israel. J Parasitol 85:291–294

Radev V, Kanev I, Gold D (2000) Life cycle and identification of an eyefluke from Israel transmitted by Melanoides tuberculata (Müller, 1774). J Parasitol 86:773–776

Rudolphi, CA (1819) Entozoorum synopsis cui accedunt mantissa duplex et indices locupletissimi; Sumptibus A. Rückeri: Berolini. 811 pp

Skrjabin KI (1947) Trematodes of animals and men. Izd Akademii Nauk SSSR, Moskva 1:516, in Russian

Sonin, MD: (1985) Key to the trematodes of fish-eating birds of the palaearctic region (Brachylaimidae, Clinostomidae, Cyclocoelidae, Fasciolidae, Notocotylidae, Plagiorchiidae, Schistosomatidae). Nauka, Moskva, 256 pp. (in Russian)

Verocai GG, Lopes LG, Burlini L, Correia TR, de Souza CP, Coumendourus K (2009) Ocurrence of Philophthalmus gralli (Trematoda: Philophthalmidae) in farmed ostriches in Brazil. Trop Anim Health Prod 41:1241–1242

WEST AF (1961) Studies on the biology of Philophthalmus gralli Mathis and Leger, 1910 (Trematoda: Digenea). Am Midl Nat 66:363–383

Yamaguti S (1958) Systema helminthum. The digenetic trematodes of vertebrates. Interscience Publishing, New York, p 1575

Yamaguti S (1971) Synopsys of digenetic trematodes of vertebrates. Keigaku Publication, Tokyo, p 1074
Acknowledgment
The SEM images were captured with scanning electron microscope JSA-6510LV and the author wishes to thank Ms. Low Kay En and Mr. Tan Teck Siong, JEOL Asia, Singapore for processing the samples.
About this article
Cite this article
Schuster, R.K. Philophthalmus aweerensis n. sp. (Trematoda: Philophthalmidae) found in a rhea (Rhea americana) in the United Arab Emirates. Parasitol Res 109, 1029–1033 (2011). https://doi.org/10.1007/s00436-011-2340-5
Received:

Accepted:

Published:

Issue Date:
Keywords
Ventral Sucker

Oral Sucker

Living Fluke

Genital Pore

Anterior Testis