Abstract
Trypanosoma evansi is a causative agent of 'surra', a common haemoprotozoan disease of livestock in India causing high morbidity and mortality in disease endemic areas. The proteinases released by live and dead trypanosomes entail immunosuppression in the infected host, which immensely contribute in disease pathogenesis. Cysteine proteinases are identified in the infectious cycle of trypanosomes such as cruzain from Trypanosoma cruzi, rhodesain or brucipain from Trypanosoma brucei rhodesiense and congopain from Trypanosoma congelense. These enzymes localised in lysosome-like organelles, flagellar pocket and on cell surface, which play a critical role in the life cycle of protozoan parasites, viz. in host invasion, nutrition and alteration of the host immune response. The paper describes the identification of cysteine proteinases of T. evansi lysate, activity profile at different pH optima and inhibition pattern using a specific inhibitor, besides the polypeptide profile of an antigen. Eight proteinases of T. evansi were identified in the molecular weight (MW) ranges of 28–170 kDa using gelatin substrate-polyacrylamide gel electrophoresis (GS-PAGE), and of these proteinases, six were cysteine proteinases, as they were inhibited by L-3-carboxy-2,3-transepoxypropionyl-lecuylamido (4-guanidino)-butane (E-64), a specific inhibitor. These proteolytic enzymes were most reactive in acidic pH between 3.0 and 5.5 in the presence of dithiothreitol and completely inactive at alkaline pH 10.0. Similarly, the GS-PAGE profile of the serum samples of rats infected with T. evansi revealed strong proteolytic activity only at the 28-kDa zone at pH 5.5, while no proteolytic activity was observed in serum samples of uninfected rats. Further, the other zones of clearance, which were evident in T. evansi antigen zymogram, could not be observed in the serum samples of rats infected with T. evansi. The polypeptide pattern of the whole cell lysate antigen revealed 12–15 polypeptide bands ranging from 28 to 81 kDa along with five predominant polypeptides bands (MW of 81, 66, 62, 55 and 45 kDa), which were immunoreactive with hyperimmune serum (HIS) and serum of experimentally infected rabbits with T. evansi infection. The immunoblot recognised antibodies in experimentally infected rabbits and against HIS as well, corresponding to the zone of clearances at lower MW ranges (28–41 kDa), which may be attributed to the potential of these proteinases in the diagnosis of T. evansi infection. Since these thiol-dependent enzymes are most active in acidic pH and considering their inhibition characteristics, these data suggest that they resemble to the mammalian lysosomal cathepsin B and L.
This is a preview of subscription content, log in to check access.
Access options
Buy single article
Instant access to the full article PDF.
US$ 39.95
Price includes VAT for USA
Subscribe to journal
Immediate online access to all issues from 2019. Subscription will auto renew annually.
US$ 199
This is the net price. Taxes to be calculated in checkout.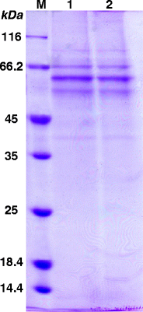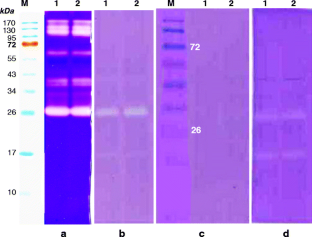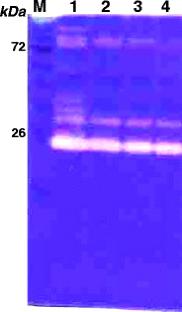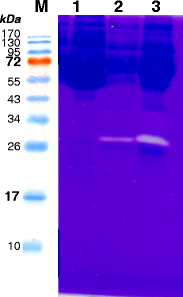 References
Alves LC, Judice WAS, St. Hilaire PM, Meldal M, Sanderson SJ, Mottram JC, Coombs GH, Juliano L, Juliano MA (2001) Substrate specificity of recombinant cysteine proteinase, CPB, of Leishmania mexicana. Mol Biochem Parasitol 116:1–9

Barrett AJ (1972) Cathepsins B1 from human fetal membranes. Anal Biochem 47:280–293

Bonaldo MC, d'Escoffier LN, Salles JM, Goldenberg S (1981) Characterization and expression of proteases during Trypanosoma cruzi metacyclogenesis. Exp Parasitol 73:44–51

Bontempi E, Franke de Cazzulo BM, Ruiz AM, Cazzulo JJ (1984) Purification and some properties of an acidic protease from epimastigotes of Trypanosoma cruzi. Comp Biochem Physiol 77:599–604

Cazzulo JJ, Hellman U, Couso R, Parodi AJ (1990) Amino acid and carbohydrate composition of a lysosomal cysteine proteinase from Trypanosoma cruzi. Absence of phosphorylated mannose residues. Mol Biochem Parasitol 38:41–48

Cazzulo JJ, Stoka V, Turk V (2001) The major cysteine proteinase of Trypanosoma cruzi: a valid target for chemotherapy of Chagas disease. Curr Pharm Des 7:1143–1156

Giardina S, Paganico G, Urbani G, Rossi M (2003) A biochemical and immunological comparative study on Trypanosoma equiperdum and Trypanosoma evansi. Vet Res Commun 27:289–300

Gomes SAO, Misael D, Silva BA, Feder D, Silva CS, Gonçalves TCM, Santos ALS, Santos-Mallet JR (2009) Major cysteine protease (cruzipain) in Z3 sylvatic isolates of Trypanosoma cruzi from Rio de Janeiro, Brazil. Parasitol Res 105:743–749

Harth G, Andrews N, Mills AA, Engel JC, Smith R, McKerrow JH (1993) Peptide-fluoromethyl ketones arrest intracellular replication and intercellular transmission of Trypanosoma cruzi. Mol Biochem Parasitol 58:17–24

Huet G, Richet C, Demeyer D, Bisiau H, Soudan B, Han KK, Degand P (1992) Characterization of different proteolytic activity in Trypanosoma. Biochim Biophys Acta 1138(3):213–21

Laemmli UK (1970) Cleavage of structural proteins during assembly of the head of bacteriophage T4. Nature 227:630–684

Lalmanach G, Boulangé A, Serveau C, Lecaille F, Scharfstein J, Gauthier F, Authié E (2002) Congopain from Trypanosoma congolense: drug target and vaccine candidate. Bchm 383:739–749

Lanham SM, Godfrey DG (1970) Isolation of salivarian trypanosomes from man and other animals using DEAE cellulose. Exp Parasitol 28:521–534

Lonsdale-Eccles JD, Mpimbaza GWN (1986) Thiol-dependent proteases of African trypanosomes. Analysis by electrophoresis in sodium dodecyl sulphate/polyacrylamide gels co-polymerized with fibrinogen. Eur J Biochem 155:469–473

McKerrow JH (1989) Mini review: parasite proteases. Exp Parasitol 68:111–115

McKerrow JH, Caffery C, Kelly B, Sajid M (2006) Proteases in parasitic diseases. Annu Rev Patho Mech Dis 1:497–536

Morty RE, Pelle R, Vadasz I, Uzcanga GL, Seeger W (2005) Oligopeptidase B from Trypanosoma evansi. A parasite peptidase that inactivates atrial natriuretic factor in the bloodstream of infected hosts. J Biol Chem 280:10925–10937

North MJ (1992) The characteristics of cysteine proteases of parasitic protozoa. Biol Chem 373:401–406

Nazareth M, Meirelles L, Juliano L, Carmona E, Silva SG, Costa EM, Murta ACM, Scharfstein J (1992) Inhibitors of the major cysteinyl proteinase (GP57/51) impair host cell invasion and arrest the intracellular development of Trypanosoma cruzi in vitro. Mol Biochem Parasitol 52:175–184

Rautenberg P, Schadler R, Reinwald E, Risse HJ (1982) Study on a proteolytic enzyme from Trypanosoma congolense. Purification and some biochemical properties. Mol Cell Biochem 47:151–159

Selzer PM, Chen X, Chan VJ, Cheng M, Kenyon GL, Kuntz ID, Sakanari JA, Cohen FE, McKerrow JH (1997) Leishmania major: molecular modeling of cysteine proteases and prediction of new nonpeptide inhibitors. Expl Parasitol 87:212–221

Sijwali PS, Shenai BR, Gut J, Singh A, Rosenthal PJ (2001) Expression and characterization of the Plasmodium falciparum haemoglobinase falcipain-3. Biochem J 360:481–489

Soares MJ, Souto-Padrón T, De Souza W (1992) Identification of a large pre-lysosomal compartment in the pathogenic protozoon Trypanosoma cruzi. J Cell Sci 102:157–167

Souto-Padrón T, Campetella OE, Cazzulo JJ, De Souza W (1990) Cysteine proteinase in Trypanosoma cruzi: immunocytochemical localization and involvement in parasite–host cell interaction. J Cell Sci 96:485–490

Sung CK, Dresden MH (1986) Cysteinyl proteinases of Schistosoma mansoni eggs: purification and partial characterization. J Parasitol 72:891–900

Staak C, Lohding A (1979) The complement fixation test and African trypanosomiasis. Experimental infection and reinfection in cattle before and after treatment. Trop Med Parasit 30:13–18

Suhar A, Marks N (1979) Purification and properties of brain cathepsin B. Evidence for cleavage of pituitary lipotropins. Eur J Biochem 101:23–30

Towbin H, Staehelin T, Gordon J (1979) Electrophoretic transfer of proteins from polyacrylamide gels to nitrocellulose sheets: procedure and some applications. Proc Natl Acad Sci USA 76:4350

Wiffels GL, Salvatore L, Dosen M, Wadington J, Thompson C, Campbell N, Sexton J, Wicker J, Bowen F, Friedel T, Spithill TW (1994) Vaccination of sheep with purified cysteine proteinase of Fasciola hepatica decreases worm fecundity. Expl Parasitol 78:132–148

Willenbrock F, Brockleehurst K (1985) Preparation of cathepsins B and H by covalent chromatography and characterization of their catalytic sites by reaction with a thiol-specific two-protonic-state reactivity probe. Kinetic study of cathepsins B and H extending into alkaline media and a rapid spectroscopic titration of cathepsin H at pH 3–4. Biochem J 227:521–528

Woo PTK (1977) Salivarian trypanosomes producing disease in livestock outside of sub-saharan Africa. In: Kreier JP (ed) Parasitic protozoa, vol 1. Academic, New York, pp 269–296

Yadav SC, Kumar R, Kumar S, Gupta AK (2010) Identification of immunodominant Trypanosoma evansi antigens by western blot analysis in chronic experimental infections. Proceedings XX National Congress of Veterinary Parasitology on "Parasitology today—ecology to molecular biology" organized by the Dept. of Vet. Parasitology, CCSHAU, Hisar w.e.f. Feb. 18–20, 2010, pp 42–43

Yadav SC, Saini M, Raina OK, Nambi PA, Jadav K, Sriveny D (2004) Fasciola gigantica cathepsin-L cysteine proteinase in the detection of early experimentational fasciolosis in ruminants. Parasitol Res 97:527–534

Yang SH, Park JO, Lee JH, Jeon BH, Kim WS, Kim SI, Yun KI, Jeong ET, Lee KW, Kim YM, Lee MH, Park H (2004) Cloning and characterization of a new cysteine proteinase secreted by Paragonimus westermani adult worms. Am J Trop Med Hyg 71:87–92
Acknowledgements
The authors gratefully acknowledge Dr. O. K. Raina and Dr. Mohini Saini, senior scientist, Indian Veterinary Research Institute, Izatnagar, (UP), India for constructive suggestions during the investigation. They would also like to thank Mr. R. K. Dayal and Mr. N. K Yadav for the in vivo maintenance of T. evansi and for technical support during the investigation.
About this article
Cite this article
Yadav, S.C., Kumar, R., Kumar, S. et al. Identification and characterization of cysteine proteinases of Trypanosoma evansi . Parasitol Res 109, 559–565 (2011). https://doi.org/10.1007/s00436-011-2284-9
Received:

Accepted:

Published:

Issue Date:
Keywords
Proteolytic Activity

Trypanosoma

Molecular Weight Range

Polypeptide Band

Infected Rabbit