Abstract
Opisthorchis viverrini infection causes many hepatobiliary diseases, including cholangiocarcinoma. Hence, the study of O. viverrini infection in humans is subject to ethical limitations, so an animal model, the Syrian hamster, is often used. O. viverrini can develop into the adult stage not only in Syrian hamsters but also in other animals, including gerbils, but until now, there has been no report on pathology and susceptibility in gerbils. The present study revealed the pathology of O. viverrini infection in gerbils through gross appearance, histopathology, and worm recovery at various time points. Gerbils were infected with 50 O. viverrini metacercariae and then sacrificed at the time of observation. The gross appearance of the liver showed micronodules at the liver surface, suggesting liver and biliary cirrhosis. Light microscopic observation was correlated to the gross appearance with cholecystitis, fatty liver changes, fibrous septa, and generalized cirrhosis. The range of worm burden fluctuated from 1 to 25 worms with large body size, which was correlated with pathology. These novel findings indicate that O. viverrini infection can cause liver and biliary cirrhosis in gerbils, depending on the worm burden, worm size, and habitat.
This is a preview of subscription content, log in to check access.
Access options
Buy single article
Instant access to the full article PDF.
US$ 39.95
Price includes VAT for USA
Subscribe to journal
Immediate online access to all issues from 2019. Subscription will auto renew annually.
US$ 199
This is the net price. Taxes to be calculated in checkout.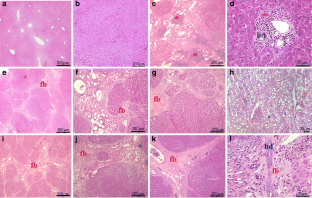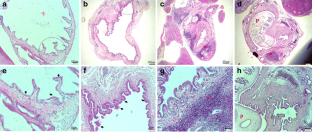 References
Adam R, Hinz E, Sithithaworn P, Pipitgool V, Storch V (1993) Ultrastructural hepatic alterations in hamsters and jirds after experimental infection with the liver fluke Opisthorchis viverrini. Parasitol Res 79(5):357–364

Bhamarapravati N, Thammavit W, Vajrasthira S (1978) Liver changes in hamsters infected with a liver fluke of man, Opisthorchis viverrini. Am J Trop Med Hyg 27:787–794

Boonjaraspinyo S, Boonmars T, Aromdee C, Puapairoj A, Wu Z (2011) Indirect effect of a turmeric diet: enhanced bile duct proliferation in Syrian hamsters with a combination of partial obstruction by Opisthorchis viverrini infection and inflammation by N-nitrosodimethylamine administration. Parasitol Res 108(1):7–14

Boonmars T, Boonjaraspinyo S, Kaewsamut B (2009) Animal models for Opisthorchis viverrini infection. Parasitol Res 104(3):701–703

Harinasuta T, Riganti M, Bunnag D (1984) Opisthorchis viverrini infection: pathogenesis and clinical features. Arzneimittelforschung 34:1167–1169

International Agency for Research on Cancer (1994) Infection with liver flukes (Opisthorchis viverrini, Opisthorchis felineus and Clonorchis sinensis). IARC Monogr Eval Carcinog Risks Hum 61:121–175

Jongsuksuntigul P, Imsomboon T (1998) Epidemiology of opisthorchiasis and national control program in Thailand. Southeast Asian J Trop Med Public Health 29:327–332

Kaewkes S (2003) Taxonomy and biology of liver flukes. Acta Trop 88(3):177–186

Koompirochana V, Sonakul S, Chinda K, Stitnimankarn T (1978) Opisthorchiasis: a clinicopathologic study of 154 autopsy cases. Southeast Asian J Trop Med Public Health 9:60–64

Koulentaki M, Koutroubakis IE, Petinaki E, Tzardi M, Oekonomaki H, Mouzas I, Kouroumalis EA (1999) Ulcerative colitis associated with primary biliary cirrhosis. Dig Dis Sci 44(10):1953–1956

Krishnamurthy GT, Krishnamurthy S (2000) Nuclear hepatology: a textbook of hepatobiliary diseases, 1st edn. Berlin, Springer, p 291

Lai CH, Chin C, Chung HC, Liu H, Hwang JC, Lin HH (2007) Clonorchiasis-associated perforated eosinophilic cholecystitis. Am J Trop Med Hyg 76(2):396–398

Melling N, Hohenberger W, Yedibela S (2009) Opisthorchiasis mimicking primary biliary cirrhosis as an indication for liver transplantation. J Hepatol 50(5):1057–1059

Rangsin R, Mungthin M, Taamasri P, Mongklon S, Aimpun P, Naaglor T, Leelayoova S (2009) Incidence and risk factors of Opisthorchis viverrini infections in a rural community in Thailand. Am J Trop Med Hyg 81(1):152–155

Riganti M, Pungpak S, Punpoowong B, Bunnag D, Harinasuta T (1989) Human pathology of Opisthorchis viverrini infection: a comparison of adults and children. Southeast Asian J Trop Med Public Health 20:95–100

Rohela M, Johari S, Jamaiah I, Init I, Lee SH (2006) Acute cholecystitis caused by Clonorchis sinensis. Southeast Asian J Trop Med Public Health 37(4):648–651

Sithithaworn P, Haswell-Elkins M (2003) Epidemiology of Opisthorchis viverrini. Acta Trop 88(3):187–194

Songserm N, Prasongwattana J, Sithithaworn P, Sripa B, Pipitkool V (2009) Cholangiocarcinoma in experimental hamsters with long-standing Opisthorchis viverrini infection. Asian Pac J Cancer Prev 10(2):299–302

Sripa B, Kaewkes S (2002) Gall bladder and extrahepatic bile duct changes in Opisthorchis viverrini-infected hamsters. Acta Trop 83:29–36

Sripa B, Mairiang E, Thinkhamrop B, Laha T, Kaewkes S, Sithithaworn P, Tessana S, Loukas A, Brindley PJ, Bethony JM (2009) Advanced periductal fibrosis from infection with the carcinogenic human liver fluke Opisthorchis viverrini correlates with elevated levels of interleukin-6. Hepatology 50(4):1273–1281

Sripa B, Kaewkes S, Intapan PM, Maleewong W, Brindley PJ (2010) Food-borne trematodiases in Southeast Asia epidemiology, pathology, clinical manifestation and control. Adv Parasitol 72:305–350

Sullivan WG, Koep LJ (1980) Common bile duct obstruction and cholangiohepatitis in clonorchiasis. JAMA 243(20):2060–2061

Tansurat P (1971) Opisthorchiasis. In: Marcial-Rojas RA (ed) Pathology of protozoal and helminthic diseases. Williams and Wilkins, Baltimore, pp 536–545

World Health Organization (1995) Control of foodborne trematode infections, WHO technical report series 849. World Health Organization, Geneva

Xiao WB, Liu YL (2003) Primary biliary cirrhosis and ulcerative colitis: a case report and review of literature. World J Gastroenterol 9(4):878–880
Acknowledgments
This research was supported by the Graduate School, Khon Kaen University; the grant of Khon Kaen University, Office of The Higher Education Commission; the Grant-in-Aid for Scientific Research (21590463) from the Ministry of Education, Culture, Sports, Science and Technology of Japan; and The National Research Project, Khon Kaen University, Thailand. We thank the Department of Parasitology, the Liver Fluke and Cholangiocarcinoma Research Center, and the Animal Experimental Unit, Faculty of Medicine, Khon Kaen University, for their support. Thanks to Mr. Christopher Salisbury for English editing.
About this article
Cite this article
Wonkchalee, O., Boonmars, T., Kaewkes, S. et al. Opisthorchis viverrini infection causes liver and biliary cirrhosis in gerbils. Parasitol Res 109, 545–551 (2011). https://doi.org/10.1007/s00436-011-2282-y
Received:

Accepted:

Published:

Issue Date:
Keywords
Bile Duct

Common Bile Duct

Pancreatic Duct

Cholecystitis

Primary Biliary Cirrhosis