Abstract
The mobile genetic element PCR (MGE-PCR) is a simple and sensitive technique that can be used to detect genetic variability in Trypanosoma brucei ssp. To investigate the reliability of MGE-PCR in genotyping Trypanosoma evansi, stocks that were isolated directly from camels and after their respective passage in mice were analyzed. Construction of a dendrogram using the MGE-PCR banding profiles revealed a clear distinction between T. evansi and T. brucei, as well as discriminating the T. evansi strains (T. evansi with minicircle types B and A). A minor host-dependent clustering shows a genetic difference of <15%. Changes in the banding profiles were observed after serial passage of T. evansi type B in mice, while those of T. evansi type A were identical. It is apparent that significant random insertion mobile element positional variation occurs when T. evansi isolates are introduced into a new host, a factor that needs to be considered when MGE-PCR is used to determine genetic variation in T. evansi isolates that have different host origins.
This is a preview of subscription content, log in to check access.
Access options
Buy single article
Instant access to the full article PDF.
US$ 39.95
Price includes VAT for USA
Subscribe to journal
Immediate online access to all issues from 2019. Subscription will auto renew annually.
US$ 199
This is the net price. Taxes to be calculated in checkout.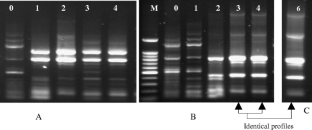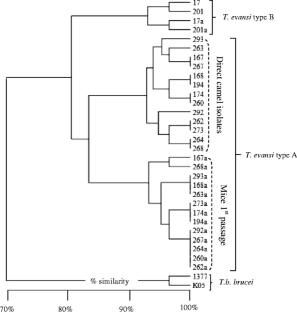 References
Aksoy S (1991) Site-specific retrotransposons of the trypanosomatid protozoa. Parasitol Today 7:281–285

Bhattacharya S, Barke A, Bhattacharya A (2002) Mobile genetic elements in protozoan parasites. J Genet 8:73–86

Bringaud F, Biteau N, Zuiderwijk E, Berriman M et al (2004) The ingi and RIME non-LTR retrotransposons are not randomly distributed in the genome of Trypanosoma brucei. Mol Biol Evol 21:520–528

De Menezes VT, Queiroz AO, Gomes MA, Marques MA, Jansen AM (2004) Trypanosoma evansi in inbred and Swiss–Webster mice: distinct aspects of pathogenesis. Parasitol Res 94:193–200

Desquesnes M, Bossard G, Patrel D, Herder S, Patout OG et al (2008) First outbreak of Trypanosoma evansi in camels in metropolitan France. Vet Rec 162:750–752

Donelson JE (2003) Antigenic variation and the African trypanosome genome. Acta Trop 85:391–404

Gibson WC, Wilson AJ, Moloo SK (1983) Characterisation of Trypanosoma (Trypanozoon) evansi from camels in Kenya using isoenzyme electrophoresis. Res Vet Sci 34:114–118

Godfrey DG, Lanham SM (1970) A concentration method for demonstrating trypanosomes from subpatent infections. Trans R Soc Trop Med Hyg 164:159

Haig H, Kazazian J (2004) Mobile elements: drivers of genome evolution. Science 303:1626–1632

Hasan G, Turner MJ, Cordingley JS (1984) Complete nucleotide sequence of an unusual mobile element from Trypanosoma brucei. Cell 37:333–341

Hide G, Tilley A (2001) Use of mobile genetic elements as tools for molecular epidemiology. Int J Parasitol 31:599–602

Kimmel BE, ole-MoiYoi OK, Young JR (1987) Ingi, a 5.2-kb dispersed sequence element from Trypanosoma brucei that carries half of a smaller mobile element at either end and has homology with mammalian LINEs. Mol Cell Biol 7:1465–1475

Masiga DK, Ndung'u K, Tweedie A, Tait A, Turner CM (2006) Trypanosoma evansi: genetic variability detected using amplified restriction fragment length polymorphism (AFLP) and random amplified polymorphic DNA (RAPD) analysis of Kenyan isolates. Exp Parasitol 114:147–153

Muhammad G, Saqib M, Sajid MS, Naureen A (2007) Trypanosoma evansi infections in Himalayan black bears (Selenarctos thibetanus). J Zoo Wildl Med 38:97–100

Njiru ZK, Constantine CC (2007) Population sub-structuring among Trypanosoma evansi stocks. Parasitol Res 101:1215–1224

Njiru ZK, Constantine CC, Ndung'u JM, Robertson I, Okaye S, Thompson RCA, Reid SA (2004) Detection of Trypanosoma evansi in camels using PCR and CATT/T. evansi tests in Kenya. Vet Parasitol 124:187–199

Njiru ZK, Constantine CC, Masiga DK, Reid SA, Thompson RC, Gibson WC (2006) Characterization of Trypanosoma evansi type B. Infect Genet Evol 6:292–300

Njiru ZK, Constantine CC, Gitonga PK, Thompson RC, Reid SA (2007) Genetic variability of Trypanosoma evansi isolates detected by inter-simple sequence repeat anchored-PCR and microsatellite. Vet Parasitol 147:51–60

Njiru ZK, Mikosza AS, Matovu E, Enyaru JC, Ouma JO, Kibona SN, Thompson RC, Ndung'u JM (2008) African trypanosomiasis: sensitive and rapid detection of the sub-genus Trypanozoon by loop-mediated isothermal amplification (LAMP) of parasite DNA. Int J Parasitol 38:589–599

Page RDM (1996) TREEVIEW: an application to display phylogenetics trees on personal computers. Comput Appl Biosci 12:357–358

Powar RM, Shegokar VR, Joshi PP, Dani VS, Tankhiwale NS, Truc P, Jannin J, Bhargava A (2006) A rare case of human trypanosomiasis caused by Trypanosoma evansi. Indian J Med Microbiol 24:72–74

Queiroz AO, Cabello PH, Jansen AM (2000) Biological and biochemical characterization of isolates of Trypanosoma evansi from Pantanal of Matogrosso-Brazil. Vet Parasitol 92:107–118

Reid SA (2002) Trypanosoma evansi control and containment in Australasia. Trends Parasitol 18:219–224

Rice-Ficht AC, Chen KK, Donelson JE (1981) Sequence homologies near the C-termini of the variable surface glycoproteins of Trypanosoma brucei. Nature (London) 294:53–57

Simo G, Herder S, Njiokou F, Asonganyi T, Tilley A, Cuny G (2005) Trypanosoma brucei s.l.: characterisation of isolates from Central Africa by PCR analysis of mobile genetic elements. Exp Parasitol 110:53–362

Tamarit A, Gutierrez C, Arroyo R, Jimenez V, Zagala G, Bosch I, Sirvent J, Alberola J, Alonso I, Caballero C (2009) Trypanosoma evansi infection in mainland Spain. Vet Parasitol 167:74–76

Tilley A, Welburn SC, Fèvre EM, Feil EJ, Hide G (2003) Trypanosoma brucei: trypanosome strain typing using PCR analysis of mobile genetic elements (MGE-PCR). Exp Parasitol 104:26–32

Van der Ploeg LHT (1987) Control of variant surface antigen switching in trypanosomes. Cell 51:159–161

Ventura RM, Takata CS, Silva RA, Nunes VL, Takeda GF, Teixeira MM (2000) Molecular and morphological studies of Brazilian Trypanosoma evansi stocks: The total absence of kDNA in trypanosomes from both laboratory stocks and naturally infected domestic and wild mammals. Int J Parasitol 86:1289–1298
Acknowledgements
The samples were collected with funds from the project diversity of trypanosomes in camels from areas endemic for trypanosomiasis in Kenya' by International Foundation for Science (IFS) grant number B3372 to Zablon Njiru.
About this article
Cite this article
Njiru, Z.K., Gitonga, P.K. & Ndungu, K. The typing of Trypanosoma evansi isolates using mobile genetic element (MGE) PCR. Parasitol Res 108, 1583–1587 (2011). https://doi.org/10.1007/s00436-010-2246-7
Received:

Accepted:

Published:

Issue Date:
Keywords
Trypanosoma

Mobile Genetic Element

Serial Passage

Positional Variation

Banding Profile