Abstract
The morphogenesis (studied for the first time) and the chronology of the life cycle of Graphidium strigosum (Dujardin, 1845) were studied in detail in its natural host, Oryctolagus cuniculus. Naive rabbits were each infected per os with G. strigosum infective larvae (L3). Animals were euthanized each day for the first 10 days after infection (DAI), then every 2 days from 12 to 40 DAI. The free living period lasted 5–8 days at 24°C. By 1 DAI, all the larvae were exsheathed in the stomach. The third molt occurred between 9 and 17 DAI. The last molt occurred between 24 and 32 DAI. The prepatent period lasted 42–44 DAI, while the patent period lasted at least 13 months. For each experiment, the morphology of the different stages of the life cycle was described. The chronology of the G. strigosum life cycle and its morphogenesis were compared to those of different Haemonchidae parasites of ruminants (Ostertagia ostertagi, Teladorsagia circumcincta, Haemonchus contortus, and Haemonchus placei) in their natural hosts.
This is a preview of subscription content, log in to check access.
Access options
Buy single article
Instant access to the full article PDF.
US$ 39.95
Price includes VAT for USA
Subscribe to journal
Immediate online access to all issues from 2019. Subscription will auto renew annually.
US$ 199
This is the net price. Taxes to be calculated in checkout.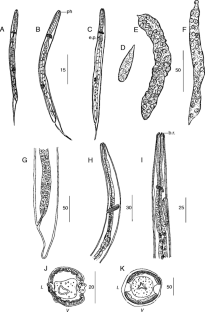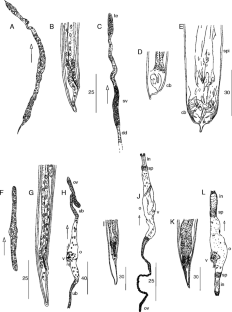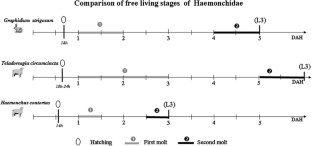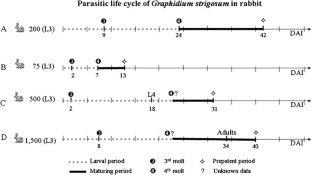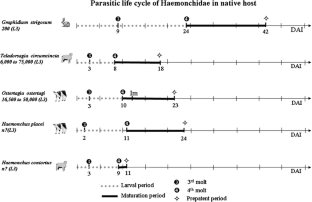 References
Audebert F, Durette-Desset MC (2007) Do lagomorphs play a relay role in the evolution of the Trichostrongylina nematodes? Parasite 14:183–197

Baermann G (1917) Eine einfache methode zur auffindung von Ankylostomum (Nematoden) larven in erdproben. Geneeskd Tijdschr Ned-indie 57:131–137, in German

Barger IA, Benyon PR, Southcott WH (1972) Simulation of pasture larval populations of Haemonchus contortus. Proc Aust Soc Anim Prod 9:38–42

Bremner KC (1956) The parasitic life cycle of Haemonchus placei (Place, 1893) Ransom (Nematoda: Trichostrongylidae). Aust J Zool 4:146–151

Cabaret J (1981) Egg output of Graphidium strigosum (Nematoda) in low-level prime infection of rabbits. Folia Parasitol 28:337–341

Cameron TWM (1923) Studies on two new genera and some little known species of the nematode family, Trichostrongylidae Leiper. J Helminthol 1:71–96

Coadwell WJ, Ward PFV (1975) Observations on the development of Haemonchus contortus in young sheep given a single infection. Parasitology 71:505–515

Coudert P, Licois D, Besnard J (1988) Establishment of a specified pathogen free breeding colony (SPF) without hysterectomy and hand-rearing procedures. In: Proc. 4th Cong. World Rabbit Sc Ass, Budapest, Hungary, pp 137–148

Dash KM (1985) Distribution of Trichostrongylid nematodes in the abomasum of sheep. Int J Parasitol 15:505–510

Denham DA (1969) The development of Ostertagia circumcincta in lambs. J Helminthol 43:299–310

Dikmans G, Andrews JS (1933) A comparative morphological study of the infective larvae of the common nematodes parasitic in the alimentary tract of sheep. Trans Am Microsc Soc 52:1–25

Douvres FW (1956) Morphogenesis of parasitic stages of Ostertagia ostertagi, a nematode parasite in cattle. J Parasitol 42:626–635

Dujardin F (1845) Histoire naturelle des Helminthes ou vers intestinaux. Librairie encyclopédique de Roret, Paris, 654 pp (in French)

Durette-Desset MC, Denké M (1978) Description de nouveaux Nématodes parasites d'un lièvre africain et compléments à l'étude morphologique de quelques Trichostrongylidae. Bull Mus Nat Hist nat Zool 354:331–347, In French

Durette-Desset MC, Hugot JP, Darlu P, Chabaud AG (1999) A cladistic analysis of the Trichostrongyloidea (Nematoda). Int J Parasitol 29:1065–1086

Flynn RJ (1973) Parasites of laboratory animals. The Iowa State University Press, Ames, 884 pp

Hubert J, Kerboeuf D (1984) A new method for culture of larvae used in diagnosis of ruminant gastrointestinal strongylosis: comparison with fecal cultures. Can J Comp Med 48:63–71

Hutchinson GW, Slocombe JOD (1976) Experimentally induced Haemonchus contortus infections in the rabbit. J Helminthol 50:143–152

Kerboeuf D, Hubert J, Mallet S (1989) Haemonchus contortus: infectivity and resistance to benzimidazole. Vet Rec 124:399–400

Leignel V, Silvestre A, Humbert JF, Cabaret J (2010) Alternation of anthelmintic treatments: a molecular evaluation for benzimidazole resistance in nematodes. Vet Parasitol 172:80–88

Lichtenfels JR, Pilitt PA, Hoberg EP (1994) New morphological characters for identifying individual specimens of Haemonchus spp. (Nematoda: Trichostrongyloidea) and a key to species in ruminants of North America. J Parasitol 80:107–119

Martin NB, Thomas BAC, Urquhart GM (1957) Chronic diarrhoea in housed cattle due to atypical parasitic gastritis. Vet Rec 69:736–739

Michel JF (1974) Arrested development of Nematodes and some related phenomena. Adv Parasitol 12:279–366

Morgan DO (1928) On the infective larva of Ostertagia circumcincta (Stadelmann, 1894), a stomach parasite of sheep. J Helminthol 6:183–192

Nickel EA, Haupt W (1986) Experimental studies on the course and consequences of infection with Graphidium strigosum (Nematoda, Trichostrongylidae) in Oryctolagus cuniculus (domestic rabbit). Angew Parasitol 27:215–219 (In German)

Nisbet AJ, Bell NE, McNeilly TN, Knox DP, Maizels RM, Meikle LI, Wildblood LA, Matthews JB (2010) A macrophage migration inhibitory factor-like tautomerase from Teladorsagia circumcincta (Nematoda: Strongylida). Parasite Immunol 32:503–511

Raynaud JP (1970) Etude de l'efficacité d'une technique de coproscopie quantitative pour le diagnostic de routine et le contrôle des infestations parasitaires des bovins, ovins, équins et porcins. Ann Parasitol 45:321–342 (In French)

Rogers WP, Sommerville RI (1968) The infectious process and its relation to the development of early parasitic stages of nematodes. Adv Parasitol 6:327–348

Rose JH (1969) The development of the parasitic stages of Ostertagia ostertagi. J Helminthol 43:173–184

Scott I, Khalaf S, Simcock DC, Knight CG, Reynolds GW, Pomroy WE, Simpson HV (2000) A sequential study of the pathology associated with the infection of sheep with adult and larval Ostertagia circumcincta. Vet Parasitol 89:79–94

Silverman PH, Patterson JE (1960) Histotropic (parasitic) stages of Haemonchus contortus. Nature 185:54–55

Simpson HV, Przemeck SM, Scott I, Pernthaner A (2009) Effects of Teladorsagia (Ostertagia) circumcincta infection on lambs selected for high fleece weight. Vet Parasitol 165:256–264

Sommerville RI (1953) Development of Ostertagia circumcincta in the abomasal mucosa of the sheep. Nature 171:482–483

Sommerville RI (1954) The second ecdysis of infective nematode larvae. Nature 174:751

Sommerville RI (1964) Effect of CO2 on the development of third-stage larvae of Haemonchus contortus in vitro. Nature 202:316–327

Sommerville RI (1966) The development of Haemonchus contortus to the fourth-stage in vitro. J Parasitol 52:127–136

Threlkeld WL (1934) The life history of Ostertagia circumcincta. Tech Bull Va Agric Exp Sta, Blacksburg, VA, No. 52, 24 pp

Threlkeld WL (1946) The life history of Ostertagia ostertagi. Tech Bull Va Agric Exp Sta, Blacksburg, VA, No. 100, 14 pp

Veglia F (1916) The anatomy and life-history of the Haemonchus contortus (Rud). 3rd and 4th Rep. D Vet Res Lab, Union of South Africa, Pretoria, 150 pp

Wetzel R, Enigk K (1937) Zur Biologie von Graphidium strigosum, dem Magenwurm der Hasen und Kaninchen. Dtsch Tierärztl Wochenschr 25:401–405, in German

Wood IB, Hansen MF (1960) Experimental transmission of ruminant nematodes of the genera Cooperia, Ostertagia, and Haemonchus to laboratory rabbits. J Parasitol 46:775–776

Yacob HT, Mistre Ch, Adem AH, Basu AK (2009) Parasitological and clinical responses of lambs experimentally infected with Haemonchus contortus (L3) with and without ivermectin treatment. Vet Parasitol 166:119–123

Zebrowska-Plata D (1980) Attemps to attain development of sheep nematode Ostertagia circumcincta (Stadelmen, 1894) in unusual hosts: rabbits and guinea pigs. Acta Parasitol Pol 27:213–220
Acknowledgments
We wish to thank Mrs Nathalie Dogna (MNHN-Paris) for her technical collaboration and Mr Limousin and his team for providing the rabbits (CR-INRA-Tours-France). The naturally infected rabbits were collected in Arboretum de Chèvreloup, France with the help of S. Barraud, Y. Chaval, and A. Roobrouck (deceased) (ONC-Office National de la Chasse, Département des études et de la recherche, France). We would like to devote this work to our friend Alain Roobrouck, (Bidou) who passed away in December 2007 and who contributed greatly in the catching of the rabbits for life cycle of G. strigosum. We also wish to thank P. Desset as nice driver in the field and Dr. K. Liittschwager (USA) for correcting the English manuscript.
About this article
Cite this article
Massoni, J., Cassone, J., Durette-Desset, M. et al. Development of Graphidium strigosum (Nematoda, Haemonchidae) in its natural host, the rabbit (Oryctolagus cuniculus) and comparison with several Haemonchidae parasites of ruminants. Parasitol Res 109, 25–36 (2011). https://doi.org/10.1007/s00436-010-2217-z
Received:

Accepted:

Published:

Issue Date:
Keywords
Larval Period

Infective Larva

Oryctolagus Cuniculus

Prepatent Period

Parasitic Life Cycle