Abstract
A cross-sectional study was carried out to determine the prevalence, species characterization, and associated risk factors with Eimeria of cattle of district Toba Tek Singh from April, 2009 to March, 2010. Of the total 584 fecal samples examined for Eimeria, 275 (47.09%) were found infected with six species of Eimeria. Among the identified species of Eimeria, Eimeria bovis was found to be the highest prevalent species (52.36%), followed in order by Eimeria zuernii, Eimeria canadensis, Eimeria ellipsoidalis, Eimeria alabamensis, and Eimeria cylindrica with prevalence of 48.27%, 34.83%, 29.31%, 24.14%, and 8.62% respectively. Peak prevalence was observed in August. Cattle were infected more frequently during rainy (60.32%) and post-rainy seasons (59.25%). Calves had significantly higher prevalence (P < 0.05) of Eimeria than adults while higher prevalence of Eimeria was observed in female cattle. Among management and husbandry practices, feeding system, watering system, housing system, floor type, and herd size strongly influenced the prevalence of Eimeria in cattle. Coccidiosis was more prevalent in ground feeding system, pond-watered animals, closed housing system, and non-cemented floor type (P < 0.05) as compared to trough feeding system, tap watered animals, open housing system, and partially cemented floor types, respectively. Breed and body condition of animals were not found risk factors (P > 0.05) influencing prevalence of Eimeria.
This is a preview of subscription content, log in to check access.
Access options
Buy single article
Instant access to the full article PDF.
US$ 39.95
Price includes VAT for USA
Subscribe to journal
Immediate online access to all issues from 2019. Subscription will auto renew annually.
US$ 199
This is the net price. Taxes to be calculated in checkout.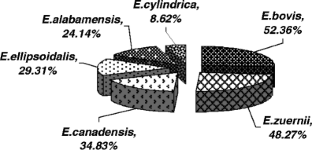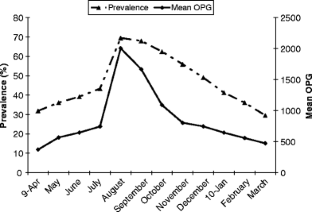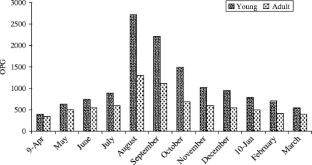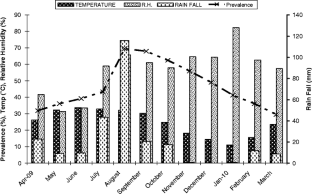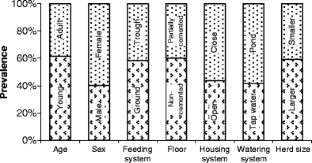 References
Abebe R, Wossene A, Kumsa B (2008) Epidemiology of Eimeria infections in calves in Addis Ababa and Debre Zeit dairy farms, Ethiopia. Int J Appl Res Vet Med 6:24–30

Afzal M (1996) Taxonomy and prevalence of Eimeria species infecting young buffalo and cattle calves and their effect on various blood components. M. Sc. (Hons) thesis, University of Agriculture, Faisalabad, Pakistan

Cicek H, Sevimli F, Kozan E, Köse M, Eser M, Doğan N (2007) Prevalence of coccidia in beef cattle in western Turkey. Parasitol Res 101:1239–1243

Cornelissen AWCA, Verstegen R, van den Brand H (1995) An observational study of Eimeria species in housed cattle on Dutch dairy farms. Vet Parasitol 56:7–16

Ernst J, Benz GW (1986) Intestinal coccidiosis in cattle. Clin N Am Food Anim Pract 2:283–291

Ernst JV, Ciordia H, Stuedemann JA (1984) Coccidia in cows and calves on pasture in South Georgia (USA). Vet Parasitol 15:213–221

Ernst JV, Stewart TB, Witlock DR (1987) Quantitative determination of coccidian oocysts in beef calves from the coastal plain area of Georgia (USA). Vet Parasitol 23:1–10

Grafner G, Graubmann HD (1979) Betrachtungen zur Pathogenita¨ t von Eimeria- Arten am Beispiel der Rinderkokzidiose. Angew Parasitol 20:202–209

Harpreet K, Daljit K (2008) Prevalence of gastrointestinal parasites in domestic animals of Patiala and its adjoining areas. J Vet Parasitol 22:13–17

Iqbal Z, Sajid MS, Jabbar A, Rao ZA, Khan MN (2006) Techniques in parasitology. Higher Education Commission, Islamabad

Jäger M, Gualy M, Bauer C, Failing K, Erhardt G, Zahner H (2005) Endoparasites in calves of beef cattle herds: management systems dependent and genetic influences. Vet Parasitol 131:173–191

Kennedy MJ (2001) Coccidiosis in cattle. In: AGRIFACTS. Edmonton, Alberta, Canada: Alberta Agriculture, Food and Rural Development, Government of Alberta.

Kennedy MJ, Kralka RA (1987) A survey of Eimeria species in cattle in central Alberta. Can Vet J 28:124–125

Klockiewicz M, Kaba J, Tomczuk K, Janecka E, Sadzikowski AB, Rypuła K, Studzinska M, Małecki-Tepicht J (2007) The epidemiology of calf coccidiosis (Eimeria spp.) in Poland. Parasitol Res 101:121–128

Kusiluka LJM, Kambaragea DM, Harrisonb LJS, Dabornb CJ, Matthewman RW (1998) Prevalence and seasonal patterns of coccidial infections in goats in two ecoclimatic areas in Morogoro, Tanzania. Small Rumin Res 30:85–91

Lassen B, Viltrop A, Raaperi K, Jarvis T (2009) Eimeria and Cryptosporidium in Estonian dairy farms in regard to age, species, and diarrhea. Vet Parasitol 166:212–219

Levine ND (1985) Veterinary protozoology. Iowa State University Press, Ames

MAFF (1986) Manual of veterinary parasitological laboratory techniques. ADAS, UK, HMSO

Matjila PT, Penzhorn BL (2002) Occurrence and diversity of bovine coccidia at three localities in South Africa. Vet Parasitol 2:93–102

McKellar AQ (2008) Gastrointestinal parasites of ruminants. In: Kahn CM, Line S, Aiello SE (eds) The Merck Veterinary Manual. Whitehouse Station, NJ, USA

Niilo L (1970) Bovine coccidiosis in Canada. Can Vet J 11:91–98

Pilarczyk B, Balicka-Ramisz A, Ramisz A (2000) Studies on coccidiosis in cattle in North-West Poland. Elec J Pol Agri Univer 3:1–8

Priti M, Sinha SRP, Sucheta S, Verma SB, Sharma SK, Mandal KG (2008) Prevalence of bovine coccidiosis at Patna. J Vet Parasitol 22:5–12

Radostits OM, Blood DC, Gay CC (2009) Veterinary medicine. a textbook of the diseases of cattle, sheep, pigs, goats, and horses. Bailliere Tindall, London, Philadelphia, pp 1181–1199

Rodríguez-Vivas RI, Domínguez-Alpizar JL, Torres-Acosta JF (1996) Epidemiological factors associated to bovine coccidiosis in calves (Bos indicus) in a subhumid tropical climate. Rev Méd 7:211–218

Sanchez RO, Romero JR, Founroge RD (2008) Dynamics of Eimeria oocyst excretion in dairy calves in the Province of Buenos Aires (Argentina), during their first 2 months of age. Vet Parasitol 151:133–138

SAS (1998) SAS/STAT User Guides version 6.12. SAS Inst. Inc., Cary, NC

Skirnisson K (2007) Eimeria spp. (Coccidia, Protozoa) infections in a flock of sheep in Iceland: Species composition and seasonal abundance. Ice Agri Sci 20:73–80

Soulsby EJL (2006) Helminths, arthropods and protozoa of domesticated animals. Baillier Tindall, UK

Taylor MA, Coop RL, Wall RL (2007) Veterinary pararsitology. Blackwell Science Ltd, Oxford

Thrusfield M (2008) Veterinary epidemiology. Blackwell, London

Von Samson-Himmelstjerna G, Epe C, Wirtherle N, von der Heyden V, Welz C, Radeloff I, Beening J, Carr D, Hellmann K, Schnieder T, Krieger K (2006) Clinical and epidemiological characteristics of Eimeria infections in first-year grazing cattle. Vet Parasitol 136:215–221

Waruiru RM, Kyvsgaard NC, Thamsborg SM, Nansen P, BÖgh HO, Munyua WK, Gathuma JM (2000) The prevalence and intensity of helminth and coccidial infections in dairy cattle in central Kenya. Vet Res Commun 24:39–53

Woji AY, Little DA, Ikwuegbu OA (1994) Prevalence of coccidial infections in the west african dwarf goat in the subhumid zone of Nigeria. Trop Anim Health Pro 26:1–6

Zajac AM, Conboy GA (2006) Veterinary clinical parasitoloy. Blackwell publishing, USA
About this article
Cite this article
Rehman, T.U., Khan, M.N., Sajid, M.S. et al. Epidemiology of Eimeria and associated risk factors in cattle of district Toba Tek Singh, Pakistan. Parasitol Res 108, 1171–1177 (2011). https://doi.org/10.1007/s00436-010-2159-5
Received:

Accepted:

Published:

Issue Date:
Keywords
Associate Risk Factor

Herd Size

Housing System

Coccidiosis

Large Herd