Abstract
The present study has revealed new data on chromosome complements of diplozoid parasites, namely Diplozoon paradoxum from freshwater bream Abramis brama, Paradiplozoon bliccae from white bream Blicca bjoerkna, Paradiplozoon sapae from white-eye bream Ballerus sapa, and Paradiplozoon nagibinae from zope Ballerus ballerus. Particularly, D. paradoxum is characterized by four pairs (2n = 8) of long (up to 22.1 μm) chromosomes: pairs 1, 2, and 3 are metacentric and pair 4 acrocentric. Karyotypes of three Paradiplozoon species are nearly identical in number and morphological classification of chromosomes, each comprising diploid number of 14 one-armed chromosomes of very similar length ranging up to 12.5 μm in P. bliccae, 9.2 μm in P. sapae, and 9.9 μm in P. nagibinae. All four species are similar in their total complement length, ranging from 64.4 to 50.4 μm. Interspecific differences were found in location of secondary constriction: it is situated on short arm of the 1st chromosome pair in D. paradoxum, on long arm of the 7th pair in P. bliccae and on long arm of the 4th pairs in P. sapae and P. nagibinae. Phylogenetic interrelationship within the diplozoids and hypothetic karyotype evolution is here discussed.
This is a preview of subscription content, log in to check access.
Access options
Buy single article
Instant access to the full article PDF.
US$ 39.95
Price includes VAT for USA
Subscribe to journal
Immediate online access to all issues from 2019. Subscription will auto renew annually.
US$ 199
This is the net price. Taxes to be calculated in checkout.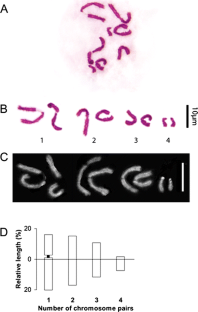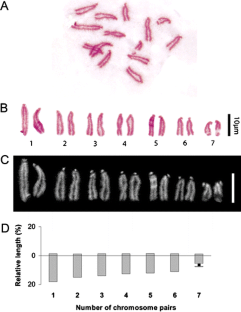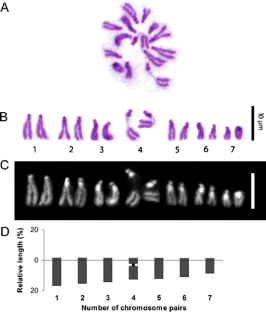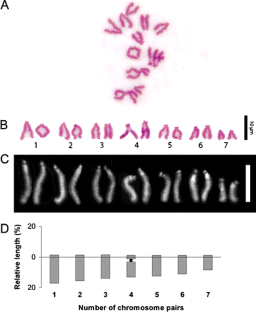 References
Baer JG, Euzet L (1961) Classe des Monogénes, Monogenoidea Bychowsky. In: Grassé PP (ed) Traité de Zoologie. Anatomie, Systématique, Biologie. IV. Plathelminthes, Mésozoaires, Acanthocéphales, Némertiens. Masson et Cie Éditeurs, Paris, pp 243–325

Benazzi M, Benazzi Lentati G (1976) Animal cytogenetics. 1. Platyhelminthes. Gebrüder Borntraeger, Berlin

Bombarová M, Marec F, Nguyen P, Špakulová M (2007) Divergent location of ribosomal genes in chromosomes of fish thorny-headed worms, Pomphorhynchus laevis and Pomphorhynchus tereticollis (Acanthocephala). Genetica 131:141–149

Bovet J (1967) Contribution a la morphologie et a la biologie de Diplozoon paradoxum v. Nordmann, 1832. Bull Soc Neuchatel Sci 3:64–159

Bychowsky BE, Nagibina LF (1959) Systematics of the genus Diplozoon Nordmann (Monogenoidea). Zool Zhurn 28:362–377 (in Russian)

Cable J, Harris PD (2002) Gyrodactylid developmental biology: historical review, current status and future trends. Int J Parasitol 32:255–280

Ergens R (1969) The suitability of ammonium picrate-glycerin in preparing slides of lower Monogenoida. Folia Parasitol 16:320

Frydrychová R, Marec F (2002) Repeated losses of TTAGG telomere repeats in evolution of beetles (Coleoptera). Genetica 115:179–187

Gao Q, Chen MX, Yao WJ, Gao Y, Song Y, Wang GT (2007) Phylogeny of diplozoids in five genera of the subfamily Diplozoinae Palombi, 1949 as inferred from ITS-2 rDNA sequences. Parasitology 134:695–703

Gläser H-J, Gläser B (1964) Zur Taxonomie der gattung Diplozoon Nordmann, 1832. Z Parasitenkd 25:164–192

Harris PD (1985) Observations on the development of the male reproductive system on Gyrodactylus gasterostei Gläser (1974) (Monogenea, Gyrodactylidae). Parasitology 91:519–529

Khotenovsky IA (1985) The subclass Octomacrinea Khotenovsky. Nauka, Leningrad

Koroleva YI (1968a) Karyological study on several species of Monogenea of the genus Diplozoon. Dokl Akad Nauk USSR, Zoologia 179:739–741 (In Russian)

Koroleva YI (1968b) New data on karyology of some species of the genus Diplozoon. Parazitologiya 2:294–296 (In Russian)

Koroleva YI (1969) Karyology of some species of Diplozoon. Parazitologiya 3:411–414 (In Russian)

Kritscher E (1991) Diplozoon bileki nov. spec. (Plathelminthes: Monogenea: Diplozoidea), ein neues Doppeltier von den Kiemen von Barbus plebejus euboicus Stephanidis, 1950 (Pisces: Cyprinidae), gesammelt auf der Insel Euböe (Griechenland). Ann Naturhist Mus Wien 92B:251–255

Matejusová I, Koubková B, D'Amelio S, Cunningham CO (2001) Genetic characterization of six species of diplozoids (Monogenea; Diplozoidae). Parasitology 123:465–474

Matejusová I, Koubková B, Cunningham CO (2004) Identification of European diplozoids (Monogenea, Diplozoinae) by restriction digestion of ribosomal RNA internal transcribed spacer. J Parasitol 90:817–822

Nguyen P, Sahara K, Yoshido A, Marec F (2010) Evolutionary dynamics of rDNA clusters on chromosomes of moths and butterflies (Lepidoptera). Genetica 138:343–354

Palestis BG, Burt A, Jones RN, Trivers R (2004) B chromosomes are more frequent in mammals with acrocentric karyotypes: support for the theory of centromeric drive. Proc R Soc B Biol Sc 27:S22–S24

Reblánová M, Špakulová M, Orosová M, Bazsalovicsová E, Rajský D (2010) A description of karyotype of giant liver fluke Fascioloides magna (Trematoda, Platyhelminthes) and a review of Fasciolidae cytogenetics. Helminthologia 47:69–75

Rohde K (1994) Chromosomes of Kuhnia scombri and Kuhnia sprostonae (Monogenea, Polyopisthocotylea, Mazocraeidae). Acta Parasitol 39:117–119

Sicard M, Desmarais E, Vigneux F, Shimazu T, Lambert A (2003) Molecular phylogeny of the Diplozoidae (Monogenea, Polyopisthocotylea) parasitising 12 species of Cyprinidae (Teleostei): new data about speciation. In: Combes C, Jourdane J (eds) Taxonomy, ecology and evolution of metazoan parasites. Presses Universitaires de Perpignan, Perpignan, pp 199–211

White MJD (1973) Animal cytology and evolution. Cambridge University Press, Cambridge
Acknowledgments
We are please to thank M. Oros, Parasitological Institute SAS, Košice, Slovakia, for a help in collecting and for identification of fish material from Slovakia. This work was supported by the Czech Science Foundation, No. 524/07/1610 and No. 526/09/H025, Long-Term Research Plan MSM 0021622416, Ichthyoparasitology Research Centre of the Ministry of Education, Youth and Sports of the Czech Republic (LC 522), by the Grant Agency of the Slovak Republic (VEGA 2/0148/09), and the project LPP-0126-07 of the Slovak Research and Development Agency.
About this article
Cite this article
Košková, E., Špakulová, M., Koubková, B. et al. Comparative karyological analysis of four diplozoid species (Monogenea, Diplozoidae), gill parasites of cyprinid fishes. Parasitol Res 108, 935–941 (2011). https://doi.org/10.1007/s00436-010-2135-0
Received:

Accepted:

Published:

Issue Date:
Keywords
Chromosome Pair

Centric Fusion

Nucleolar Organizer Region

Acrocentric Chromosome

Secondary Constriction