Abstract
Three specimens of Caudisoma durissa terrifica infected with Hepatozoon spp. were studied. One was parasitized by one type of gamont and the other two were each infected by two morphologically different gamonts. Utilizing morphology and morphometry analysis, we concluded that three types of gamonts were very similar and may represent the same Hepatozoon species, but at least three different Hepatozoon species were infecting the C. durissa terrifica snakes in this study. Some of this species caused erythrocyte modifications. The sporogonic development of Hepatozoon sp. was observed from 12 h to the 20th day after female Culex quinquefasciatus blood meals.
This is a preview of subscription content, log in to check access.
Access options
Buy single article
Instant access to the full article PDF.
US$ 39.95
Price includes VAT for USA
Subscribe to journal
Immediate online access to all issues from 2019. Subscription will auto renew annually.
US$ 199
This is the net price. Taxes to be calculated in checkout.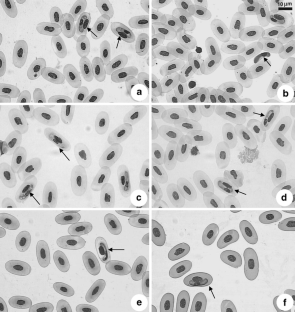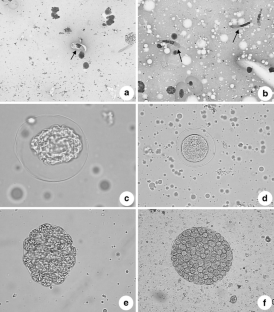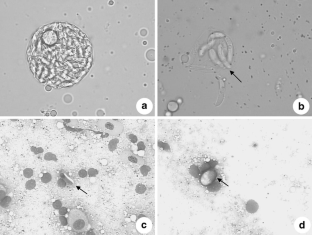 References
Adham FK, Refaat MG, Tahany HA, Galal FH (2003) The effects of laboratory Hepatozoon gracilis infection on the fecundity, mortality and longevity of Culex (Culex) pipiens Linneaus (Diptera: Culicidae) in Egypt. J Egypt Soc Parasitol 33:353–360

Ball HG, Chao J, Telford SR Jr (1967) The life history of Hepatozoon rarefaciens (Sambon & Seligman, 1907) from Drymarchon corais (Colubridae), and its experimental transfer to Constrictor constrictor (Boidae). J Parasitol 53:897–909

Bashtar AR, Abdel-Ghaffar FA, Shazly MA (1991) Lyfe cycle of Hepatozoon melhorni sp. nov. in the viper Echis carinatus and the mosquito Culex pipiens. Parasitol Res 77:402–410

Consoli RA, Oliveira RL (ed) (1994) Principais mosquitos de importância sanitária no Brasil. FIOCRUZ, Rio de Janeiro, Brazil

Desser SS, Hong H, Martin DS (1995) The life history, ultrastructure, and experimental transmission of Hepatozoon catesbianae N. Comb., an apicomplexan parasite of the bullfrog, Rana catesbeiana and the mosquito, Culex territans in Algonquin Park, Ontario. J Parasitol 81:212–222

Ebrahemm MH, Rashdan NA, Fayed HM, Galal FH (2006) Laboratory studies on the possibility of Culex (Culex) pipiens L. to harbour and transmit Hepatozoon matruhensis to the Egyptian snake Psammophis schokari. J Egypt Soc Parasitol 36:241–250

Lowichichik A, Lanners HN, Lowrie RC Jr, Meiners NE (1993) Gametogenesis and sporogony of Hepatozoon mocassini (Apicomplexa: Adeleina: Hepatozoidae) in an experimental mosquito host, Aedes aegypti. J Eukaryot Microbiol 40:287–297

Moço TC, O'Dwyer LH, Vilela FC, Barrella TH, Silva RJ (2002) Morphologic and morphometric analysis of Hepatozoon spp. (Apicomplexa, Hepatozoidae) of snakes. Mem Inst Oswaldo Cruz 97:1169–1176

O'Dwyer LH, Moço TC, Silva RJ (2004) Description of the gamonts of a small species of Hepatozoon sp. (Apicomplexa, Hepatozoidae) found in Crotalus durissus terrificus (Serpentes, Viperidae). Parasitol Res 92:110–112

Pessoa SB, De Biasi P, Puorto G (1974) Transferência do Hepatozoon tupinambis parasita do lagarto Tupinambis teguixin, para a serpente cascavel (Crotalus durissus terrificus) por intermédio de mosquito Culex fatigans. Mem Inst Oswaldo Cruz 72:295–299

Phisalix M (1931) Les hémogrégarines de Crotalus terrificus Lau. Bull Soc Pathol Exot 24:190–194

Rashdam NA, El-Sebaii SE (2006) Culex neavei Theobold, as a possible transmitter of Hepatozoon matruhensis to the Egyptian snake Psammophis schokari. J Egypt Soc Parasitol 36:1–6

Sloboda M, Kamler M, Bulantová J, Votýpka J, Modrý D (2007) A new species of Hepatozoon (Apicomplexa: Adeleorina) from Python regius (Serpentes: Pythonidae) and its experimental transmission by a mosquito vector. J Parasitol 93:1189–1198

Smith TG (1996) The genus Hepatozoon (Apicomplexa: Adeleina). J Parasitol 82:565–585

Telford SR Jr, Moler PE, Butler JF (2008) Hepatozoon species of the timber rattlesnake in northern Florida: description of a new species, evidence of salivary gland oocysts, and a natural cross-familial transmission of an Hepatozoon species. J Parasitol 94:520–523

Telford SR Jr (2010) Three new Hepatozoon species (Apicomplexa: Hepatozoidae) infecting the Florida kingsnake, Lampropeltis getula floridana. J Parasitol 96:162–169

Wozniak EJ, Telford SR (1991) The fate of possible two Hepatozoon species naturally infecting Florida black racers and watersnakes in potential mosquito and soft tick vectors: histological evidence of pathogenicity in unnatural host species. J Parasitol 21:511–516

Wozniak EJ, Telford SR, McLaughlin GL (1994) Employment of the polymerase chain reaction in the molecular differentiation of reptilian hemogregarines and its application to preventative zoological medicine. J Zoo Wildl Med 23:538–547
Acknowledgements
Financial support was provided by FAPESP (process 01/02070-9). All the presented experiments complied with the currents laws of research in Brazil.
About this article
Cite this article
O'Dwyer, L.H., da Silva, R.J. & Madeira, N.G. Description of gamontogonic and sporogonic stages of Hepatozoon spp. (Apicomplexa, Hepatozoidae) from Caudisoma durissa terrifica (Serpentes, Viperidae). Parasitol Res 108, 845–851 (2011). https://doi.org/10.1007/s00436-010-2124-3
Received:

Accepted:

Published:

Issue Date:
Keywords
Infected Erythrocyte

Infected Mosquito

Snake Species

Computerize Image Analysis System

Erythrocyte Nucleus