Abstract
A sandwich ELISA was developed for the detection of circulating antigen 14-3-3 in the sera of rabbits. Rabbits that were infected with 500 cercariae of Schistosoma japonicum were grouped and the kinetics of 14-3-3 was observed. For the treated group, the 14-3-3 protein could be detected as early as 2–4 weeks postinfection and then its levels rose rapidly and reached a peak at around 6 weeks. The 14-3-3 levels in the sera significantly decreased after the infected rabbits were treated with praziquantel at 6 weeks postinfection and declined to the initial level about 8 weeks posttreatment. While in the untreated group, 14-3-3 levels reached a peak in 8 weeks postinfection and then remained at plateau level for about 6 weeks. Our findings showed that detection of S. japonicum14-3-3 has an important value for diagnosis of acute infection of S. japonicum and evaluation of chemotherapy.
This is a preview of subscription content, log in to check access.
Access options
Buy single article
Instant access to the full article PDF.
US$ 39.95
Price includes VAT for USA
Subscribe to journal
Immediate online access to all issues from 2019. Subscription will auto renew annually.
US$ 199
This is the net price. Taxes to be calculated in checkout.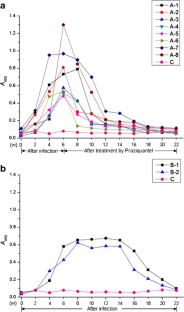 References
Li SZ, Luz A, Wang XH, Xu LL, Wang Q, Qian YJ, Wu XH, Guo JG, Xia G, Wang LY, Zhou XN (2009) Schistosomiasis in China: acute infections during 2005-2008. Chin Med J Engl 122:1009–1014

Liu F, Cui SJ, Hu W, Feng Z, Wang ZQ, Han ZG (2009) Excretory/secretory proteome of the adult developmental stage of human blood fluke, Schistosoma japonicum. Mol Cell Proteomics 8:1236–1251

Luo QL, Qiao ZP, Zhou YD, Li XY, Zhong ZR, Yu YJ, Zhang SH, Liu M, Zheng MJ, Bian MH, Shen JL (2009) Application of signaling protein 14-3-3 and 26 kDa glutathione-S-transferase to serological diagnosis of Schistosomiasis japonica. Acta Trop 112:91–96

Qian CY, Yu CX, Song LJ, Yin XR, Wang J, Xu YL, Hua WQ (2010) Preparation and identification of monoclonal antibodies against recombinant signal protein 14-3-3 of Schistosoma japonicum. Chin J Schisto Control 22:456–460

Yang LL, Lv ZY, Hu SM, He SJ, Li ZY, Zhang SM, Zheng HQ, Li MT, Yu XB, Fung MC, Wu ZD (2009) Schistosoma japonicum: proteomics analysis of differentially expressed proteins from ultraviolet-attenuated cercariae compared to normal cercariae. Parasitol Res 105:237–248

Yu CX, Zhao F, Yin XR, Xiao D, Zhang JZ, Hua WQ, Qian CY, Song LJ, Wang J (2010) Proteomics analysis of vomit and excretory/secretory products of Schistosoma japonicum. Chin J Schisto Control 22:304–309

Zhou XN, Guo JG, Wu XH, Jiang QW, Zheng J, Dang H, Wang XH, Xu J, Zhu HQ, Wu GL, Li YS, Xu XJ, Chen HG, Wang TP, Zhu YC, Qiu DC, Dong XQ, Zhao GM, Zhang SJ, Zhao NQ, Xia G, Wang LY, Zhang SQ, Lin DD, Chen MG, Hao Y (2007) Epidemiology of schistosomiasis in the People's Republic of China, 2004. Emerg Infect Dis 13:1470–1476

Zhu YC (2005) Immunodiagnosis and its role in schistosomiasis control in China: a review. Acta Trop 96:130–136
Acknowledgement
This work was supported by the grants from Science and Technology Foundation of Jiangsu Provincial Bureau of Health (grant no. H200738) and National Project of Important Infectious Diseases (grant no. 2008ZX10004-011).
About this article
Cite this article
Qian, C., Song, L., Hua, W. et al. Kinetics of circulating antigen 14-3-3 in sera of rabbits firstly infected with Schistosoma japonicum and treated with/without praziquantel. Parasitol Res 108, 493–495 (2011). https://doi.org/10.1007/s00436-010-2112-7
Received:

Accepted:

Published:

Issue Date:
Keywords
Schistosomiasis

Sandwich ELISA

Praziquantel

Plateau Level

Schistosoma Japonicum