Abstract
A total of 800 goats of various breeds, age, and sex were randomly selected from Muzaffargarh (M. garh) and Layyah districts of lower Punjab, Pakistan. The selected goats were visited twice a month to collect information about determinants influencing goat tick infestation prevalence. For acaricidal efficacy, 360 tick-infested adult goats were subjected to an acaricidal treatment and post-treatment quantitative assessment of tick burden. Quantification of adult tick detachment 24 h post-treatment and the duration of treatment efficacy were calculated. Overall prevalence of goat tick infestation in both study districts was 60.1% (481/800). The prevalence was higher in district M. garh than in district Layyah. Tehsil-wise prevalence in district Layyah was highest in tehsil Layyah followed in order by Chaubara and Karor. In district M. garh, highest prevalence was found in tehsil M. garh followed by Kot Addu, Alipur, and Jatoi. Hyalomma a. anatolicum (75.9%; 365/481) and Rhipicephalus sanguineus (24.1%; 116/481) were the predominant species in both the districts. The highest month-wise prevalence was 56.9% and 62.7% in Layyah and M. garh districts, respectively, during July 2008, and the minimum (0%) prevalence was reported in November and December, respectively. Regarding host determinants, female goats were more heavily infested (72.8%) than males (47.5%), and younger animals were (63.5%) more burdened than older ones (56.7%). Teddy goats were the most susceptible breeds followed in order by Beetal, cross-bred, Nachi, and Dera Din Pannah. The preferred sites of attachment were inside and outside of the ear. Both the ivermectin (IVM)- and cypermethrin (CYM)-treated groups resulted in significantly lower (P < 0.05) tick counts relative to controls on all post-treatment counting days. The lowest tick burden in the IVM-treated group was significantly higher (P < 0.05) as compared to the CYM-treated group, the latter being close to zero. Hence, the in vivo efficacy trials of injectable IVM vs CYM pour-on revealed better results for the latter. These observations provided the first insights into what determinants impact goat tick infestation, and laid a foundation for planning of future control programs in the lower Punjab, Pakistan.
This is a preview of subscription content, log in to check access.
Access options
Buy single article
Instant access to the full article PDF.
US$ 39.95
Price includes VAT for USA
Subscribe to journal
Immediate online access to all issues from 2019. Subscription will auto renew annually.
US$ 199
This is the net price. Taxes to be calculated in checkout.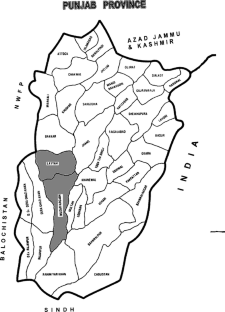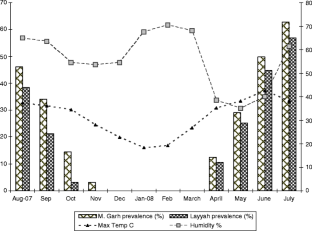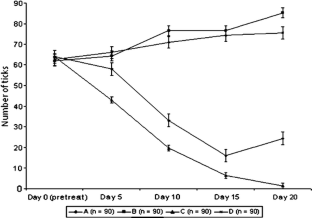 References
Anonymous (2008–2009) Economic survey of Pakistan. Federal Bureau of Statistics, Pakistan

Aragao H, Fonseca F (1961) Notas de Ixodologia. VIII. Lista e chave para os representantes da fauna ixodologica brasileira. Mem Inst Oswaldo Cruz 59:115–129

Beichel E, Petney TN, Hassler D, Bruckner M, Maiwald M (1996) Tick infestation patterns and prevalence of Borrelia burgdorferi in ticks collected at a veterinary clinic in Germany. Vet Parasitol 65:147–155

Bianchi MW, Barre N, Messad S (2003) Factors related to cattle infestation level and resistance to acaricides in Boophilus microplus tick populations in New Caledonia. Vet Parasitol 112:75–89

Bouattour A, Darghouth MA, Miled LB (1996) Cattle infestations by Hyalomma ticks and prevalence of Theileria in H. detritum species in Tunisia. Vet Parasitol 65:233–245

Celep A (1982) Boophilus annulatus as a vector of Babesia bovis (Babes 1888) in the Black Sea region of Turkey. Etlik Vet Mikrobiyolog Enstit Dergisi 5:75–78

Chaudhry MA, Sheikh SA, Hussain MZ (1969) Studies on the taxonomy of Ixodidae of livestock in Lahore, Pakistan. Pak J Sci 21:18–23

Cotty A, Aeschlimann A, Schneeberger S (1986) Distribution et fluctuation d' Ixodes ricinus (L.) Haemaphysalis punctata (Can & Franz.) et Dermacentor marginatus (Sulzer) (Acarina, Ixodoidea) en Suisse. Mitt Schweiz Entomol Ges 59:139–150

Daniel M (1993) Influence of the microclimate on the vertical distribution of the tick Ixodes ricinus (L) in central Europe. Acarol 34:105–113

De Castro ABA, Bittencourt VREP, Daemon E, Viegas EDC (1997) Eficacia do fungo Metarhizium anisopliae sobrre o carrapato Boophilus microplus em teste de estabulo. Rev Univ Rural Ser Cienc da Vida 19:73–82

Dipeolu OO (1975) The incidence of ticks of Boophilus species on cattle, sheep and goats in Nigeria. Trop Anim Hlth Prod 7:35–39

Dolan TT (1999) Dogma and misunderstanding in East Coast Fever. Trop Med Int Hlth 4:A3–A11

Durrani HZ (1992) A study on the taxonomy and bionomics of genus Haemaphysalis in domestic animals. MSc Thesis. College of Veterinary Sciences, Pakistan

Estrada-Pena A, Bouattour A, Camicas J-L, Walker AR (2004) Ticks of domestic animals in the Mediterranean region: a guide to identification of species. University of Zaragoza, Spain

FAO (1984) Acaricidal resistance. Ticks and tick-borne disease control. A practical field manual, vol. 1. Tick control. FAO, Rome, pp 246–299

Feldman MB, Borut S (1983) Some observations of two East Mediterranean species of Haemaphysalis ticks parasitising domestic stock. Vet Parasitol 13:171–181

Fourie LJ, Horak JG (1991) The seasonal activity of adult ixodid ticks on Angora goats in the south-western Orange Free State. J S Afr Vet Assoc 62:104–106

Garben AF, Vos H, Bronswijk JE (1982) Hemaphysalis punctata Canestrini and Fanzago 1877, a tick of pastured seadunes on the island of Texel (The Netherlands). Acarol 23:19–25

George JE, Pound JM, Davey RB (2008) Acaricides for controlling ticks on cattle and the problem of acaricidal resistance. In: Bowman AS, Nuttall PA (ed) Ticks: Biology, Disease and Control. Cambridge, UK, pp 408–423

Ghosh S, Azhahianambi P, Furente JDL (2006) Control of ticks of ruminants, with special emphasis on livestock farming systems in India: present and future possibilities for integrated control–a review. Exp Appl Acarol 46:49–66

Gueye A, Mbengue M, Diouf A (1994) Tiques et hemoparasites du betail au Senegal. IV. La zone soudano-sahelienne. Rev Elev Med Vet Pays Trop 47:39–46

Guimaraes JH, Tucci EC, Barros-Batttesti DM (2001) Ectoparasitosde importancia veterinaria. Editora Pleiade, Brazil

Hassan SM, Dipeolu OO, Munyinyi DM (1992) Influence of exposure period and management methods on the effectiveness of chickens as predators of ticks infesting cattle. Vet Parasitol 43:301–309

Herd RP, Sams RA, Ashcraft SM (1996) Persistence of Ivermectin in plasma and faeces following treatment of cows with ivermecting sustained-release, pour-on or injectable formulations. Intl J Parasitol 26:1087–1093

Holdsworth PA, Kemp D, Green P, Peter RJ, De Bruin C, Jonsson NN, Letonja T, Rehbein S, Vercruysse J (2006) World Association for the Advancement of Veterinary Parasitology (WAAVP) guidelines for evaluating the efficacy of acaricides against ticks (Ixodidae) on ruminants. Vet Parasitol 136:29–43

Hussain SI, Kumar GA (1985) The incidence of ticks (Ixodidea: Ixodidae) infesting sheep and goats in Sind province, Pakistan. Pak J Zoo 17:89–97

Iqbal M (1971) Studies on the ectoparasites of the livestock with special emphasis on the incidence, economic losses and chemotherapy. MSc Thesis. Department of Veterinary Parasitology, University of Agriculture, Pakistan

Jamroz RC, Guerrero FD, Pruett JH, Oehler DD, Miller RJ (2000) Molecular and biochemical survey of acaricide resistance mechanisms in larvae from Mexican strains of the sourthern cattle tick, Boophilus microplus. J Insect Physiol 46:685–695

Jongejan F, Uilenberg G (2004) The global importance of ticks. Parasitol 129:S3–S14

Jouda F, Perret J, Gern L (2004) Ixodes ricinus density, and distribution and prevalence of Borrelia burgdorferi sensu lato infection along an altitudinal gradient. J Med Entomol 41:162–169

Khan IS (1967) A study on the taxonomy and bionomics of Hyalomma Spp. Koch 1844. MSc Thesis. Faculty of Veterinary Science, University of Agriculture, Pakistan

Khan MI (1993) Taxonomical study of ticks of genus Rhipicephalus and their relation to the incidence of haemoparasites and comparative efficacy of different acaricides on ticks in sheep and goats in Kaghan valley. MSc Thesis. College of Veterinary Sciences, Pakistan

Khan MN, Hayat CS, Iqbal Z, Hayat B, Naseem A (1993) Prevalence of ticks on livestock in Faisalabad Pakistan. Pak Vet J 13:182–184

Khan MN, Iqbal Z, Hayat CS (1998) Evaluation of acaricidal efficacy of ivermectin, diazinon, permethrin and coumaphos in sheep and goats. Pak J Biol Sci 1:63–65

Knopf L, Komin-Oka C, Betschart B, Jongejan F, Gottstein B, Zinsstag J (2002) Seasonal epidemiology of ticks and aspects of cowardiosis in N'Dama village cattle in Central Guinea savannah of Cote d' Ivoire. Prev Vet Med 53:21–30

Kosar MH (1965) Taxonomy and bionomics of the species of genus Rhipichephalus. MSc Thesis, Department of Veterinary Parasitology, University of Agriculture, Faisalabad, Pakistan

Koshy TJ, Achuthan HN, Rajavelu G, Lalitha CM (1979) A survey of the tick fauna of Tamil Nadu. Cheiron 8:199–205

Lawrence JA, Norval RA, Uilenberg G (1983) Rhipicephalus zambeziensis as a vector of bovine Theileria. Trop Anim Hlth Prod 15:39–42

Mooring MS, McKenzie AA, Hart BL (1996) Grooming in impala: role of oral grooming in removal of ticks and effects of ticks in increasing grooming rate. Physiol Behav 59:965–971

Morel PC (1980) Study on Ethiopian ticks (Acarida, Ixodida). Republic of France, Ministry of Foreign Affairs, French Veterinary Mission, Addis Ababa

Mushi EZ, Isa JFW, Sakia RM (1996) Monthly fluctuation of Ixodid tick infestation on indigenous goats in Botswana. Sm Rum Res 21:277–279

Niyonzema A, Kiltz HH (1986) Control of ticks and tick-borne diseases in Burundi. ACIAR Proc 17:16–17

Norval RAI, Fivaz BH, Lawrence JA, Brown AF (1984) Epidemiology of tick-borne diseases of cattle in Zimbabwe. Trop Anim Hlth Prod 16:63–70

Ogden NH, Swai E, Beauchamp G, Karimuribo E, Fitzpatrick JL, Bryant MJ, Kambarage D, French NP (2005) Risk factors for tick attachment to smallholder dairy cattle in Tanzania. Prev Vet Med 67:157–170

Pangui LJ (1994) Mange of domestic animals and methods of control. Rev Sci Tech Off Intl Epiz 13:1227–1243

Papadopoulos B, Morel PC, Aeschlimann A (1996) Ticks of domestic animals in the Macedonia region of Greece. Vet Parasitol 63:25–40

Pegram RG, Wilson DD, Hansen JW (2000) Past and present national tick control programs. Why they succeed or fail? Ann NY Acad Sci 916:546–554

Perret JL, Guigoz E, Rais O, Gern L (2000) Influence of saturation deficit and temperature on Ixodes ricinus tick questing activity in a Lyme borreliosis-endemic area (Switzerland). Parasitol Res 86:554–557

Perret JL, Rais O, Gern L (2004) Influence of climate on the proportion of Ixodes ricinus nymphs and adults questing in a tick population. J Med Entomol 41:361–365

Rechav Y, de Jager C (1991) Seasonal abundance of ticks associated with indigenous goats on a northern Tranvaal Farm. J S Afr Vet Assoc 62:10–11

Rugg D, Hair JA (2007) Dose determination of a novel formulation of metaflumizone plus amitraz for control of cat fleas (Ctenocephalides felis felis) and brown dog ticks (Rhipicephalus sanguineus) on dogs. Vet Parasitol 150:208–208

Sajid MS (2007) Epidemiology and acaricidal resistance in tick population infesting domestic ruminants. Ph.D. Thesis. Department of Veterinary Parasitology, University of Agriculture, Pakistan

Sajid MS, Iqbal Z, Khan MN, Muhammad G, Iqbal MU (2007) Effect of Hyalomma ticks (Acari: Ixodidae) on milk production of dairy buffaloes (Bos Bubalus Bubalis) of Punjab, Pakistan. Italian J Anim Sci 6:939–941

Sajid MS, Iqbal Z, Khan MN, Muhammad G (2008) Point prevalence of hard ticks (Ixodids) infesting domestic ruminants of lower Punjab, Pakistan. Intl J Agric Biol 10:349–351

Sajid MS, Iqbal Z, Khan MN, Muhammad G (2009a) In vitro and in vivo efficacies of Ivermectin and Cypermethrin against the cattle tick Hyalomma anatolicum anatolicum (Acari: Ixodidae). Parasitol Res 105:1133–1138

Sajid MS, Iqbal Z, Khan MN, Muhammad G, Khan MK (2009b) Prevalence and associated risk factors for bovine tick infestation in two districts of lower Punjab, Pakistan. Prev Vet Med 92:381–396

Saxena VK, Kumar K, Rajagopal R (1984) Vertical distribution of ticks of domestic animals in Nilgiri Hills (Tamil Nadu). J Commun Dis 16:323–325

Sertse T, Wossene A (2007) A study on ectoparasites of sheep and goats in eastern part of Amhara region, northeast Ethiopia. Sm Rumin Res 69:62–67

Siddiqi MN, Jan AH (1986) Ixodid ticks (Ixodoidae) of N.W.F.P. (Pakistan). Pak Vet J 6:124–126

Soulsby EJL (1982) Helminths, Arthropods and Protozoa of Domesticated Animals, 7th edn. Bailliere Tindall and Cassel Ltd., London

Springell PH (1974) The cattle tick in relation to animal production in Australia. Wld Anim Rev 10:19–23

Teel PD, Marin SL, Grant WE (1996) Simulation of host parasite-landscape interactions: influence of season and habitat on cattle fever tick (Boophilus sp.) population dynamics. Ecol Model 84:19–30

Teglas M, Matern E, Lein S, Foley P, Mahan SM, Foley J (2005) Ticks and tick-borne disease in Guatemalan cattle and horses. Vet Parasitol 131:119–127

Thomas HS (2008) Internal parasites of cattle hinder optimal production. Cattle today: http://cattletoday.com/archive/2008/July/CT1639.shtml

Thrusfield M (2007) Veterinary epidemiology. Blackwell Science Limited, USA, pp 180–181

Toutain PL, Upson DW, Terhune TN, McKenzie ME (1997) Comparative pharmacokinetics of doramectin and ivermectin in cattle. Vet Parasitol 72:3–8

Vathasala M, Mohan P, Sacikumar RS (2008) Survey of tick species distribution in sheep and goats in Tamil Nadu, India. Sm Rumin Res 74:238–242

Walker AR, Koney EBM (1999) Distribution of ticks infesting domestic ruminants in Ghana. Bull Entomol Res 89:473–479

Walker AR, Bouattour A, Camicas J-L, Estrada-Pena A, Horak IG, Latif AA, Pegram RG, Preston PM (2007) Ticks of domestic animals in Africa, Bioscience reports. Edinburgh, UK

Whang EM, Bauer C, Kollmann D, Burger HJ (1994) Efficacy of two formulation (injectable and pour on) of moxidectin against gastrointestinal nematode infection in grazing cattle. Vet Parasitol 51:271–281

Wu KO, Wang XG (1987) A survey of Ixodidae in domestic animals in Anhui Province, China. Chin J Vet Med 13:2–6
Acknowledgments
The study is a part of research conducted in an indigenous Ph.D. fellowship scheme (phase II) funded by the Higher Education Commission of Pakistan. The authors would like to thank Dr. Doug Colwell, Livestock Parasitology, Agriculture, and Agri-Food Canada, Lethbridge Research Centre, Lethbridge, Canada, for reviewing the project report.
About this article
Cite this article
Sajid, M.S., Iqbal, Z., Khan, M.N. et al. Prevalence, associated determinants, and in vivo chemotherapeutic control of hard ticks (Acari: Ixodidae) infesting domestic goats (Capra hircus) of lower Punjab, Pakistan. Parasitol Res 108, 601–609 (2011). https://doi.org/10.1007/s00436-010-2103-8
Received:

Accepted:

Published:

Issue Date:
Keywords
Ivermectin

Cypermethrin

Small Ruminant

Tick Species

Tick Infestation