Abstract
The present study revealed the indirect effect of a turmeric (TUR) diet on the histopathological changes and proliferating cell nuclear antigen staining in Syrian hamsters with partial obstruction by liver fluke (Opisthorchis viverrini) infection and inflammation by N-nitrosodimethylamine (NDMA) administration. The result of the analysis of histopathological changes shows that a TUR diet has an anti-inflammatory property in the case of a single condition of NDMA administration or O. viverrini infection, as has been reported previously. Unfortunately, an adverse indirect effect of TUR was observed in the combination of infection with O. viverrini and administration of NDMA, with a 30–50% increase in new bile duct formation, correlated with an increase in proliferating cell nuclear antigen. Our present result suggests that the properties of curcumin are anti-inflammation and antioxidant including enhancing biliary contraction and bile flow. Thus, a combination of factors (treated with O. viverrini, NDMA, and TUR diet) result in an increasing bile duct proliferation which may cause from biliary homeostasis.
This is a preview of subscription content, log in to check access.
Access options
Buy single article
Instant access to the full article PDF.
US$ 39.95
Price includes VAT for USA
Subscribe to journal
Immediate online access to all issues from 2019. Subscription will auto renew annually.
US$ 199
This is the net price. Taxes to be calculated in checkout.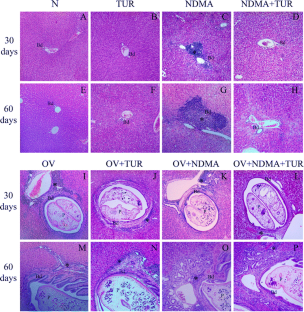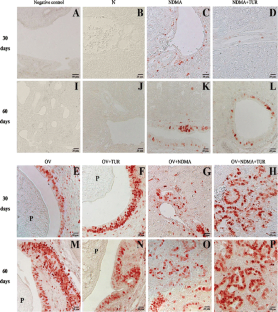 References
Al Bulushi I, Poole S, Deeth HC, Dykes GA (2009) Biogenic amines in fish: roles in intoxication, spoilage, and nitrosamine formation—a review. Crit Rev Food Sci Nutr 49(4):369–377

Aljiffry M, Abdulelah A, Walsh M, Peltekian K, Alwayn I, Molinari M (2009) Evidence-based approach to cholangiocarcinoma: a systematic review of the current literature. J Am Coll Surg 208(1):134–147

Angelo LS, Kurzrock R (2009) Turmeric and green tea: a recipe for the treatment of B-chronic lymphocytic leukemia. Clin Cancer Res 15(4):1123–1125

Boonjaraspinyo S, Boonmars T, Aromdee C, Srisawangwong T, Kaewsamut B, Pinlaor S, Yongvanit P, Puapairoj A (2009) Turmeric reduces inflammatory cells in hamster opisthorchiasis. Parasitol Res 105(5):1459–1463

Boonmars T, Srisawangwong T, Srirach P, Kaewsamut B, Pinlaor S, Sithithaworn P (2007) Apoptosis-related gene expressions in hamsters re-infected with Opisthorchis viverrini and re-treated with praziquantel. Parasitol Res 102:57–62

Boonmars T, Srirach P, Kaewsamut B, Srisawangwong T, Pinlaor S, Pinlaor P, Yongvanit P, Sithithaworn P (2008) Apoptosis-related gene expression in hamster opisthorchiasis post praziquantel treatment. Parasitol Res 102(3):447–455

Department of Medical Sciences, Ministry of Public Health (1998) Thai herbal pharmacopoeia. Prachachon, Bangkok

Half E, Arber N (2009) Colon cancer: preventive agents and the present status of chemoprevention. Expert Opin Pharmacother 10(2):211–219

IARC Working group (1994) Infection with liver flukes (Opisthorchis viverrini, Opisthorchis felineus and Clonorchis sinensis). IARC monographs on the evaluation of carcinogenic risks to humans 61:121–175

Menon VP, Sudheer AR (2007) Antioxidant and anti-inflammatory properties of curcumin. Adv Exp Med Biol 595:105–125

Motterlini R, Foresti R, Bassi R, Green CJ (2000) Curcumin, an antioxidant and anti-inflammatory agent, induces heme oxygenase-1 and protects endothelial cells against oxidative stress. Free Radic Biol Med 28(8):1303–1312

Pinlaor S, Yongvanit P, Prakobwong S, Kaewsamut B, Khoontawad J, Pinlaor P, Hiraku Y (2009) Curcumin reduces oxidative and nitrative DNA damage through balancing of oxidant-antioxidant status in hamsters infected with Opisthorchis viverrini. Mol Nutr Food Res 53(10):1316–1328

Priya S, Sudhakaran PR (2008) Curcumin-induced recovery from hepatic injury involves induction of apoptosis of activated hepatic stellate cells. Indian J Biochem Biophys 45(5):317–325

Rasyid A, Rahman AR, Jaalam K, Lelo A (2002) Effect of different curcumin dosages on human gall bladder. Asia Pac J Clin Nutr 11(4):314–318

Silla Santos MH (1996) Biogenic amines: their importance in foods. Int J Food Microbiol 29(2–3):213–231

Singh M, Singh N (2009) Molecular mechanism of curcumin induced cytotoxicity in human cervical carcinoma cells. Mol Cell Biochem 325(1–2):107–119

Slott PA, Liu MH, Tavoloni N (1990) Origin, pattern, and mechanism of bile duct proliferation following biliary obstruction in the rat. Gastroenterology 99(2):466–477

Sripa B, Kaewkes S, Sithithaworn P, Mairiang E, Laha T, Smout M, Pairojkul C, Bhudhisawasdi V, Tesana S, Thinkamrop B, Bethony JM, Loukas A, Brindley PJ (2007) Liver fluke induces cholangiocarcinoma. PLoS Med 4(7):e201

Suzuki M, Betsuyaku T, Ito Y, Nagai K, Odajima N, Moriyama C, Nasuhara Y, Nishimura M (2009) Curcumin attenuates elastase- and cigarette smoke-induced pulmonary emphysema in mice. Am J Physiol Lung Cell Mol Physiol 296:L614–L623

Thamavit W, Kongkanuntn R, Tiwawech D, Moore MA (1987) Level of Opisthorchis infestation and carcinogen dose-dependence of cholangiocarcinoma induction in Syrian golden hamsters. Virchows Arch B Cell Pathol Incl Mol Pathol 54(1):52–58

Thamavit W, Pairojkul C, Tiwawech D, Itoh M, Shirai T, Ito N (1993) Promotion of cholangiocarcinogenesis in the hamster liver by bile duct ligation after dimethylnitrosamine initiation. Carcinogenesis 14(11):2415–2417

Thuwajit C, Thuwajit P, Uchida K, Daorueang D, Kaewkes S, Wongkham S, Miwa M (2006) Gene expression profiling defined pathways correlated with fibroblast cell proliferation induced by Opisthorchis viverrini excretory/secretory product. World J Gastroenterol 12(22):3585–3592

Uddin S, Khan AS, Al-Kuraya KS (2009) Developing curcumin into a viable therapeutic for lymphoma. Expert Opin Investig Drugs 18(1):57–67

Wagner H, Bladt S, Zgainski EM (1983) Plant drug analysis: a thin layer chromatography atlas. Springer, Berlin

Yadav VR, Suresh S, Devi K, Yadav S (2009) Novel formulation of solid lipid microparticles of curcumin for anti-angiogenic and anti-inflammatory activity for optimization of therapy of inflammatory bowel disease. J Pharm Pharmacol 61(3):311–321
Acknowledgments
This research was partially supported by the Research Strengthening Grant from the National Center for Genetic Engineering and Biotechnology (BIOTEC), National Science and Technology Development Agency (NSTDA). We thank the Department of Parasitology, Liver Fluke and Cholangiocarcinoma Research Center, the Animal Experimental Unit, Faculty of Medicine, Khon Kaen University, and Department of Parasitology, Gifu University for their support. Thanks to Mr. Christopher Salisbury for the English editing.
About this article
Cite this article
Boonjaraspinyo, S., Boonmars, T., Aromdee, C. et al. Indirect effect of a turmeric diet: enhanced bile duct proliferation in Syrian hamsters with a combination of partial obstruction by Opisthorchis viverrini infection and inflammation by N-nitrosodimethylamine administration. Parasitol Res 108, 7–14 (2011). https://doi.org/10.1007/s00436-010-2031-7
Received:

Accepted:

Published:

Issue Date:
Keywords
Curcumin

Proliferate Cell Nuclear Antigen

Syrian Hamster

Bile Duct Proliferation

Hepatic Bile Duct