Abstract
A highly viscous formulation containing chlorpyrifos (RET) was evaluated under laboratory, pre-field, and field conditions, and compared against ear tags with organophosphorus insecticides. Laboratory bioassays were performed using Musca domestica L. and a thin layer chromatography (TLC) plate of reversed phase silica gel modeling a lipophilic surface. Insects were exposed to the insecticide vapors of both formulations, directly and indirectly to test for lateral diffusion. Knockdown time 50% (KT50) values were determined as toxicological indicators of insecticide release. Minimum KT50 values of the direct effect of both formulations on horn flies were reached 4 weeks after being applied. The KT50 effect of migrated insecticides showed that RET formulation had a maximal effectiveness between the fourth and tenth last week. The KT50 effect of the insecticide migrating from ear tags decreased during the last 2 weeks of the experiment, and the KT50 effect of the laterally migrated insecticide was significantly higher for the RET formulation during this period. A pre-field bioassay was performed by exposing pieces of rabbit leather with both formulations and recording the KT50. At the end of the experiment, the KT50 effect of laterally migrated insecticide was significantly higher for the RET formulation. Regarding vapor emission, as a general trend the KT50 effect of ear tags was greater than for the RET formulation. To evaluate the horn fly infestation in the field bioassays, photographs of the animal were taken. The results shows that RET provided significant control for 11 weeks while the ear tags provided protection until the 12th week.
This is a preview of subscription content, log in to check access.
Access options
Buy single article
Instant access to the full article PDF.
US$ 39.95
Price includes VAT for USA
Subscribe to journal
Immediate online access to all issues from 2019. Subscription will auto renew annually.
US$ 199
This is the net price. Taxes to be calculated in checkout.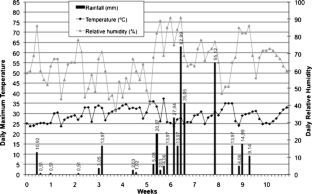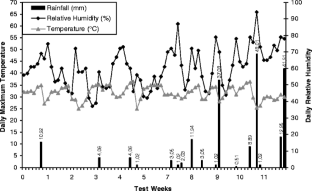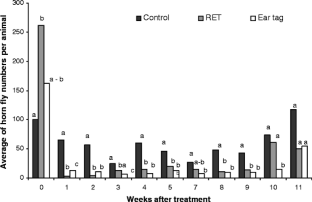 References
Anziani OS, SG Flores, M Forchieri, AA Guglielmone AA, Volpogni MM (1998) El control de la mosca de los cuernos (Haematobia irritans) utilizando una caravana insecticida conteniendo diazinón 40 por ciento. Rev Med Vet 79:334-336

Anziani OS, Zimmermann G, Guglielmone AA, Forchieri M, Volpogni MM (2000) Evaluation of insecticide ear tags containing ethion for control of pyrethroid resistant Haematobia irritans (L) on dairy cattle. Vet Parasitol 91:147–151

Beadles ML, Gingrich AR, Miller JA (1977) Slow-release devices for livestock insect control: cattle body surfaces contacted by five types of devices. J Econ Entomol 70:72–75

Brown AH, Steelman CD Jr, Johnson ZB, Rosenkrans CF, Brasuell TM Jr (1992) Estimates of repeatability and heritability of horn fly resistance in beef cattle. J Anim Sci 70:1375–1381

Byford RL, Sparks TC, Green B, Knox J, Wyatt W (1988) Organophosphorus insecticides for the control of pyrethroid-resistant horn flies (Diptera: Muscidae). J Econ Entomol 81:1562–1566

Campbell JB, Thomas GD (1992) The history, biology, economics and control of the horn fly Haematobia irritans (L). Agric Pract 13:31–36

Campbell JB, Boxler DJ, Adams DC, Applegarth AF (2006) Efficacy of several insecticide ear tags for control of horn flies (Diptera:Muscidae) on Nebraska beef cattle. J Kans Entomol Soc 79:113–118

Cocke J Jr, Knutson R, Lunt DK, Mitchell FL (1990) Changes in horn fly response to diazinon and fenvalerate following season long exposure to various pyrethroid and organophosphate ear tags on range cattle in Texas. Southwest Entomol 15:265–271

Crosby BL, Byford RL, Kinzer HG (1991) Insecticide resistance in the horn fly, Haematobia irritans (L) in New Mexico: survey and control. Southwest Entomol 16:301–309

DeRouen SM, Foil LD, Knox JW, Turpin JM (1995) Horn fly (Diptera: Muscidae) control and weight gains of yearling beef cattle. J Econ Entomol 88:666–668

Kahn CM, Scott L (eds) (2005) The Merck Veterinary Manual, 9th Edition. Merck Publishing Group, Merck & Co., Inc. Rahway, USA

Kunz SE, Miller JA, Sims PL, Meyerhoffer DC (1984) Economics of controlling horn flies (Diptera: Muscidae) in range cattle management. J Econ Entomol 77:657–660

Litchfield JT, Wilcoxon FA (1949) A simplified method of evaluating dose-effect experiments. J Pharmacol Exp Ther 96:99–113

Lysyk TJ, Colwell DD (1996) Duration of efficacy of diazinon ear tags and ivermectin pour-on for control of horn fly (Diptera: Muscidae). J Econ Entomol 89:1513–1520

Miller JA, Oehler DD, Kunz SE (1983) Release of pyrethroids from insecticidal ear tags. J Econ Entomol 76:1335–1340

Mwangala FS, Sarna LP, Galloway TD, Webster GRB (1993) Distribution of fenvalerate and permethrin residues on cattle hair following variable application rates of impregnated ear tags. Pest Sci 39:179–184

Orayzún MP, Quiroz A, Birkett MA (2008) Insecticide resistance in the horn fly: alternative control strategies. Med Vet Entomol 22:188–202

Panduranga Rao S, Murugesan T, Surianarayan M, Raghavan KV (1995) Pore model for the fibrous collagen matrix in animal skins. Chem Eng Sci 50:890–897

Schreiber ET, Campbell JB, Kunz SE, Clanton DC, Hudson DB (1987) Effects of horn fly (Diptera: Muscidae) control on cows and gastrointestinal worm (Nematode: Trichostrongylidae) treatment for calves on cow and calf weight gains. J Econ Entomol 80:451–454

Spradbery JP, Tozer RS (1996) The efficacy of diazinon impregnated ear tags against buffalo fly and resulting weight gains and diazinon residues in meat and milk. Aust Vet J 73:6–10

Steelman CD, McNew RW, Simpson RB, Rorie RW, Phillips JM, Rosenkbans CF (2003) Evaluation of alternative tactics for management of insecticide-resistant horn flies. J Econ Entomol 96:892–901

Taylor SM, Elliott CT, Blanchflower WJ (1986) A comparison of cypermethrin distribution on cattle hair after application of impregnated ear and tail tags. Pest Sci 21:39–43

Toth SJ Jr, Sparks TC (1988) Influence of treatment technique on the temperature-toxicity relationships of cis and trans-permethrin in the cabbage looper (Lepidoptera: Noctuidae). J Econ Entomol 81:115–118

Wright B, Ogilvie G, MacNeil S (2006) In the use of insecticide-impregnated cattle ear tags on the halters of horses. Factsheet Ministry of Agriculture, Food and rural Affairs. Ontario, Canadá

Yeung JM, Colwell DD, Shemanchuk JA (1989) Fenvalerate residues on cattle hair coat from impregnated ear tags. Pest Sci 26:21–27
Acknowledgments
This investigation received financial support from Chemotécnica S. A. and the Agencia Nacional de Promoción Científica y Tecnológica (Argentina) through a FONTAR ANR 118/03 grant.
The authors are very grateful to Alberto and Sebastián Demyda for granting us the use of their pastures and cows for the field trial at the Serendip dairy farm.
About this article
Cite this article
Juan, L.W., Zerba, E.N., Mariategui, P. et al. New spot-on formulation containing chlorpyrifos for controlling horn flies on cattle: laboratory model of insecticide release and field trial. Parasitol Res 107, 967–974 (2010). https://doi.org/10.1007/s00436-010-1962-3
Received:

Accepted:

Published:

Issue Date:
Keywords
Chlorpyrifos

Diazinon

Moxidectin

Pyriproxyfen

Organophosphorus Insecticide