Abstract
The purpose of the present study is to assess the histopathological alterations of adult schistosomes caused by a smaller dose of mefloquine. Mice were infected with Schistosoma japonicum cercariae for 35 days and then treated with a single 200 mg/kg oral dose of mefloquine. Groups of mice were killed between 12 h and 28 days posttreatment, and the livers were removed, fixed, and processed routinely and examined by light microscopy. Twelve hours to 48 h or 3 days posttreatment, 10.3% to 53.3% of male worms and 10% to 25% of female worms shifted to the liver revealed normal appearance. However, 46.7% to 69.2% of male worms and 45.5% to 75% of female worms showed signs of degeneration, including moderate or high swelling of tegument and/or muscles with roughing surface or formation of small vesicles beneath the tegument or collapse of damaged tegument, light swelling of parenchymal tissues, and light dilatation of gut. These histopathological changes aggravated either in extent or in severity along with time, especially the speed of emergence of dead worm granuloma that was faster in female worms than in male ones. In female worms, severe damage to the vitelline glands was universal, which was characterized by necrosis and karyopyknosis of vitelline cells and emergence of small vacuoles among the vitelline gland lobules. Seven days to 28 days posttreatment, almost all of the female worms shifted to the liver were classified as dead or dead worm granuloma, while the percentage of dead male worm and its granuloma examined in the liver was 52.1% to 53.3%. The results indicate that smaller dose of mefloquine (200 mg/kg) still shows strong histopathological response to kill female schistosomes, but its lethal effect against male worms is weakened.
This is a preview of subscription content, log in to check access.
Access options
Buy single article
Instant access to the full article PDF.
US$ 39.95
Price includes VAT for USA
Subscribe to journal
Immediate online access to all issues from 2019. Subscription will auto renew annually.
US$ 199
This is the net price. Taxes to be calculated in checkout.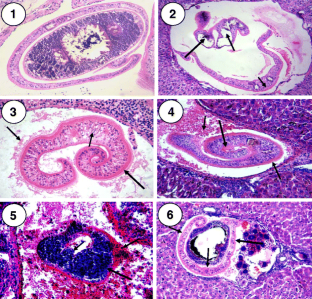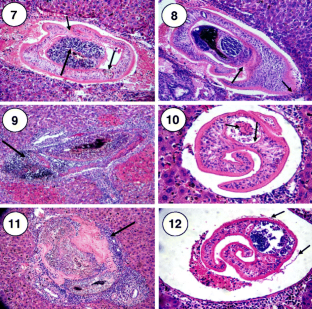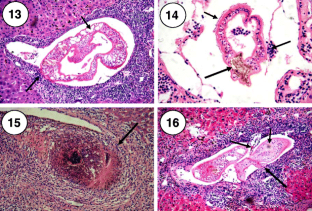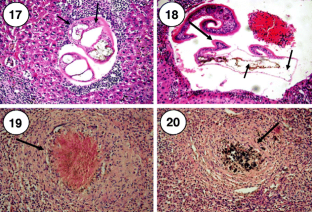 References
Li SW, Wu LJ, Liu ZD, Hu LS, Xu PS, XuanYX LYM, Liu X, Fan JT (1996) Studies on prophylactic effect of artesunate on schistosomiasis japonica. Chin Med J 109:848–851

Keiser J, Chollet J, Xiao SH, Mei JY, Jiao PY, Utzinger J, Tanner M (2009) Mefloquine—an aminoalcohol with promising antischistosomal properties in mice. PLoS Negl Trop Dis 3:e350

Sabah AA, Fletcher C, Webbe G, Doenhoff MJ (1986) Schistosoma mansoni: chemotherapy of infections of different ages. Exp Parasitol 61:294–230

Utzinger J, Xiao SH, Tanner M, Keiser J (2007) Artemisinins for schistosomiasis and beyond. Curr Opin Investig Drugs 8:105–116

Van Nassauw L, Toovey S, Op V, den Bosch J, Timmermans JP, Vercruysse J (2008) Schistosomicidal activity of the antimalarial drug, mefloquine, in Schistosoma mansoni-infected mice. Travel Med Infect Dis 6:253–258

Vennerstrom JL, Arbe-Barnes S, Brun R, Charman SA, Chiu FCK, Chollet J, Dong YX, Dorn A, Hunziker D, Matile H, McIntosh K, Padmanilayam M, Santo Tomas J, Scheurer C, Scorneaux B, Tang YQ, Urwyler H, Wittlin S, Charman WN (2004) Identification of an antimalarial synthetic trioxolane drug development candidate. Nature 430:900–904

Xiao SH (2005) Development of antischistosomal drugs in China, with particular consideration to praziquantel and the artemisinins. Acta Trop 96(2–3):153–167

Xiao SH, Zhang CW (2009) Histopathological alteration of juvenile Schistosoma japonicum in mice following treatment with single dose mefloquine. Parasitol Res 105:1733–1740

Xiao SH, Yue WJ, Yang YQ, You JQ (1987) Susceptibility of Schistosoma japonicum of different developmental stages to praziquantel. Chin Med J 10:759–768

Xiao SH, Booth M, Tanner M (2000) The prophylactic effects of artemether against Schistosoma japonicum infections. Parasitol Today 16:122–126

Xiao SH, Keiser J, Chollet J, Utzinger J, Dong Y, Endriss Y, Vennerstrom JL, Tanner M (2007) In vitro and in vivo activities of synthetic trioxolanes against major human schistosome species. Antimicrob Agents Chemother 51:1440–1445

Xiao SH, Mei JY, Jiao PY (2009a) Further study on mefloquine concerning several aspects in experimental treatment of mice and hamsters infected with Schistosoma japonicum. Parasitol Res 106:131–138

Xiao SH, Chollet J, Utzinger J, Mei JY, Jiao PY, Keiser J, Tanner M (2009b) Effect of single-dose oral mefloquine on the morphology of adult Schistosoma japonicum in mice. Parasitol Res 105:853–861

Xiao SH, Xue J, Shen BG (2010a) Tegumental alterations of adult Schistosoma japonicum harbored in mice treated with a single oral dose of mefloquine. Chin J Parasitol Parasitic Dis 28:1–7

Xiao SH, Xue J, Shen BG (2010b) Transmission electron microscopic observation on ultrastructural alterations in Schistosoma japonicum caused by mefloquine. Parasitol Res 106:1179–1187

Yue WJ, You JQ, Mei JY (1985) Prophylactic activity of praziquantel in animals infected with Schistosoma japonicum. Acta Pharmacol Sin 6:186–188

Zhang CW, Xiao SH, Utzinger J, Chollet J, Keiser J, Tanner M (2009) Histopathological changes in adult Schistosoma japonicum harbored in mice treated with a single dose of mefloquine. Parasitol Res 104:1407–1416
Acknowledgment
This investigation received financial support from the National Institute of Parasitic Diseases, Chinese Center for Disease Control and Prevention (Shanghai, China).
About this article
Cite this article
Xiao, S., Zhang, C. Further observation on histopathological alterations of adult Schistosoma japonicum harbored in mice following treatment with mefloquine at a smaller single dose. Parasitol Res 107, 773–781 (2010). https://doi.org/10.1007/s00436-010-1928-5
Received:

Accepted:

Published:

Issue Date:
Keywords
Artemisinin

Mefloquine

Artesunate

Artemether

Parenchymal Tissue