Abstract
We propose maslinic acid (2-α, 3-β-dihydroxiolean-12-en-28-oic acid), found in the leaves and fruit of the olive tree (Olea europaea L.), as a new natural coccidiostatic product against Eimeria tenella. Its action in infected animals has been compared with animals treated with sodium salinomycin. The lesion index (LS), the oocyst index (OI) and the anticoccidial index (ACI) were studied with regard to the weight of the chicks. The ACI for maslinic acid was 210.27 and for sodium salinomycin 173.09. Similarly, both LS and OI decreased in the groups treated with maslinic acid. A considerable increase in weight was found in the chicks treated with maslinic acid compared with those in the control group. Histopathological studies of the caecum at 120 h post-infection showed that the infection rate decreased significantly in chicks treated with maslinic acid.
This is a preview of subscription content, log in to check access.
Access options
Buy single article
Instant access to the full article PDF.
US$ 39.95
Price includes VAT for USA
Subscribe to journal
Immediate online access to all issues from 2019. Subscription will auto renew annually.
US$ 199
This is the net price. Taxes to be calculated in checkout.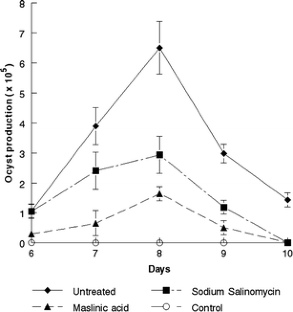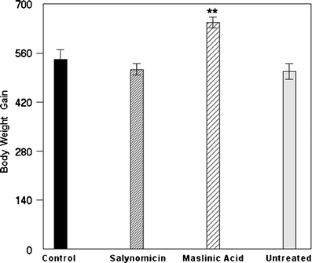 References
Abbas RZ, Iqbal Z, Sindhu ZD, Khan MN, Arshad M (2008) Identification of cross resistance and multiple resistance in Eimeria tenella field isolates to commonly used anticoccidials in Pakistan. J Appl Poult Res 17:361–368

Aladedunye FA, Okorie DA, Ighodaro OM (2008) Anti-inflammatory and antioxidant activities and constituents of Platostoma africanum P. Beauv. Nat Prod Res 22:1067–1073

Allen PC, Danforth HD, Augustine PC (1998) Dietary modulation of avian coccidiosis. Int J Parasitol 7:1131–1140

Allen PC, Fetterer RH (2002) Recent advances in biology and immunobiology of Eimeria species and in diagnosis and control of infection with these coccidian parasites of poultry. Clin Microbiol Rev 15:58–65

Bianchi G, Pozzi N, Vlahov G (1994) Pentacyclic triterpene acids in olives. Phytochemistry 37:205–207

Bianchi G (2003) Lipids and phenol sintable olives. Eur J Lipid Sci Technol 105:229–242

Chapman HD (1997) Biochemical, genetic and applied aspects of drug resistance in Eimeria parasites of the fowl. Avian Pathol 26:221–244

Chapman HD (1998) Evaluation of the efficacy of anticoccidial drugs against Eimeria species in the fowl. Int J Parasitol 28:1141–1144

Cheng K, Zhang P, Liu J, Xie J, Sun H (2008) Practical synthesis of bredemolic acid, a natural inhibitor of glycogen phosphorylase. J Nat Prod 11:1877–1880

Dalloul RA, Lillehoj HS (2005) Recent advances in immunomodulation and vaccination strategies against coccidiosis. Avian Dis 49:1–8

European Council Regulation (EC) (2009) Regulation (EU) No 124/2009. J Eur Un 40:7–11

Holdsworth PA, Conway DP, McKenzie ME, Dayton AD, Chapmand HD, Mathis GF, Skinner JT, Mundtg HC, Williams RB (2004) World Association for the Advancement of Veterinary Parasitology (WAAVP) guidelines for evaluating theefficacy of anticoccidial drugs in chicks and turkeys. Vet Parasitol 121:189–212

Hou W, Li Y, Zhang Q, Wei X, Peng A, Chen L, Wei Y (2009) Triterpene acids isolated from Lagerstroemia speciosa leaves as alpha-glucosidase inhibitors. Phytother Res 23:614–618

Jang SI, Jun MH, Hyun S, Lillehoj HS, Dalloul RA, Kong IK, Kim S, Min W (2007) Anticoccidial effect of green tea-based diets against Eimeria maxima. Vet Parasitol 144:172–175

Johnson J, Reid WM (1970) Anticoccidial drugs: lesion scoring techniques in battery and floor-pen experiments with chicks. Exp Parasitol 28:30–36

Jovel EM, Zhou XL, Ming DS, Wahbe TR, Towers GH (2007) Bioactivity-guided isolation of the active compounds from Rosa nutkana and quantitative analysis of ascorbic acid by HPLC. Can J Physiol Pharmacol 85:865–871

Juan ME, Wenzel U, Ruiz-Gutiérrez V, Daniel H, Planas JM (2006) Olive fruit extracts inhibit proliferation and induce apoptosis in HT-29 human colon cancer cells. J Nutr 136:2553–2557

Juan ME, Planas JM, Ruiz-Gutierrez V, Daniel H, Wenzel U (2008) Antiproliferative and apoptosis-inducing effects of maslinic and oleanolic acids, two pentacyclic triterpenes from olives, on HT-29 colon cancer cells. Br J Nutr 100:36–43

Kim JM, Jang DS, Lee YM, Yoo JL, Kim YS, Kim JH, Kim JS (2008) Aldose-reductase- and protein-glycation-inhibitory principles from the whole plant of Duchesnea chrysantha. Chem Biodivers 5:352–356

Lee IK, Kim do H, Lee SY, Kim KR, Choi SU, Hong JK, Lee JH, Park YH, Lee KR (2008) Triterpenoic acids of Prunella vulgaris var. lilacina and their cytotoxic activities in vitro. Arch Pharm Res 31:1578–1583

Long PL, Joyner LP (1976) A guide to laboratory techniques used in the study and diagnosis of avian coccidiosis. Folia Vet Lat 6:201–217

Montilla MP, Agil A, Navarro MC, Jiménez MI, García-Granados A, Parra A, Cabo MM (2003) Antioxidant activity of maslinic acid, a triterpene derivative obtained from Olea europaea. Panta Med 69:472–474

Naidoo V, McGawa LJ, Bisschop SPR, Duncan N, Eloff JN (2008) The value of plant extracts with antioxidant activity in attenuating coccidiosis in broiler chicks. Vet Parasitol 153:214–219

Numata A, Yang P, Takahashi C, Fujiki R, Nabae M, Fujita E (1989) Cytotoxic triterpenes from a Chinese medicine, Goreishi. Chem Pharm Bull (Tokyo) 37:648–651

Parra A, Rivas F, Lopez PE, Garcia-Granados A, Martinez A, Albericio F, Marquez N, Muñoz E (2009) Solution- and solid-phase synthesis and anti-HIV activity of maslinic acid derivatives containing amino acids and peptides. Bioorg Med Chem 17:1139–1145

Reyes FJ, Centelles JJ, Lupiáñez JA, Cascante M (2006) (2Alpha, 3beta)-2, 3-dihydroxyolean-12-en-28-oic acid, a new natural triterpene from Olea europaea, induces caspase dependent apoptosis selectively in colon adenocarcinoma cells. FEBS Lett 580:6302–6310

Williams RB (1998) Epidemiological aspects of the use of live anticoccidial vaccines for chicks. Int J Parasitol 28:1089–1098

Williams RB (2002) Fifty years of anticoccidial vaccines for poultry (1952–2002). Avian Dis 46:775–802

Xu HX, Zeng PQ, Wan M, Sim KY (1996) Anti-HIV triterpene acids from Geum japonicum. J Nat Prod 59:643–645
Acknowledgements
This study was supported in part by a grant FQM1228 from the Regional Government of Andalucia (Spain) and by the companies: Granjas Avelino Góngora and BIOMASLINIC S.L. L.M. De Pablos received a fellowship from the Regional Government of Andalucia (Spain). The authors thank Dr. J. Trout of the Scientific Translation Service of the University of Granada for revising their text.
About this article
Cite this article
De Pablos, L.M., dos Santos, M.F.B., Montero, E. et al. Anticoccidial activity of maslinic acid against infection with Eimeria tenella in chickens. Parasitol Res 107, 601–604 (2010). https://doi.org/10.1007/s00436-010-1901-3
Received:

Accepted:

Published:

Issue Date:
Keywords
Body Weight Gain

Oleanolic Acid

Lesion Score

Coccidiosis

Salinomycin