Abstract
Light microscopic description was presented for a new myxosporean species, Auerbachia bajadi. The parasite was collected from the gallbladder of orangespotted trevally Carangoides bajad (Forsskål, 1775) in Al-Quseir city, Red Sea coast, Egypt. The prevalence was 30/80 (37%) and the infection was reported as an enormous amount of free mature spores floating in the bile. Spores were club-shaped with a broad anterior part and a narrow caudal part. Shell valves were asymmetrical and the larger valve was drawn into a wide caudal projection. The mean spore measurements were 22.7 μm in total length and 9.5 μm in width. Polar capsule was single and elliptical-shaped with five polar filament turns. The polar capsule measured 9.5 μm in length and 4.5 μm in width. The spores were distinctly different from the four recorded species of genus Auerbachia. One of the cited species of this genus was excluded as it was related to genus Coccomyxa than genus Auerbachia. Also, the accurate citation date of this genus was discussed.
This is a preview of subscription content, log in to check access.
Access options
Buy single article
Instant access to the full article PDF.
US$ 39.95
Price includes VAT for USA
Subscribe to journal
Immediate online access to all issues from 2019. Subscription will auto renew annually.
US$ 199
This is the net price. Taxes to be calculated in checkout.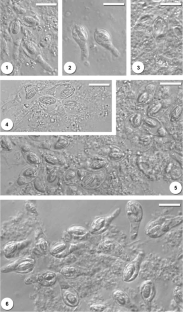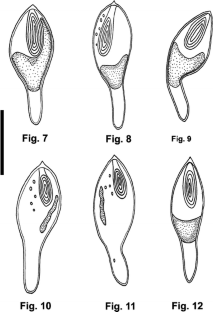 References
Dorothi KP, Kalavati C, Vaidehi J (1998) Three new species of myxozoans from teleosts of Bay of Bengal. Riv Parassitol 15:67–72

Kent ML, Andree KB, Bartholomew JL, EL-Matbouli M, Desser SS, Devlin RH, Feist SW, Hedrick RP, Hoffmann RW, Khattra J, Hallett SL, Lester RJG, Longshaw M, Palezuela O, Siddall M, Xiao C (2001) Recent advances in our knowledge of the Myxozoa. J Eukaryot Microbiol 48:395–413

Leger L, Hesse E (1907) Sure une nouvelle Myxosporidia parasite de sardine. C R Acad Sci 145:89–100

Lom J, Arthur JR (1989) A guideline for the preparation of species description in Myxosporea. J Fish Dis 12:151–156

Lom J, Dykova I (1992) Protozoan parasites of fishes. Elsevier Science, Amsterdam, 315

Lom J, Dykova I (2006) Myxozoan genera: definition and notes on taxonomy, life-cycle terminology and pathogenic species. Folia Parasitol 53:1–36

Lom J, Noble ER, Laird M (1975) Myxosporidia from the deep-sea fish Macrourus berglax, off Newfoundland and Iceland. Folia Parasitol 22:105–109

Meglitsch PA (1968) Some coelozoic myxosporidia from New Zealand fishes II. On a new genus of Myxosporidia, Auerbachia. Proc Iowa Acad Sci 75:379–401

Moser M, Noble ER (1977) Myxosporidan genera Auerbachia, Sphaerospora, Davisia and Chloromyxum in macrourid fishes and the sablefish, Anoplopoma fimbria. Z Parasitenk 51:159–163

Sarkar NK (2006) Auerbachia hepatica sp. n. (Auerbachiidae, Evdokimova 1973) and Sinuolinea renalis sp. n. (Sinuolineidae, Shulman, 1959) from the teleosts of coastal water of Bay of Bengal. Uttar Pradesh J Zool 26(3):319–323
Acknowledgment
This work was gratefully supported by the Center of Excellence for Biodiversity Research, College of Science, King Saud University, Riyadh, Saudi Arabia.
About this article
Cite this article
Abdel-Baki, A.S. Auerbachia bajadi sp. n. (Myxozoa: Auerbachiidae) infecting the gallbladder of orangespotted trevally Carangoides bajad (Teleostei: Carangidae) in the Red Sea. Parasitol Res 107, 571–575 (2010). https://doi.org/10.1007/s00436-010-1896-9
Received:

Accepted:

Published:

Issue Date:
Keywords
Citation Date

Polar Capsule

Polar Filament

Mature Spore

Shell Valve