Abstract
The only drug available for treating schistosomiasis is praziquantel, however there are already reports of resistance to its use in treatment, making it necessary to search and develop new compounds to combat schistosomiasis. We tested, in vitro, two new products, Laboratório de Planejamento de Síntese de Fármacos (LPSF)/5-(4-chloro-benzylidene-3-(4-nitrebenzyl)-4-thioxo-imidazolidin-2-one (RZS-2) and LPSF/5-(4-fluoride-benzylidene-3-(4-nitrebenzyl)-4-thioxo-imidazolidin-2-one (RZS-5) imidazolidines, against adult worms of Schistosoma mansoni. Efficacy and safety of these compounds were analyzed through IC50 cytotoxicity, immune response and cell viability tests. At different concentrations ranging from 40–640 µM, the imidazolidines produced motor abnormalities, inhibition of pairing and oviposition and mortality within 24 h at the higher concentrations. Although not triggering changes in IFN-γ and IL-10, LPSF/RZS-2 and LPSF/RZS-5 induced production of nitric oxide and showed similar behavior to praziquantel in the cell death test.
This is a preview of subscription content, log in to check access.
Access options
Buy single article
Instant access to the full article PDF.
US$ 39.95
Price includes VAT for USA
Subscribe to journal
Immediate online access to all issues from 2019. Subscription will auto renew annually.
US$ 199
This is the net price. Taxes to be calculated in checkout.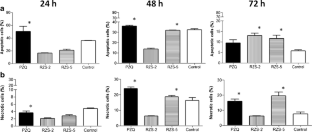 Abbreviations
LPSF:

Laboratório de Planejamento de Síntese de Fármacos

PZQ:

Praziquantel

RZS:

5-benzylidene-3-benzyl-4-thioxo-imidazolidin-2-one

RZS-2:

5-(4-chloro-benzylidene-3-(4-nitrebenzyl)-4-thioxo-imidazolidin-2-one

RSZ-5:

5-(4-fluoride-benzylidene-3-(4-nitrebenzyl)-4-thioxo-imidazolidin-2-one
References
Ahmed SF, Oswald IP, Caspar P, Hieny S, Keefer SL, James SL (1997) Developmental differences determine larval susceptibility to nitric oxide-mediated killing in a murine model of vaccination against Schistosoma mansoni. Infect Immun 65:219–226

Albuquerque MCA, Silva TG, Pitta MGR, Silva ACA, Silva PG, Malagueño E, Santana JV, Wanderley AG, Lima MCA, Galdino SL, Barbe J, Pitta IR (2005) Synthesis and schistosomicidal activity of new substituted thioxoimidazolidine compounds. Pharmazie 60:13–17

Badreldin HA (2006) A short review of some pharmacological, therapeutic and toxicological properties of praziquantel in man and animals. Pak J Pharm Sci 19:170–175

Brophy PM, Pritchard DI (1992) Immunity to helminths: ready to tip the biochemical balance? Parasitol Today 8:419–422

Brunet LR (2001) Nitric oxide in parasitic infections. Int Immunopharmcol 1:1457–1467

Caterina MC, Perillo IA, Boiani L, Pezaroglo H, Cerecetto H, Gonzalez M, Salerno A (2008) Imidazolidines as new anti-Trypanosoma cruzi agents: biological evaluation and structure—activity relationships. Bioorg Med Chem 16:2226–2234

Chand BG, Ray US, Mostafa G, Cheng J, Lu TH, Sinha C (2005) Difference in bonding behaviour of azide and thiocyanate to Hg (II)-azoimidazoles. Inorg Chim Acta 358:1927–1933

Chitsulo L, Engels D, Montreso A, Savioli L (2000) The global status of schistosomiasis and its control. Acta Trop 77:41–51

Cioli D, Pica-Mattoccia L (2003) Praziquantel. Parasitol Res 90:3–9

Colasanti M, Gradoni L, Mattu M, Persichini T, Salvati L, Venturini G, Ascenzi P (2002) Molecular basis for the anti-parasitic effect on NO. Int J Mol Med 9:131–134

Corrêa-Oliveira R, Caldas IR, Martins-Filho OA, Queiroz CC, Lambertucci JR, Cunha-Melo JR, Silveira AS, Prata A, Wilson A, Gazzinelli G (2000) Analysis of the effects of treatment of human Schistosoma mansoni infection on the immune response of patients from endemic areas. Acta Trop 77:141–146

Curtin JF, Donovan M, Cotter TG (2002) Regulation and measurement of oxidative stress in apoptosis. J Immunol Met 265:49–72

Dayan AD (2003) Albendazole, mebendazole and praziquantel. Review of non-clinical toxicity and pharmacokinetics. Acta Trop 86:141–159

Ding AH, Nathan CF, Stuehr D (1988) Release of reactive nitrogen intermediates and reactive oxygen intermediates from mouse peritoneal macrophages: comparison of activating cytokines and evidence for independent production. J Immunol 141:2407–2412

Dubois et al (2009) Histone deacetylase inhibitors induce apoptosis, histone hyperacetylation and up-regulation of gene transcription in Schistosoma mansoni. Mol Biochem Parasitol 168:7–15

Grevelding GC (2004) Schistosoma. Institute for Genetics, Heinrich-Heine-University, 40225 Düsseldorf, Germany. Magazine R545

Hoffmann KF, Wynn TA, Dunne DW (2002) Cytokine-mediated host responses during schistosome infections; walking the fine line between immunological control and immunopathology. Adv Parasitol 52:265

Ismail M, Botros S, Metwally A, William S, Farghally A, Ta LF, Day TA, Bennett JL (1999) Resistance to praziquantel: direct evidence from Schistosoma mansoni isolated from Egyptian villagers. Am J Trop Med Hyg 60:932–935

James SL, Glaven J (1989) Macrophage cytotoxicity against schistosomula of Schistosoma mansoni involves arginine-dependent production of reactive nitrogen intermediates. J Immunol 143:4208–4212

Kalyaham N, Sparthasarathy PC, Ananthan L, Manjunatha SG, Likhate MA (1992) Studies on antiamoebic compounds. Iv: synthesis of hexahydropyrimidines and tetrahydroimidazoles. Indian J Chem Sect B 31:243–247

Korhonen R, Kosonen O, Hämäläinen M, Moilanen E (2008) Nitric oxide-releasing compounds inhibit the production of interleukin-2, -4 and -10 in activated human lymphocytes. Bas Clin Pharmacol Toxicol 103:322–328

Korolkovas A (1974) Fundamentos de farmacologia molecular: base para o planejamento de fármacos. Editora da Universidade de São Paulo, São Paulo

Malheiros SVP, Brito MA, Brites D, Meirelles NC (2000) Membrane effects of trifluoperazine, dibucaine and praziquantel on human erythrocytes. Chem-Biol Inter 126:79–95

Martin RJ (1997) Mode of action of anthelminitic drugs. Vet J 154:11–34

Moncada S, Palmer RMJ, Higgs EA (1991) Nitric oxide: physiology, pathophysiology and pharmacology. Pharmacol Rev 43:109–142

Oliveira SM, Albuquerque MCPA, Pitta MGR, Malagueño E, Santana JV, Lima MCA, Pitta IR, Galdino SL (2004) A resposta do Schistosoma mansoni mantido in vitro frente a derivados imidazolidinônicos. Acta Farm Bonaer 23:343–348

Oliver L, Stirewalt MA (1952) An efficient method for exposure of mice to cercariae of Schistosoma mansoni. J Parasitol 38:19–23

Pereira VRA, Lorena VMB, Galvão da Silva AP, Coutinho EM, Silva ED, Ferreira AGP, Miranda P, Krieger MA, Goldenberg S, Soares MBP, Correa-Oliveira R, Gomes Y (2004) Immunization with cytoplasmic repetitive antigen and flagellar repetitive antigen of Trypanosoma cruzi stimulates a cellular immune response in mice. Parasitol 129:563–570

Pica-Mattoccia L, Cioli D (2004) Sex- and stage-related sensitivity of Schistosoma mansoni to in vivo and in vitro praziquantel treatment. Int J Parasitol 34:527–533

Pitta MGR, Silva ACA, Neves JKAL, Silva PG, Irmão JI, Malagueño E, Santana JV, Lima MCA, Galdino SL, Pitta IR, Albuquerque MCPA (2006) New imidazolidinic bioisosters: potential candidates for antischistosomal drugs. Mem Inst Osw Cruz 101:313–316

Rai G, Sayed AA, Lea H, Wendy A, Luecke F, Chakrapani H, Prast-Nielsen S, Jadhav A, Leister W, Min I, James A, Christopher P, Keefer LA, Elias SJ, Simeonov A, Maloney DJ, Williams DL, Craig TJ (2009) Structure mechanism insights and the role of nitric oxide donation guide the development of oxadiazole-2-oxides as therapeutic agents against schistosomiasis. J Med Chem 52:6474–6483

Rivero A (2006) Nitric oxide: an antiparasitic molecule of invertebrates. Trends Parasitol 22:219–225

Rossi MH, Zelnik R (2000) Contribuição à química das imidazolidinadionas-Síntese de ciclanilideno-hidantoínas. Arq Inst Biol 1:67

Sayed AA, Simeonov A, Thomas CJ, Inglese J, Austin CP, Williams DL (2008) Identification of oxadiazoles as new drug leads for the control of schistosomiasis. Nat Med 14:407–412

Sharma V, Khan MSY (2001) Synthesis of novel tetrahydroimidazole derivatives and studies for their biological properties. Eur J Med Chem 36:651

Wiegertjes GF, Forlenza M, Joerink M, Scharsack JP (2005) Parasite infections revisited. Dev Comp Immunol 29:749

Xiao SH, Catto BA, Webster LT (1985) Effects of praziquantel on different developmental stages of Schistosoma mansoni in vitro and in vivo. J Infect Dis 151:1130–1137
Acknowledgements
This work was supported by grants from the Financiadora de Estudos e Projetos (FINEP), Coordenação de Aperfeiçoamento de Pessoal de Nível Superior (CAPES), and Conselho Nacional de Desenvolvimento Científico e Tecnológico (CNPq).
About this article
Cite this article
Neves, J.K.d.L., Botelho, S.P.S., de Melo, C.M.L. et al. Biological and immunological activity of new imidazolidines against adult worms of Schistosoma mansoni . Parasitol Res 107, 531–538 (2010). https://doi.org/10.1007/s00436-010-1886-y
Received:

Accepted:

Published:

Issue Date:
Keywords
Nitric Oxide

Schistosomiasis

Adult Worm

Praziquantel

Schistosoma Mansoni