Abstract
This is the first study dealing with the association between HLA alleles and cystic echinococcosis (CE) in Yemeni patients. The present study aimed to detect the association of HLA-DRB1 alleles and susceptibility or resistance to CE in Yemeni patients by HLA-DRB1 typing; first by HLA-DRB1 amplification using PCR then using the allele-specific probing technique based on the reverse hybridization principle. This case–control study was carried out on 66 unrelated patients with confirmed CE and 66 apparently healthy individuals. The association of class II HLA-DRB alleles was examined in the patients with CE and compared with control subjects. Frequency of HLA-DR16 allele was 18.2% among patients and was statistically significant (higher) than in the control group [3%; odds ratio (OR) = 6.5, χ 2 = 7.1, P = 0.011]. Frequencies of HLA-DR1, DR8, and DR52 alleles were decreased in the patient group (0.0%, 0.0%, and 56%, respectively) than in the control group (19.7%, 9.1%, and 74.2%, respectively) (OR = 0.0, 0.0, 0.443 and P < 0.0001, 0.04, 0.05, respectively). HLA-DR16 allele was found to be statistically positively associated with the occurrence of isolated hepatic CE, single cysts, and cysts >5 cm in size. In contrast, HLA-DR1 and DR52 alleles were found to be statistically negatively associated with the occurrence of isolated hepatic CE. This study demonstrates that susceptibility to CE in Yemeni patients is statistically significantly associated with the HLA-DR16 allele and resistance to CE is statistically significantly associated with HLA-DR1, DR8, and DR52 alleles. Thus, this study has identified that carriers of HLA-DR16 are at high risk for CE, so appropriate preventive measures and quick and careful treatment should be applied to those patients.
This is a preview of subscription content, log in to check access.
Access options
Buy single article
Instant access to the full article PDF.
US$ 39.95
Price includes VAT for USA
Subscribe to journal
Immediate online access to all issues from 2019. Subscription will auto renew annually.
US$ 199
This is the net price. Taxes to be calculated in checkout.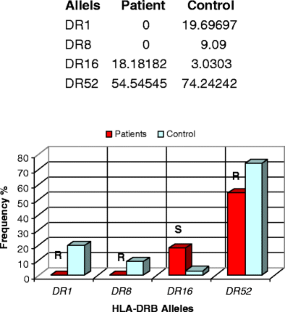 References
Abdelnoor AM, Chakhtoura M, Al-Awar G (2007) HLA associations, antibody titers and circulating immune complexes in patients with hydatid disease. The 21st European Immunogenetics and Histocompatibility Conference, May 5–8, Barcelona, Spain. Tissue Antigens 69:373–532

AL-Hureibi AA, Amer A, Al-Hureibi MA, Sharawee Z (1992) Hepatic hydatid cysts: presentation surgical management in Yemen. J R Coll Surg Edinb 37:229–321

Al-Hussein KA, Rama NR, Butt AI, Meyer B, Rozemuller E, Tilanus MGJ (2002) HLA class II sequence-based typing in normal Saudi individuals. Tissue Antigens 60:259–261

Almawi WY, Busson M, Tamim H, Al Harbi E, Finan RR, Saria F, Ghorayeb W, Motala A (2004) HLA class II profile and distribution of HLA-DRB1 and HLA-DQB1 alleles and haplotypes among Lebanese and Bahraini Arabs. Clin Lab Diag Immuol 11:770–774

Aydinli B, Pirim I, Polat KY, Gursan N, Atamanalp SS, Ezer M, Donmez R (2007) Association between hepatic alveolar echinococcosis and frequency of human leukocyte antigen class I and II alleles in Turkish patients. Hepatol Res 37:806–810

Azab ME, Bishara SA, Helmy H, Oteifa NM, El-Hoseiny LM, Ramzy RM, Ahmed MA (2004a) Association of some HLADRB1 antigens with Echinococcus granulosus specific humoral immune response. J Egypt Soc Parasitol 34:183–196

Azab ME, Bishara SA, Ramzy RMR, Oteifa NM, El-Hoseiny LM, Ahmed MA (2004b) The evaluation of HLA-DRB1 antigens as susceptibility markers for unilocular cystic echinococcosis in Egyptian patients. Parasitol Res 92:473–477

Buyse I, Decorte R, Baens M, Cuppens H, Semana G, Emonds MP, Marynen P, Cassiman JJ (1993) Rapid DNA typing of class II HLA antigens using the polymerase chain reaction and reverse dot blot hybridization. Tissue Antigens 41:1–14

D'Amelio R, Pontesilli O, Palmisano L, Pezzella M, Vullo V, Delia S, De Rose F, Sorice F, Aiuti F (1983) Detection and partial characterization of circulating immune complexes in hydatid disease. J Clin Microbiol 18:1021–1026

Dorak MT (2006) Statistical analysis in HLA and disease association studies, Workshop at BSHI 2002 meeting, Scotland (http://www.dorak.info/hla/stat.html at 25/2/2007)

Eckert J, Gemmell MA, Meslin FX, Pawlowski ZS (2001) Manual on Echinococcus in humans and animals a public health problem of global concern. WHO, Geneva

Gottstein B (2003) Major tropical syndromes by body system: systemic infections: hydatid disease. Available at: http://intl.elsevierhealth.com/e-books/pdf/813.pdf. Last updated 5/5/2003

Gottstein B, Bettens F (1994) Association between HLA-DR13 and susceptibility to alveolar echinococcosis. J Infect Dis 169:416–417

Gottstein B, Bettens F, Parkinson AJ, Wilson F (1996) Immunological parameters associated with susceptibility or resistance to alveolar hydatid disease in Yupiks/Inupiats. Arct Med Res 55:14–19

Harris ED (1995) Excitement and confusion about HLA and rheumatoid arthritis. Ann Intern Med 123:232–233

Hernandez A, Connor JE, Mir A (1999) Phenotypic analysis of peripheral lymphocyte subpopulations in hydatid patients. Parasitol Res 85:948–950

Kim YK, Oh HB, Oh SY, Cho SH, Kim YY, Min KU (2001) HLA-DRB1*07 may have a susceptibility and DRB1*04 a protective effect upon the development of a sensitization to house dust mite Dermatopgagoides petronyssinus. Clin Exp Allergy 31:110–115

Klein J, Sato A (2000) The HLA system. First of two parts. NEJM 343:702–709

Klintschar M, Ricci U, Al-Hammadi NH (1998) Genetic variation at the STR loci D12S391 and CSF1P in four populations from Austria, Italy, Egypt and Yemen. Forensic Sci Int 97:7–45

Li Furong L, Youen S, Daxhong S, Vuitton DA, Craig PS (2003) HLA-DRB1 allele in 35 patients with alveolar echinococcosis in Gansu province of China. Chin Med J 116:1557–1560

Morar R, Feldman C (2003) Pulmonary echinococcosis. Eur Respir J 21:1069–1077

Rigano R, Buttari B, De falco E, Profumo E, Orttona E, Margutti P, Scotta C, Teggi A, Siracusano A (2004) E. granulosus-specific T-Cell lines derived from patients at various clinical stages of cystic echinococcosis. Parasite Immunol 26:45–52

Shafer RW, Levee DJ, Winters MA, Richmond KL, Huang D, Merigan TC (1997) Comparison of QIAamp HCV kit spins columns, silica beads, and phenol-chloroform for recovering human immunodeficiency virus type-1 RNA from plasma. J Clin Microbiol 35:520–521

Shcherbakov AM (1993) Human echinococcosis: the role of histocompatibility antigens in realizing infestations and the characteristics of their course. Meditsinskaya Parazitologiya I Parazitarnye Bolezni 62:13–18, In Russian

Shcherbakov AM, Monje-Barredo PA (1989) The distribution of the HLA antigen system among patients with echinococcosis. Meditsinskaya Parazitologiya i Parazitarnye Bolezni 58:75–80, In Russian

Zhang W, Li J, McManus DP (2003) Concepts in immunology and diagnosis of hydatid disease. Clin Microbiol Rev 16:18–36
Acknowledgments
The authors thank all staff of the Surgery and Radiological Departments in Yemeni hospitals at Sana'a city and staff of the Laboratory Department at Al-Thawra Teaching Hospital in Sana'a, Yemen, especially Dr. Fawzy Baraheem, Head of the Laboratory Department, for their kind assistance.
About this article
Cite this article
Al-Ghoury, A.A., El-Hamshary, E.M., Azazy, A.A. et al. HLA class II alleles: susceptibility or resistance to cystic echinococcosis in Yemeni patients. Parasitol Res 107, 355–361 (2010). https://doi.org/10.1007/s00436-010-1868-0
Received:

Accepted:

Published:

Issue Date:
Keywords
Hydatid Cyst

Cyst Size

Echinococcus

Cystic Echinococcosis

Hepatic Cyst