Abstract
Chrysosporium tropicum is a keratinophilic fungus and an effective mosquito control agent. This fungus was grown in Richards broth at 27 ± 2°C and a relative humidity of 75% ± 5% for 15 ± 2 days. Filtration was done with Whatman number 1 filter paper, column chromatography, and flash chromatography. Adulticidal efficacy was performed against a mixed population of mosquitoes including Culex quinquefasciatus, Anophelese stephensii, Aedes aegypti at five different concentrations 5:5, 6:4, 7:3, 8:2, 9:1 by adding fungal filtrate of flash chromatography to methanol in different ratio (metabolite/methanol). The experiment was conducted in the cage with an area of 2 × 2 × 3 ft. The mortality in mosquito population was recorded after 8 hours of exposure, and adulticidal activity was tested by probit analysis. The LC50 was determined to be 4.9921 ml. Results of present study confirm that metabolites of C. tropicum can be utilized as alternative biological control agents for adult mosquitoes.
This is a preview of subscription content, log in to check access.
Access options
Buy single article
Instant access to the full article PDF.
US$ 39.95
Price includes VAT for USA
Subscribe to journal
Immediate online access to all issues from 2019. Subscription will auto renew annually.
US$ 199
This is the net price. Taxes to be calculated in checkout.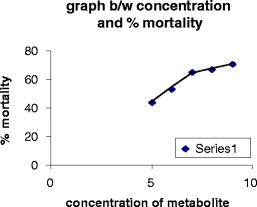 References
Ponlawat A, Scott JG, Harrington LC (2005) Insecticide susceptibility of Aedes aegypti & Aedes albopictus across Thailand. J. Med Entomol 42(5):821–825

Amer A, Mehlhorn H (2006) Persistency of larvicidal effects of plant oil extracts under different storage conditions. Parasitol Res 99:473–477

Balaramn K, Bheema Rao US, Rajagopalan PK (1979) Isolation of Metarhizium anisopliae, Beauveria tenella and Fusarium oxysporum (Deuteromycetes) and their pathogenicity to Culex fatigans and Anopheles stephensi. Indian J Med Res 70:718–722

Federici BA (1981) (555–572) Mosquito control by fungi Culicinomyces, Leginidium & Coelomomyces. In: Microbial Control of Pests & Plant Diseases 1970–1980 (ed.). Academic, New York, pp 555–572

Finney DJ (1971) Probit analysis, 3rd edn. Cambridge University Press, Cambridge, UK, Cambridge United Kingdom

Govindrajan M, Jebanesan A, Reetha D (2005) Larvicidal effect of extracellular secondary metabolites of different fungi against the mosquito, Culex quinquefasciatus. Trop Biomed 22(1):1–3

Hargreaves K, Koekemoer LL, Brooke BD, Hunt RH, Methembe J, Coetzee M (2000) Anopheles funestus resistant to pyrethroid insecticides in South Africa. Med Vet Entomol 2:181–189

James RR, Lighthart B (1994) Susceptibility of the convergent lady beetle to four entomopathogenic fungi. Environ Entomol 23:188–190

Krischbam JB (1985) Potential implication of genetic engineering and other biotechnologies to insect control. Annu Rev Entomol 30:51–70

Lecy CM, Lacey LA, Roberts DR (1988) Route of invasion and histopathology of Metarhizium anisopliae in Culex quinquefasciatus. J Invertebr Pathol 52:108–118

Legner EF (1995) Biological control of diptera of medical and veterinary importance. J Vector Ecol 20:59–120

McCray EM Jr, Womelderoff DJ, Husbands RC, Eliason DA (1973) Laboratory observation and field tests with Legenidium against California Mosquitoes. Proc Cali Mosq Control Assoc 41:123–128

Michaelakins A, Strongilos AT, Bouzas EA, Koliopoulos G, Elias A (2008) Couladouros larvicidal activity of naturally occurring naphthoquinones and derivatives against the West Nile virus vector Culex pipiens. Parasitol Res 104:657–662

Mohanty SS, Prakash S (2007) Efficacy of Chrysosporium lobatum against larvae of malaria vector, Anopheles stephensi in the laboratory. Curr Sci 83:1585–1588

Mohanty SS, Prakash S (2008) Laboratory and field evaluation of the fungus Chrysosporium lobatum against larvae of mosquito Culex quinquefasciatus. Parasitol Res 102:881–886

Mohanty SS, Raghvendra K, Rai U, Dash PA (2008) efficacy of female Culex quinquefasciatus with entomopathogenic fungus Fusarium pallidoroseum. Parasitol Res 103:171–174

Priyanka and Prakash (2001) Chrysosporium tropicum efficacy against Anophelese stephensi larvae in the laboratory. J Am Mosq Control Assoc 17:127–130

Rozendaal JA (1997) vector control, methods for use by individuals and communities. World Health organization, Geneva, Switzerland, pp 7–177

Scholte E-J, Knols BGJ, Samson RA, Takkan W (2004) Entomopathogenic fungi for mosquito control: a review. J Insect Sci 4:19

Strasser H, Vey A, Butt TM (2000) Are there any risk in using entomopathogenic fungi for pest control, with particular reference to the bio active metabolites of Metarhizium tolipocladium & Beauveria species? Biocontrol Sci & Tech 10:717-735

Vyas N, Dua K, Prakash S (2007) Efficacy of Lagenidium giganteum metabolites on mosquito larvae with reference to nontarget organisms. Parasitol Res 101:385–390
Acknowledgements
We sincerely wish to acknowledge Prof. V. G.Das, Director, Dayalbagh Educational Institute for the facilities provided and Prof. K.K. Dua, Head, Department of Zoology for providing the opportunity and facilities to complete work.
About this article
Cite this article
Verma, P., Prakash, S. Efficacy of Chrysosporium tropicum metabolite against mixed population of adult mosquito (Culex quinquefasciatus, Anopheles stephensii, and Aedes aegypti) after purification with flash chromatography. Parasitol Res 107, 163–166 (2010). https://doi.org/10.1007/s00436-010-1854-6
Received:

Accepted:

Published:

Issue Date:
Keywords
Instar Larva

Entomopathogenic Fungus

Lymphatic Filariasis

Mosquito Larva

Flash Chromatography