Abstract
A full-length cDNA encoding a Rho-family small GTPase gene cdc42 of Trichinella spiralis was expressed in E. coli. The recombinant protein of TsCDC42 was purified and used to raise the polyclonal antibodies. The expression of TsCDC42 in different stages of parasite was investigated. The western blot showed that TsCDC42 was expressed in all stages of T. spiralis, including newborn larvae, muscle larvae and adult worms. The immuno-localization revealed that TsCDC42 was ubiquitously distributed in the newborn larvae, muscle larvae and adult worm. Cross-species RNAi was done by knockdown Tscdc42 RNAi in C. elegans. The results revealed that endogenous expression level of CDC42 was decreased by knockdown Tscdc42 RNAi in C. elegans, and this knockdown reduced the progeny of C. elegans. It suggested that Tscdc42 might play the same roles in the early development of T. spiralis.
This is a preview of subscription content, log in to check access.
Access options
Buy single article
Instant access to the full article PDF.
US$ 39.95
Price includes VAT for USA
Subscribe to journal
Immediate online access to all issues from 2019. Subscription will auto renew annually.
US$ 199
This is the net price. Taxes to be calculated in checkout.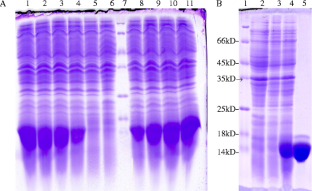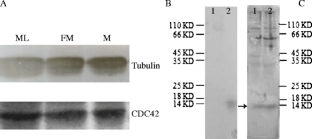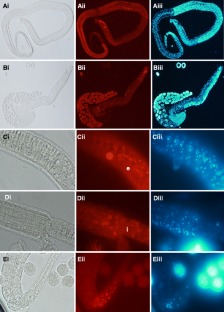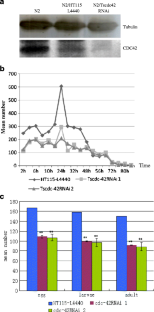 References
Aceto D, Beers M, Kemphues KJ (2006) Interaction of PAR-6 with CDC-42 is required for maintenance but not establishment of PAR asymmetry in C. elegans. Dev Biol 299:386–397

Akkoc N, Kuruuzum Z, Akar S, Yuce A, Onen F, Yapar N, Ozgenc O, Turk M, Ozdemir D, Avci M, Guruz Y, Oral AM, Pozio E (2009) A large-scale outbreak of trichinellosis caused by Trichinella britovi in Turkey. Zoonoses Public Health 56:65–70

Atwood SX, Chabu C, Penkert RR, Doe CQ, Prehoda KE (2007) Cdc42 acts downstream of Bazooka to regulate neuroblast polarity through Par-6 aPKC. J Cell Sci 120:3200–3206

Balklava Z, Pant S, Fares H, Grant BD (2007) Genome-wide analysis identifies a general requirement for polarity proteins in endocytic traffic. Nat Cell Biol 9:1066–1073

Black PC, Mize GJ, Karlin P, Greenberg DL, Hawley SJ, True LD, Vessella RL, Takayama TK (2007) Overexpression of protease-activated receptors-1,-2, and-4 (PAR-1,-2, and-4) in prostate cancer. Prostate 67:743–756

Bowerman B, Draper BW, Mello CC, Priess JR (1993) The maternal gene skn-1 encodes a protein that is distributed unequally in early C. elegans embryos. Cell 74:443–452

Calcagno MA, Teixeira C, Forastiero MA, Costantino SN, Venturiello SM (2005) Clinical, serological and parasitological aspects of an outbreak of human trichinellosis in Villa Mercedes, San Luis, Argentina. The acute and chronic phases of the infection. Medicina (B Aires) 65:302–306

Chen W, Lim HH, Lim L (1993) The CDC42 homologue from Caenorhabditis elegans. Complementation of yeast mutation. J Biol Chem 268:13280–13285

Cowan CR, Hyman AA (2007) Acto-myosin reorganization and PAR polarity in C. elegans. Development 134:1035–1043

Crittenden SL, Troemel ER, Evans TC, Kimble J (1994) GLP-1 is localized to the mitotic region of the C. elegans germ line. Development 120:2901–2911

Dubinsky P, Stefancikova A, Kincekova J, Ondriska F, Reiterova K, Medvedova M (2001) Trichinellosis in the Slovak Republic. Parasite 8:S100–S102

Gao G, Raikar S, Davenport B, Mutapcic L, Montgomery R, Kuzmin E, Bennett KL (2006) Cross-species RNAi: selected Ascaris suum dsRNAs can sterilize Caenorhabditis elegans. Mol Biochem Parasitol 146:124–128

Golab E, Sadkowska-Todys M (2006) Epidemiology of human trichinellosis in Poland—currently and in the past. Wiad Parazytol 52:181–187

Gong XH, Guo WM, Cirendunzhu Long EK, Ma Y, Bianbazuoma P (2008) Investigation on an outbreak of trichinosis and clinical analysis. Zhongguo Ji Sheng Chong Xue Yu Ji Sheng Chong Bing Za Zhi 26:79–80

Gotta M, Abraham MC, Ahringer J (2001) CDC-42 controls early cell polarity and spindle orientation in C. elegans. Curr Biol 11:482–488

Hunter CP, Kenyon C (1996) Spatial and temporal controls target pal-1 blastomere-specification activity to a single blastomere lineage in C. elegans embryos. Cell 87:217–226

Hurd TW, Margolis B (2005) Pars and polarity: taking control of Rac. Nat Cell Biol 7:205–207

Joberty G, Petersen C, Gao L, Macara IG (2000) The cell-polarity protein Par6 links Par3 and atypical protein kinase C to Cdc42. Nat Cell Biol 2:531–539

Johansson A, Driessens M, Aspenstrom P (2000) The mammalian homologue of the Caenorhabditis elegans polarity protein PAR-6 is a binding partner for the Rho GTPases Cdc42 and Rac1. J Cell Sci 113(Pt 18):3267–3275

Kaewpitoon N, Kaewpitoon SJ, Philasri C, Leksomboon R, Maneenin C, Sirilaph S, Pengsaa P (2006) Trichinosis: epidemiology in Thailand. World J Gastroenterol 12:6440–6445

Kaewpitoon N, Kaewpitoon SJ, Pengsaa P (2008) Food-borne parasitic zoonosis: distribution of trichinosis in Thailand. World J Gastroenterol 14:3471–3475

Kamath RS, Martinez-Campos M, Zipperlen P, Fraser AG, Ahringer J (2001) Effectiveness of specific RNA-mediated interference through ingested double-stranded RNA in Caenorhabditis elegans. Genome Biol 2, RESEARCH0002

Kay AJ, Hunter CP (2001) CDC-42 regulates PAR protein localization and function to control cellular and embryonic polarity in C. elegans. Curr Biol 11:474–481

Khumjui C, Choomkasien P, Dekumyoy P, Kusolsuk T, Kongkaew W, Chalamaat M, Jones JL (2008) Outbreak of trichinellosis caused by Trichinella papuae, Thailand, 2006. Emerg Infect Dis 14:1913–1915

Kim SK (2000) Cell polarity: new PARtners for Cdc42 and Rac. Nat Cell Biol 2:E143–E145

Lendner M, Doligalska M, Lucius R, Hartmann S (2008) Attempts to establish RNA interference in the parasitic nematode Heligmosomoides polygyrus. Mol Biochem Parasitol 161:21–31

Lin D, Edwards AS, Fawcett JP, Mbamalu G, Scott JD, Pawson T (2000) A mammalian PAR-3-PAR-6 complex implicated in Cdc42/Rac1 and aPKC signalling and cell polarity. Nat Cell Biol 2:540–547

Liu M, Boireau P (2002) Trichinellosis in China: epidemiology and control. Trends Parasitol 18:553–556

Lundquist EA (2006) Small GTPases. WormBook 1–18

Macara IG (2004) Parsing the polarity code. Nat Rev Mol Cell Biol 5:220–231

Meriane M, Roux P, Primig M, Fort P, Gauthier-Rouviere C (2000) Critical activities of Rac1 and Cdc42Hs in skeletal myogenesis: antagonistic effects of JNK and p38 pathways. Mol Biol Cell 11:2513–2528

Mertens AE, Rygiel TP, Olivo C, van der Kammen R, Collard JG (2005) The Rac activator Tiam1 controls tight junction biogenesis in keratinocytes through binding to and activation of the Par polarity complex. J Cell Biol 170:1029–1037

Mertens AE, Pegtel DM, Collard JG (2006) Tiam1 takes PARt in cell polarity. Trends Cell Biol 16:308–316

Minden A, Lin A, Claret FX, Abo A, Karin M (1995) Selective activation of the JNK signaling cascade and c-Jun transcriptional activity by the small GTPases Rac and Cdc42Hs. Cell 81:1147–1157

Moller LN, Petersen E, Kapel CM, Melbye M, Koch A (2005) Outbreak of trichinellosis associated with consumption of game meat in West Greenland. Vet Parasitol 132:131–136

Nakayama M, Goto TM, Sugimoto M, Nishimura T, Shinagawa T, Ohno S, Amano M, Kaibuchi K (2008) Rho-kinase phosphorylates PAR-3 and disrupts PAR complex formation. Dev Cell 14:205–215

Nishimura T, Yamaguchi T, Kato K, Yoshizawa M, Nabeshima Y, Ohno S, Hoshino M, Kaibuchi K (2005) PAR-6-PAR-3 mediates Cdc42-induced Rac activation through the Rac GEFs STEF/Tiam1. Nat Cell Biol 7:270–277

Noda Y, Takeya R, Ohno S, Naito S, Ito T, Sumimoto H (2001) Human homologues of the Caenorhabditis elegans cell polarity protein PAR6 as an adaptor that links the small GTPases Rac and Cdc42 to atypical protein kinase C. Genes Cells 6:107–119

Olson MF, Ashworth A, Hall A (1995) An essential role for Rho, Rac, and Cdc42 GTPases in cell cycle progression through G1. Science 269:1270–1272

Ozeretskovskaya NN, Mikhailova LG, Sabgaida TP, Dovgalev AS (2005) New trends and clinical patterns of human trichinellosis in Russia at the beginning of the XXI century. Vet Parasitol 132:167–171

Peterson FC, Penkert RR, Volkman BF, Prehoda KE (2004) Cdc42 regulates the Par-6 PDZ domain through an allosteric CRIB-PDZ transition. Mol Cell 13:665–676

Pozio E, Mesina P, Sechi F, Pira M, Liciardi M, Cossu P, Marucci G, Garippa G, Firinu A (2006) Human outbreak of trichinellosis in the Mediterranean island of Sardinia, Italy. Vet Parasitol 140:177–180

Qiu RG, Abo A, Steven Martin G (2000) A human homolog of the C. elegans polarity determinant Par-6 links Rac and Cdc42 to PKCzeta signaling and cell transformation. Curr Biol 10:697–707

Ribicich M, Gamble HR, Rosa A, Bolpe J, Franco A (2005) Trichinellosis in Argentina: an historical review. Vet Parasitol 132:137–142

Rodriguez de las Parras E, Rodriguez-Ferrer M, Nieto-Martinez J, Ubeira FM, Garate-Ormaechea T (2004) Trichinellosis outbreaks in Spain (1990–2001). Enferm Infecc Microbiol Clin 22:70–76

Schellenberg RS, Tan BJ, Irvine JD, Stockdale DR, Gajadhar AA, Serhir B, Botha J, Armstrong CA, Woods SA, Blondeau JM, McNab TL (2003) An outbreak of trichinellosis due to consumption of bear meat infected with Trichinella nativa, in 2 northern Saskatchewan communities. J Infect Dis 188:835–843

Schonegg S, Hyman AA (2006) CDC-42 and RHO-1 coordinate acto-myosin contractility and PAR protein localization during polarity establishment in C. elegans embryos. Development 133:3507–3516

Schwamborn JC, Puschel AW (2004) The sequential activity of the GTPases Rap1B and Cdc42 determines neuronal polarity. Nat Neurosci 7:923–929

Solecki DJ, Govek EE, Hatten ME (2006) mPar6 alpha controls neuronal migration. J Neurosci 26:10624–10625

Sordella R, Van Aelst L (2008) Dialogue between RhoA/ROCK and members of the Par complex in cell polarity. Dev Cell 14:150–152

Tverdokhlebova TI, Vaserin Iu I, Butaev TM, Romanenko NA, Gadzieva GK, Totrova EB, Nagornyi SA (2005) [Trichinosis in the Republic of North Ossetia-Alania]. Med Parazitol (Mosk) 18–23

Vermeire JJ, Osman A, LoVerde PT, Williams DL (2003) Characterisation of a Rho homologue of Schistosoma mansoni. Int J Parasitol 33:721–731

Wang ZQ, Cui J (2001) The epidemiology of human trichinellosis in China during 1964–1999. Parasite 8:S63–S66

Wang ZQ, Cui J, Xu BL (2006) The epidemiology of human trichinellosis in China during 2000–2003. Acta Trop 97:247–251

Welchman DP, Mathies LD, Ahringer J (2007) Similar requirements for CDC-42 and the PAR-3/PAR-6/PKC-3 complex in diverse cell types. Dev Biol 305:347–357

Yamanaka T, Horikoshi Y, Suzuki A, Sugiyama Y, Kitamura K, Maniwa R, Nagai Y, Yamashita A, Hirose T, Ishikawa H, Ohno S (2001) PAR-6 regulates aPKC activity in a novel way and mediates cell–cell contact-induced formation of the epithelial junctional complex. Genes Cells 6:721–731

Yang Y, Jian W, Qin W (2010) Molecular cloning and phylogenetic analysis of small GTPase protein Tscdc42 from Trichinella spiralis. Parasitol Res 106(4):801–808. doi:10.1007/s00436-010-1735-z
Acknowledgements
This work was supported by Xiamen Science Technology grant (3502Z20071077), China National Nature Science Foundation (No. 30972181) and New Century Talents Support Program from Xiamen University to YRY. We thank Dr. Xin-zhuan Su for manuscript revision and comments. Ceanorhabditis elegans wild-type animals (N2) and E. coli (HT115) were gifts from Ceanorhabditis Genetics Center. L4440 vector was generously provided by Andy Fire Lab through Addgene Co.
About this article
Cite this article
Yang, Y., Qin, W., Tian, G. et al. Expression and functional characterization of a Rho-family small GTPase CDC42 from Trichinella spiralis . Parasitol Res 107, 153–162 (2010). https://doi.org/10.1007/s00436-010-1851-9
Received:

Accepted:

Published:

Issue Date:
Keywords
Adult Worm

Muscle Larva

Newborn Larva

Endogenous Expression Level

Female Adult Worm