Abstract
Experiments were done with cultured trophozoite stages of different clonal strains (Histomonas meleagridis/Turkey/Austria/2922-C6/04 and H. meleagridis/Chicken/Hungary/5009-C2/05) of H. meleagridis in order to induce a cyst formation as it is known in other intestinal parasites. It was shown that the best multiplication of H. meleagridis occurred at 40°C in a full medium 199, when fetal calf serum and rice starch had been added. Under these conditions, numerous amoebic stages (8–12 µm in diameter) without and a few with flagellum were seen showing regular reproduction rates. When the conditions of culture were experimentally changed—and thus became worse—by decreasing the temperature, by deprivation of the medium from fetal calf serum and/or rice starch, and by changing the osmolarity, the pH, or the MgCl2 concentration, many of the amoebic stages (containing starch granules) were destroyed, and several had obtained a spherical shape. If the culture conditions became even worse, smaller spherical stages occurred, which had only diameters of 4–7 µm and which appeared more condensed. Both spherical stages did not contain starch granules. All the previously seen stages disappeared constantly. Since a similar decrease of the optimal living conditions also occurs when intestinal or cloacal feces are deposited outside from the bird's body, the results obtained here may underline the interpretation that some of the formerly amoebic stages are able to become large spherical stages and later small spherical stages. The large spherical stage would be some type of precysts while the smaller ones would represent true cysts.
This is a preview of subscription content, log in to check access.
Access options
Buy single article
Instant access to the full article PDF.
US$ 39.95
Price includes VAT for USA
Subscribe to journal
Immediate online access to all issues from 2019. Subscription will auto renew annually.
US$ 199
This is the net price. Taxes to be calculated in checkout.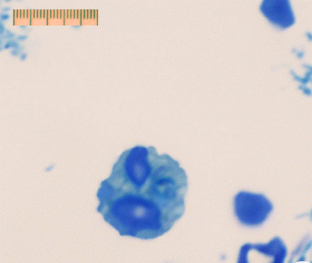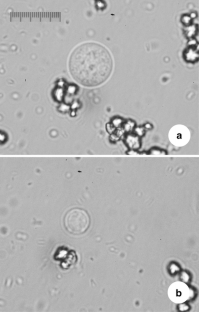 References
Graybill HW, Smith T (1920) Production of fatal blackhead in turkeys by feeding embryonated eggs of Heterakis papillosa. J Exp Med 31:647–655

Hess M, Grabensteiner E, Liebhart D (2006a) Rapid transmission of the protozoan parasite Histomonas meleagridis in turkeys an specific pathogen-free chickens following cloacal infection with monoeukaryotic culture. Avian Pathol 35:280–285

Hess M, Kolbe T, Grabensteiner E, Prosl H (2006b) Clonal cultures of Histomonas meleagridis. Tetratrichomonas gallinarum and Blastocystis sp. established through micromanipulation. Parasitol Res 133:547–554

Huber K, Gouilloud L, Zenner L (2007) A preliminary study of natural and experimental infection of the lesser mealworm Alphitobius diaperinus (Coleoptera: Tenebrionidae) with Histomonas meleagridis (Protozoa: Sarcomastigophora). Avian Pathol 36:279–282

Liebhart D, Hess M (2009) Oral infection of turkeys with vitro-cultured Histomonas meleagridis results in high mortality. Avian Pathol 38:223–227

McDougald LR (2005) Blackhead disease (histomoniasis) in poultry: a critical review. Avian Dis 49:462–476

Mehlhorn H (ed) (2008) Encyclopedia of parasitology, 3rd edn. Springer, Heidelberg

Mielewczik M, Mehlhorn H, Al-Quraishy S, Grabensteiner E, Hess M (2008) Transmission electron microscopic studies of stages of Histomonas meleagridis from clonal cultures. Parasitol Res 103:745–750

Munsch M, Lotfi A, Hafez M, Al-Quraishy S, Mehlhorn H (2008) Light and transmission electron studies on trophozoites and cyst-like stages of Histomonas meleagridis from cultures. Parasitol Res 104:683–689

Norton PA, Clark FD, Beasley JN (1999) An outbreak of histomoniasis in turkeys infected with a moderate level of Ascaria dissimilis but no Heterakis gallinarum. Avian Dis 43:342–348

Tyzzer EE (1919) Development phases of the protozoan of blackhead in turkeys. J Med Res 40:1–30

Tyzzer EE, Collier J (1925) Induced and natural transmission in the absence of Heterakis. J Infect Dis 37:265–276

Zaragatzki E, Hess M, Grabensteiner E, Abdel-Ghaffar F, Al-Rasheid KAS, Mehlhorn H (2010) Light and transmission electron microscopic studies on the encystation of Histomonas meleagridis. Parasitol Res (in press).
Acknowledgement
Hereby, we acknowledge the support of the Center of Excellence of the College of Science at the King Saud University, Riyadh, Saudi Arabia.
About this article
Cite this article
Zaragatzki, E., Mehlhorn, H., Abdel-Ghaffar, F. et al. Experiments to produce cysts in cultures of Histomonas meleagridis—the agent of histomonosis in poultry. Parasitol Res 106, 1005–1007 (2010). https://doi.org/10.1007/s00436-010-1776-3
Received:

Accepted:

Published:

Issue Date:
Keywords
Fetal Calf Serum

Starch Granule

Vegetative Stage

Rice Starch

Full Medium