Abstract
Blastocystis hominis is one of the most common intestinal protozoan parasites in humans, and reports have shown that blastocystosis is coupled with intestinal disorders. In the past, researchers have developed an in vitro model using B. hominis culture filtrates to investigate its ability in triggering inflammatory cytokine responses and transcription factors in human colonic epithelial cells. Studies have also correlated the inflammation by parasitic infection with cancer. The present study provides evidence of the parasite facilitating cancer cell growth through observing the cytopathic effect, cellular immunomodulation, and apoptotic responses of B. hominis, especially in malignancy. Here we investigated the effect of solubilized antigen from B. hominis on cell viability, using peripheral blood mononuclear cells (PBMCs) and human colorectal carcinoma cells (HCT116). The gene expressions of cytokines namely interleukin 6 (IL-6), IL-8, tumor necrosis factor alpha, interferon gamma, nuclear factor kappa light-chain enhancer of activated B cells (a gene transcription factor), and proapoptotic genes namely protein 53 and cathepsin B were also studied. Results exhibited favor the fact that antigen from B. hominis, at a certain concentration, could facilitate the growth of HCT116 while having the ability to downregulate immune cell responses (PBMCs). Therefore, there is a vital need to screen colorectal cancer patients for B. hominis infection as it possesses the ability to enhance the tumor growth.
This is a preview of subscription content, log in to check access.
Access options
Buy single article
Instant access to the full article PDF.
US$ 39.95
Price includes VAT for USA
Subscribe to journal
Immediate online access to all issues from 2019. Subscription will auto renew annually.
US$ 199
This is the net price. Taxes to be calculated in checkout.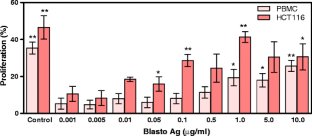 References
Barahona Rondon RL, Maguina Vargas C, Naquira Velarde C, Terashima IA, Tello R (2003) Human blastocystosis: prospective study symptomatology and associated epidemiological factors. Rev Gastroenterol Peru 23:29–35

Becker C, Fantini MC, Wirtz S, Nikolaev A, Lehr HA et al (2005) IL-6 signaling promotes tumor growth in colorectal cancer. Cell Cycle 4:217–220

Boyum A (1974) Separation of blood leucocytes, granulocytes and lymphocytes. Tissue Antigens 4:269–274

Burczynski ME, Twine NC, Dukart G, Marshall B, Hidalgo M et al (2005) Transcriptional profiles in peripheral blood mononuclear cells prognostic of clinical outcomes in patients with advanced renal cell carcinoma. Clin Cancer Res 11:1181–1189. doi:10.1016/S0022-5347(05)00564-1

Chandramathi S, Suresh K, Shuba S, Mahmood A, Kuppusamy UR (2009) High levels of oxidative stress in rats infected with Blastocystis hominis. Parasitology 1–7

El-Shazly AM, Abdel-Magied AA, El-Beshbishi SN, El-Nahas HA, Fouad MA et al (2005) Blastocystis hominis among symptomatic and asymptomatic individuals in Talkha Center, Dakahlia Governorate, Egypt. J Egypt Soc Parasitol 35:653–666

Fitzpatrick FA (2001) Inflammation, carcinogenesis and cancer. Int Immunopharmacol 1:1651–1667. doi:10.1016/S1567-5769(01)00102-3

Govind SK, Khairul AA, Smith HV (2002) Multiple reproductive processes in Blastocystis. Trends Parasitol 18:528

Jo H, Zhang R, Zhang H, McKinsey TA, Shao J et al (2000) NF-kappa B is required for H-ras oncogene induced abnormal cell proliferation and tumorigenesis. Oncogene 19:841–849. doi:10.1038/sj.onc.1203392

Landi S, Moreno V, Gioia-Patricola L, Guino E, Navarro M et al (2003) Association of common polymorphisms in inflammatory genes interleukin (IL)6, IL8, tumor necrosis factor alpha, NFKB1, and peroxisome proliferator-activated receptor gamma with colorectal cancer. Cancer Res 63:3560–3566

Lanuza MD, Carbajal JA, Villar J, Borras R (1997) Description of an improved method for Blastocystis hominis culture and axenization. Parasitol Res 83:60–63

Livak KJ, Schmittgen TD (2001) Analysis of relative gene expression data using real-time quantitative PCR and the 2(-delta delta C(T)) method. Methods 25:402–408. doi:10.1006/meth.2001.1262

Long HY, Handschack A, Konig W, Ambrosch A (2001) Blastocystis hominis modulates immune responses and cytokine release in colonic epithelial cells. Parasitol Res 87:1029–1030. doi:10.1007/s004360100494

Maas K, Chan S, Parker J, Slater A, Moore J et al (2002) Cutting edge: molecular portrait of human autoimmune disease. J Immunol 169:5–9

Mosmann T (1983) Rapid colorimetric assay for cellular growth and survival: application to proliferation and cytotoxicity assays. J Immunol Methods 65:55–63. doi:10.1016/0022-1759(83)90303-4

Ohshima H, Bartsch H (1994) Chronic infections and inflammatory processes as cancer risk factors: possible role of nitric oxide in carcinogenesis. Mutat Res 305:253–264

Pao CC, Lin CY, Yao DS, Tseng CJ (1995) Differential expression of cytokine genes in cervical cancer tissues. Biochem Biophys Res Commun 214:1146–1151. doi:10.1006/bbrc.1995.2405

Puthia MK, Lu J, Tan KS (2008) Blastocystis ratti contains cysteine proteases that mediate interleukin-8 response from human intestinal epithelial cells in an NF-kappa B-dependent manner. Eukaryot Cell 7:435–443. doi:10.1128/EC.00371-07

Rhodes JM, Campbell BJ (2002) Inflammation and colorectal cancer: IBD-associated and sporadic cancer compared. Trends Mol Med 8:10–16. doi:10.1016/S1471-4914(01)02194-3

Romagnani S (1996) Th1 and Th2 in human diseases. Clin Immunol Immunopathol 80:225–235. doi:10.1006/clin.1996.0118

Rosen GM, Pou S, Ramos CL, Cohen MS, Britigan BE (1995) Free radicals and phagocytic cells. FASEB J 9:200–209

Spaeth EL, Dembinski JL, Sasser AK, Watson K, Klopp A et al (2009) Mesenchymal stem cell transition to tumor-associated fibroblasts contributes to fibrovascular network expansion and tumor progression. PLoS ONE 4:e4992. doi:10.1371/journal.pone.0004992

Suresh K, Smith H (2004) Comparison of methods for detecting Blastocystis hominis. Eur J Clin Microbio Infect Dis 23:509–511. doi:10.1007/s10096-004-1123-7

Tan TC, Suresh KG, Smith HV (2008) Phenotypic and genotypic characterisation of Blastocystis hominis isolates implicates subtype 3 as a subtype with pathogenic potential. Parasitol Res 104(1):85–93

Walderich B, Bernauer S, Renner M, Knobloch J, Burchard GD (1998) Cytopathic effects of Blastocystis hominis on Chinese hamster ovary (CHO) and adeno carcinoma HT29 cell cultures. Trop Med Int Health 3:385–390

Wang X, Wang Q, Ives KL, Evers BM (2006) Curcumin inhibits neurotensin-mediated interleukin-8 production and migration of HCT116 human colon cancer cells. Clin Cancer Res 12:5346–5355. doi:10.1158/1078-0432.CCR-06-0968

Zaman V, Khan KZ (1994) A concentration technique for obtaining viable cysts of Blastocystis hominis from faeces. J Pak Med Assoc 44:220–221
About this article
Cite this article
Chandramathi, S., Suresh, K. & Kuppusamy, U.R. Solubilized antigen of Blastocystis hominis facilitates the growth of human colorectal cancer cells, HCT116. Parasitol Res 106, 941–945 (2010). https://doi.org/10.1007/s00436-010-1764-7
Received:

Accepted:

Published:

Issue Date:
Keywords
HCT116 Cell

Roswell Park Memorial Institute

Solubilized Antigen

Proapoptotic Gene

Human Colorectal Carcinoma Cell