Abstract
The mussel Perumitylus purpuratus has been described as the first intermediate host for the digenea Proctoeces lintoni (Fellodistomidae) in the Chilean coast. The study of more than 3000 specimens of P. purpuratus, taken off northern Chile revealed the absence of sporocysts. Experimental infection of mussels with eggs obtained from the known host for P. lintoni was unsuccessful. We analyze the V4 region of the SSU rRNA of living sporocysts and cercariae obtained from P. purpuratus from central Chile in order to confirm the proposed life cycle for this digenea. Our results demonstrated that sporocysts and cercariae obtained from P. purpuratus do not belong to P. lintoni but to an undescribed digenea from the Chilean coast.
This is a preview of subscription content, log in to check access.
Access options
Buy single article
Instant access to the full article PDF.
US$ 39.95
Price includes VAT for USA
Subscribe to journal
Immediate online access to all issues from 2019. Subscription will auto renew annually.
US$ 199
This is the net price. Taxes to be calculated in checkout.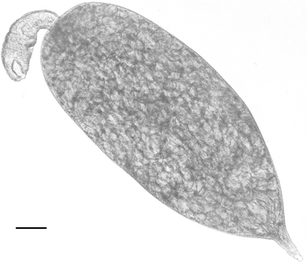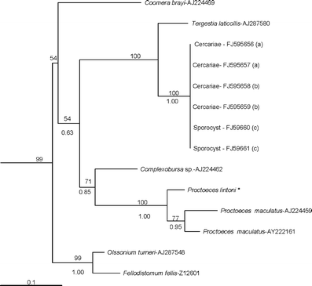 References
Aldana M (2007) Variación espacial de la interacción hospedador parásito: la importancia de la densidad poblacional de los hospedadores. Ph. D. Thesis, Universidad Católica de Chile. 218 pp

Felsenstein J (1985) Confidence limits on phylogenies: an approach using the bootstrap. Evolution 39:783–791

Filatov DA (2002) Proseq: a software for preparation and evolutionary analysis of DNA sequence data sets. Mol Ecol Notes 2:621–624

George-Nascimento M, Balboa L, Aldana M, Olmos V (1998) Las lapas Fissurella spp. (Mollusca: Archaeogastropoda) y el pejesapo Syciases sanguineus (Pisces: Gobiesocidae) son huéspedes secuenciales, no alternativos, de Proctoeces lintoni (Digenea: Fellodistomidae). Rev Chil Hist Nat 71:169–176

Hall KA, Cribb TH, Barker SC (1999) V4 region of small subunit rDNA indicates polyphyly of the Fellodistomidae (Digenea) which is supported by morphology and life-cycle data. Syst Parasitol 43:81–92

Huelsenbeck JP, Ronquist F (2005) Bayesian analysis of molecular evolution using MrBayes. In: Nielsen R (ed) Statistical methods in molecular evolution. Springer, New York, pp 183–232

Larkin MA, Blackshields G, Brown NP, Chenna R, McGettigan PA, McWilliam H, Valentin F, Wallace IM, Wilm A, Lopez R, Thompson JD, Gibson TJ, Higgins DG (2007) Clustal W and Clustal X version 2.0. Bioinformatics 23:2947–2948

Librado P, Rozas J (2009) DnaSP V5: a software for comprehensive analysis. Bioinformatics 25:1451–1452

Loot G, Aldana M, Navarrete S (2005) Effects of human exclusion on parasitism in intertidal foods webs of central Chile. Conserv Biol 19:1–10

Loot G, Blanchet S, Aldana M, Navarrete S (2008) Evidence of plasticity in the reproduction of a trematode parasite: the effect of host removal. J Parasitol 94:23–27

Nei M, Kumar S (2000) Molecular evolution and phylogenetics. Oxford University Press, Oxford

Oliva ME, Huaquin L (2000) Progenesis in Proctoeces lintoni (Fellodistomidae), a parasite of Fissurella crassa (Archaeogastropoda) in a latitudinal gradient in the Pacific coast of South America. J Parasitol 86:768–772

Olson PD, Cribb TH, Tkach VV, Bray RA, Littlewood DTJ (2003) Phylogeny and classification of the Digenea (Platyhelminthes: Trematoda). Int J Parasitol 33:733–755

Posada D, Crandall KA (1998) Modeltest: testing the model of DNA substitution. Bioinformatics 1:817–818

Swofford DL (2001) PAUP* 4.Ob: phylogenetic analysis using parsimony (*and other methods). Sinauer Associates, Sunderland, Massachusetts

Valdivia IM, Cárdenas L, Jofré D, González K, George-Nascimento, M, Guiñez R, Oliva ME (2010) Molecular evidence confirms that Proctoeces humboldti and Proctoeces chilensis (Digenea: Fellodistomidae) are the same species. J Helminthol. doi:10.1017/S0022149X09990745
Acknowledgments
This study was supported by Fondo Nacional de Ciencia y Tecnologia (National Fund for Science and Technology) FONDECYT-Chile Grant 1070898 to MEO.
About this article
Cite this article
Oliva, M.E., Valdivia, I.M., Cárdenas, L. et al. Molecular and experimental evidence refuse the life cycle of Proctoeces lintoni (Fellodistomidae) in Chile. Parasitol Res 106, 737–740 (2010). https://doi.org/10.1007/s00436-009-1708-2
Received:

Accepted:

Published:

Issue Date:
Keywords
Intermediate Host

Random Sequence Addition

Accession Number AJ224461

Bayesian Phylogenetic Analysis

Chilean Coast