Abstract
A parasitological survey of an Asian fish, Chinese sleeper Perccottus glenii, inhabiting the Włocławek Reservoir on the lower Vistula River (central Poland) revealed the occurrence of an exotic cestode Nippotaenia mogurndae Yamaguti and Miyata, 1940, which spreads spontaneously with a host to European waters. This paper documented the first record of the parasite in Poland. Specimens were described, and the effect of fish size and season on the infection level was analyzed. Within the 3 years, 112 fish were examined. Samples were collected by electrofishing in the upper part of the Włocławek Reservoir three times (seasonally) in 2006 and 2007 and once in autumn 2008. Parasitological indices (prevalence, intensity of infection, and abundance) in particular samples as well as in two size groups of fish were calculated. Statistical tests were applied to analyze the results (Spearman's correlation coefficient and Mann–Whitney's U test). The infection level of Chinese sleeper with N. mogurndae in the Włocławek Reservoir (prevalence 54.7%, mean intensity of infection 7.2, maximum 29) was comparable to infection noted in the area of the natural range of the host. The infection of smaller fish (less than 80 mm, TL) increased gradually with increasing body size. The infection of bigger specimens was in general higher, but the parasite recruitment was of a more incidental character. The spreading of N. mogurndae with Chinese sleeper is still in progress. The Włocławek Reservoir provides suitable conditions for parasite development.
This is a preview of subscription content, log in to check access.
Access options
Buy single article
Instant access to the full article PDF.
US$ 39.95
Price includes VAT for USA
Subscribe to journal
Immediate online access to all issues from 2019. Subscription will auto renew annually.
US$ 199
This is the net price. Taxes to be calculated in checkout.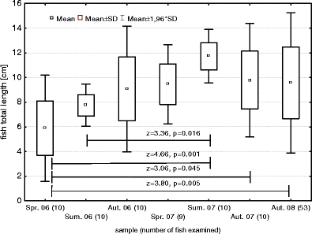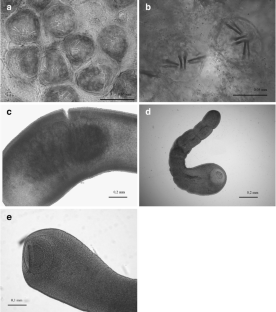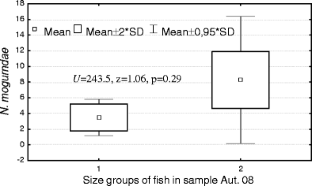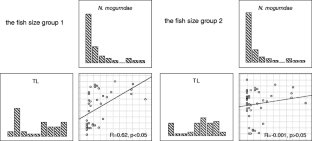 References
Antychowicz J (1994) Perccottus glenii in our waters. Komun Ryb 2:21–22

Bauer ON (ed) (1987) Key to parasites of freshwater fishes of USSR. Vol. 3. Publishing House Nauka, Leningrad

Berg LS (1949) Freshwater Fishes of USSR and adjacent countries. Publishing House of Academy of Science of USSR, Moskva-Leningrad

Berland B (1984) Basic techniques involved in helminth preservation. Syst Parasitol 6:242–245

Bij de Vaate A, Jażdżewski K, Ketelaars HAM, Gollasch S, Van der Velde G (2002) Geographical patterns in range extension of Ponto-Caspian macroinvertebrate species in Europe. Can J Fish Aquat Sci 59:1159–1174

Bogucka NG, Naseka AM (2002) Perccottus glenii Dybowski, 1877. Freshwater Fishes of Russia, Zoological Institute RAS doi:http://www.zin.ru/Animalia/Pisces/taxbase e/species_elperccottus_el.htm

Bombarová M, Špakulová M, Oros M (2005) A karyotype of Nippotaenia mogumdae: the first cytogenetic data within the order Nippotaeniidea (Cestoda). Helmithologia 42:27–30

Bylund G, Fagerholm HP, Calenius G, Wikgren BJ, Wikström M (1979) Parasites of fish in Finland. II. Methods for studying parasite fauna in fish. Acta Acad Abo, Ser B 40:2–23

Ermolenko AV (2004) Parasite fauna of Amur sleeper Perccottus glenii (Eleotridae). Parasitologiya 3:251–256

Grabowska J, Grabowski M, Pietraszewski D, Gmur J (2009) Non-selective predator – the versatile diet of Amur sleeper (Perccottus glenii Dybowski, 1877) in the Vistula River (Poland), a newly invaded ecosystem. J Appl Ichthyol 1–9 (In press)

Hegediš A, Lenhardt M, Mićković B, Cvijanović G, Jarić I, Gačić Z (2007) Amur sleeper (Perccottus glenii Dubowski, 1877) spreading in the Danube River Basin. J Appl Ichthyol 23:705–706

Jurajda P, Vassilev M, Polačik M, Trichkova T (2006) A First Record of Perccottus glenii (Perciformes: Odontobutidae) in the Danube River in Bulgaria. Acta Zool Bulg 58:279–282

Kakareko T (1999) Perccottus glenii Dybowski, 1877 (Odontobutidae) in the Włocławek Dam Reservoir on the lower Vistula River. Przegl Zool 42:107–110

Koščo J, Manko P, Miklisová D, Košuthová L (2008) Feeding ecology of invasive Perccottus glenii. (Perciformes, Odontobutidae) in Slovakia. Czech. J Anim Sci 53:479–486

Kostrzewa J, Grabowski M (2001) Racer goby (naked-head), Neogobius gymnotrachelus (Kessler, 1857) (Gobiidae, Perciformes)—the new fish species in the Vistula River. Przegl Zool 45:101–102

Kostrzewa J, Grabowski M (2002) Monkey goby Neogobius fluviatilis (Pallas, 1811) in the Vistula River—phenomenon of the invasion of Ponto-Caspian Gobiidae. Przegl Zool 46:235–242

Kostrzewa J, Grabowski M, Zięba G (2004) New invasive fish species in Polish waters. Arch Pol Fish 12:21–34

Košuthová L, Letková V, Koščo J, Košuth P (2004) First record of Nippotaenia mogurndae Yamaguti and Miyata, 1940 (Cestoda: Nippotaeniidae), a parasite of Perccottus glenii Dybowski, 1877, from Europe. Helminthologia 4:55–57

Košuthová L, Koščo J, Miklisová D, Letková V, Košuth P, Manko P (2008) New data on an exotic Nippotaenia mogurndae (Cestoda), newly introduced to Europe. Helminthologia 45:81–85

Napiórkowski P, Jaździńska E (2005) Diurnal variability of zooplankton in the limnetic part of the Włocławek Reservoir. AUNC Limnol Papers 24:69–83

Reshetnikov AN (2004) The fish Perccottus glenii: history of introduction to western regions of Eurasia. Hydrobiologia 522:349–350

Terlecki J, Pałka R (1999) Occurence of Perccottus glenii in the middle stretch of the Vistula River. Arch Pol Fish 7:141–150

Torchin ME, Mitchell CE (2004) Parasites, pathogens, and invasions by plants and animals. Front Ecol Environ 2:183–190

Torchin ME, Lafferty KD, Dobson A, McKenzie VJ, Kuris AM (2003) Introduced species and their missing parasites. Nature 421:628–630

Wiśniewolski W, Borzęcka I, Buras P, Szlakowski J, Woźniewski M (2001) Fish fauna inthe lower and middle course of the Vistula River, Poland. Rocz Nauk Pol Zw Węd 14:137–155

Yamaguti S (1959) Systema Helminthum, vol. II. The cestodes of vertebrates. Interscience Publishers, NewYork London

Złotorzycka J (ed), Lonc E, Majewska AC, Okulewicz A, Pojmańska T, Wędrychowicz H (1998) Parasitological glossary. Polish Parasitological Society, Warsaw
Acknowledgments
This study was supported by Polish Ministry of Science and Higher Education—grant number N N304 027436. We would like to express a special thanks to an anonymous reviewer for valuable comments and language correction.
Additional information
Mierzejewska K., Martyniak A., Kakareko T., Hliwa P. 2009. The first record of Nippotaenia mogurndae Yamaguti and Miyata, 1940 (Cestoda, Nippotaeniidae), a parasite introduced with Chinese sleeper to Poland
About this article
Cite this article
Mierzejewska, K., Martyniak, A., Kakareko, T. et al. First record of Nippotaenia mogurndae Yamaguti and Miyata, 1940 (Cestoda, Nippotaeniidae), a parasite introduced with Chinese sleeper to Poland. Parasitol Res 106, 451 (2010). https://doi.org/10.1007/s00436-009-1685-5
Received:

Accepted:

Published:
Keywords
Infection Level

Gravid Proglottid

Parasitological Survey

Monkey Goby

Perccottus Glenii