Abstract
Two female advanced third-stage larvae of Gnathostoma turgidum recovered from the liver of one naturally infected four-eyed opossum Philander opossum pallidus collected in Oaxaca, Mexico, were morphologically examined. Because of some characteristics, the larvae do not fit into the typical advanced third-stage. The body shows a size at least three times larger than expected and rows of spines only in the anterior part of the body surface. Consequently, in this research, we document for the first time the precocity in third-stage larvae of G. turgidum, and we also highlight some facts about the fourth larval stage occurring in spirurins.
This is a preview of subscription content, log in to check access.
Access options
Buy single article
Instant access to the full article PDF.
US$ 39.95
Price includes VAT for USA
Subscribe to journal
Immediate online access to all issues from 2019. Subscription will auto renew annually.
US$ 199
This is the net price. Taxes to be calculated in checkout.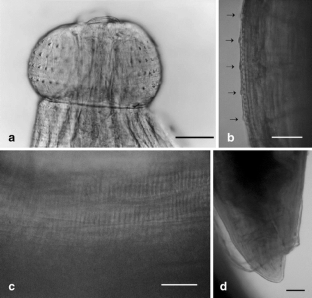 References
Almeyda-Artigas RJ, Acosta-Hernández VA, Alonzo-Díaz L, Castañeda-Sánchez M, Zárate-Ramírez VR (1994) First record of Gnathostoma procyonis Chandler, 1942 in Mexico, and a note on larval G. binucleatum Almeyda-Artigas, 1991 (Nematoda: Spirurida). Res Rev Parasitol 54:93–98

Anderson RC (1988) Nematode transmission patterns. J Parasitol 74:30–45

Anderson RC (2000) Nematodes parasites of vertebrates: their development and transmission, 2nd edn. CABI Publishing, Wallingford

Anderson RC, Bartlett CM (1993) The significance of precocity in the transmission of the nematode parasites of vertebrates. Can J Zool 71:1917–1922

Ando K, Tokura H, Matsuoka H, Taylor D, Chinzei Y (1992) The life cycle of Gnathostoma nipponicum Yamaguti, 1941. J Helminthol 66:53–61

Ash LR (1962) Development of Gnathostoma procyonis Chandler, 1942, in the first and second intermediate hosts. J Parasitol 48:298–305

Cho S-H, Kim T-S, Kong Y, Na B-K, Sohn W-M (2007) Larval Gnathostoma hispidum detected in the red banded odd-tooth snake, Dinodon rufozonatum rufozonatum, from China. Korean J Parasitol 45:191–198

Daengsvang S (1980) A monograph on the genus Gnathostoma and gnathostomiasis in Thailand. Southeast Asian Medical Information Center (SEAMIC), International Medical Foundation of Japan, Tokyo

Díaz-Camacho SP, Willms K, Rendón-Maldonado JG, de la Cruz-Otero MdC, Delgado-Vargas F, Robert L, Antuna S, Léon-Règagnon V, Nawa Y (2008) Discovery of an endemic area of Gnathostoma turgidum infection among opossums, Didelphis virginiana, in Mexico. J Parasitol 95(3):617–622

Emmons LH, Feer F (1997) Neotropical rainforest mammals. A field guide, 2nd edn. The University of Chicago Press, Chicago, p 307

Imai J, Hasegawa H (2001) Molting of Gnathostoma doloresi (Nematoda: Gnathostomatoidea) in the definitive host. J Parasitol 87:14–18

Le-Van-Hoa, Nguyen-Van-Ai, Ta-Van-Luyen (1965) Gnathostomes et gnathostomose humaine au Viet-Nam. Bull Soc Path Exot 58:236–244

Miyazaki I (1960) On the genus Gnathostoma and human gnathostomiasis, with special reference to Japan. Exp Parasitol 9:338–370

Mosqueda Cabrera MA, Sánchez Miranda E, Carranza Calderón L, Ortiz Nájera HE (2009) Finding advanced third-stage larvae of Gnathostoma turgidum Stossich, 1902 in Mexico from natural and experimental host and contributions to the life cycle description. Parasitol Res 104:1219–1225

Voss RS, Jansa SA (2003) Phylogenetic studies on didelphid marsupials II. Nonmolecular data and new IRBP sequences: separate and combined analyses of didelphine relationships with denser taxon sampling. Bull Am Mus Nat Hist 276:1–82
Acknowledgments
Thanks are rendered to Téc. Hist. Saúl Cortés Suárez, Laboratorio de Histopatología, Departamento de Producción Agrícola y Animal, UAM-Xochimilco, México, for his expert technical assistance with some of the microphotographs. The animal sacrifices carried out met the terms of international regulations and Mexican protocols.
About this article
Cite this article
Almeyda-Artigas, R.J., Mosqueda-Cabrera, M.Á. & Sánchez-Núñez, E. Precocity of Gnathostoma turgidum in naturally infected four-eyed opossum Philander opossum pallidus from Temascal, Oaxaca, Mexico. Parasitol Res 106, 439 (2010). https://doi.org/10.1007/s00436-009-1682-8
Received:

Accepted:

Published:
Keywords
Wild Boar

Definitive Host

Paratenic Host

Fourth Larval Stage

Precocious Development