Abstract
The recently published whole genome sequence information of one of the human malaria parasites, Plasmodium vivax, have provided opportunities to compare similar features with Plasmodium falciparum that causes the most deadly form of human malaria. We herewith present comparative genomic insights into the whole genome of the two parasites and also to several other characteristics in terms of disease pathogenecity, evolution, etc. We show that while high similarities exist at the functional gene level, several contrasting features for other characteristics are hallmarks of these two human malaria parasites.
This is a preview of subscription content, log in to check access.
Access options
Buy single article
Instant access to the full article PDF.
US$ 39.95
Price includes VAT for USA
Subscribe to journal
Immediate online access to all issues from 2019. Subscription will auto renew annually.
US$ 199
This is the net price. Taxes to be calculated in checkout.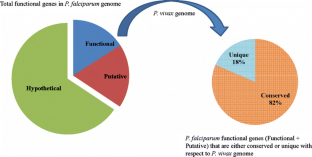 References
Bull PC, Buckee CO, Kyes S, Kortok MM, Thathy V, Guyah B, Stoute JA, Newbold CI, Marsh K (2008) Plasmodium falciparum antigenic variation. Mapping mosaic var gene sequences onto a network of shared, highly polymorphic sequence blocks. Mol Microbiol 68:1519–1534

Carlton JM, Anguoli SV, Suh BB, Kooij TW, Pertea M, Silva JC, Ermolaeva MD, Allen EJ, Selengut JD, Koo HL et al (2002) Genome sequence and comparative analysis of the model rodent malaria parasite Plasmodium yoelii yoelii. Nature 419:512–519

Carlton J, Adams JH, Silva JC, Bidwell SL, Lorenzi H, Caler E, Crabtree J, Angiuoli SV, Merino EM, Amedeo P et al (2008) Comparative genomics of the neglected human malaria parasite Plasmodium vivax. Nature 455:757–763

Das A, Bajaj R, Mohanty S, Swain V (2007) Genetic diversity and evolutionary history of Plasmodium falciparum and P. vivax. Curr Sci 92:1516–1524

Deutsch M, Long M (1999) Intron–exon structures of eukaryotic model organism. Nucleic Acids Res 27:3219–3228

Duret L, Semon M, Piganeau G, Mouchiroud D, Galtier N (2002) Vanishing GC-rich isochores in mammalian genomes. Genetics 162:1837–1847

Feng X, Carlton JM, Joy DA, Mu J, Tetsuya F, Bernard BS, Wang Y, Barnwell JW, Su X (2003) Single-nucleotide polymorphisms and genome diversity in Plasmodium vivax. Proc Natl Acad Sci U S A 100:8502–8507

Gardner MJ, Hall N, Fung E, White O, Berriman M, Hyman RW, Carlton JM, Pain A, Nelson KE, Bowman S et al (2002) Genome sequence of human malaria parasite Plasmodium falciparum. Nature 419:498–511

Jongwutiwes S, Putaporntip C, Iwasaki T, Ferreira MU, Kanabara H, Hughes AL (2005) Mitochondrial genome sequences support ancient population expansion in Plasmodium vivax. Mol Biol Evol 22:1733–1739

Mikkelsen TS, Hillier LDW, Eichler EE, Zody MC, Jaffe DB, Yang SP, Enard W, Hellmann I, Lindblad-Toh K, Altheide TK et al (2005) Initial sequences of the chimpanzee genome and comparison with the human genome. Nature 437:69–87

Sattabongkot J, Tsuboi T, Zollner GE, Sirichaisinthop J, Cui L (2004) Plasmodium vivax transmission: chances for control? Trends Parasitol 20:192–198
Acknowledgment
We thank all members of the Evolutionary Genomics and Bioinformatics Laboratory for valuable suggestions and discussions and the Indian Council of Medical Research, New Delhi for intramural financial support.
About this article
Cite this article
Das, A., Sharma, M., Gupta, B. et al. Plasmodium falciparum and Plasmodium vivax: so similar, yet very different. Parasitol Res 105, 1169–1171 (2009). https://doi.org/10.1007/s00436-009-1521-y
Received:

Accepted:

Published:

Issue Date:
Keywords
Malaria

Plasmodium Falciparum

Cerebral Malaria

Genome Sequence Information

Human Malaria Parasite