Abstract
It has been recently documented that the antimalarial drug mefloquine shows in vivo activity against schistosomes. In the present study, we assessed the effect of mefloquine on the morphology of adult Schistosoma japonicum worms. Mice were infected with S. japonicum cercariae for 35 days and then treated with a single 400-mg/kg oral dose of mefloquine. Groups of mice were killed between 24 h and 14 days post-treatment and worms were recovered from the liver and mesenteric veins, fixed in 70% alcohol, stained with acid carmine, and examined under a light microscope. Worms obtained from nontreated mice served as controls. S. japonicum recovered from mice 24 h post-treatment had severely dilated guts and the entire worm body was swollen. Meanwhile, reproductive glands, including the testis, ovary, and vitelline gland, showed signs of degeneration. Damage further progressed, particularly among vitelline glands, which resulted in disturbance of ova formation and cessation of oviposition 3 days post-treatment. Three to 7 days after mefloquine administration, adherence of host leukocytes on the damaged tegument was observed. Our results confirm that mefloquine possesses antischistosomal properties, exhibiting a rapid onset of action and causing extensive morphologic damage to adult S. japonicum.
This is a preview of subscription content, log in to check access.
Access options
Buy single article
Instant access to the full article PDF.
US$ 39.95
Price includes VAT for USA
Subscribe to journal
Immediate online access to all issues from 2019. Subscription will auto renew annually.
US$ 199
This is the net price. Taxes to be calculated in checkout.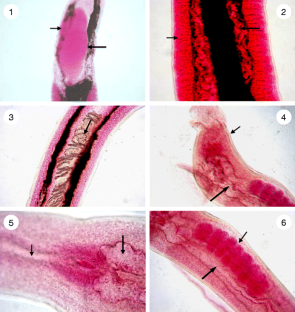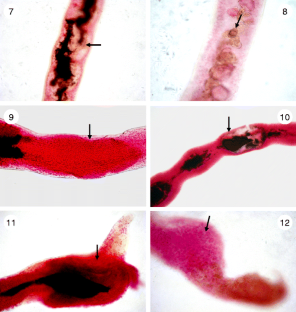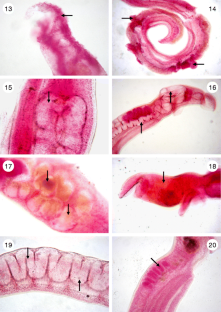 References
Abdulla MH, Lim KC, Sajid M, McKerrow JH, Caffrey CR (2007) Schistosomiasis mansoni: novel chemotherapy using a cysteine protease inhibitor. PLoS Med 4:e14

Andrews P (1985) Praziquantel: mechanism of antischistosomal activity. Pharmacol Ther 29:129–156

Andrews P, Thomas H, Pohlke R, Seubert J (1983) Praziquantel. Med Res Rev 3:147–200

Black CL, Steinauer ML, Mwinzi PN, Evan Secor W, Karanja DM, Colley DG (2009) Impact of intense, longitudinal retreatment with praziquantel on cure rates of schistosomiasis mansoni in a cohort of occupationally exposed adults in western Kenya. Trop Med Int Health 14:450–457

Brindley PJ, Sher A (1987) The chemotherapeutic effect of praziquantel against Schistosoma mansoni is dependent on host antibody response. J Immunol 139:215–220

Brindley PJ, Kalinna BH, Wong JY, Bogitsh BJ, King LT, Smyth DJ, Verity CK, Abbenante G, Brinkworth RI, Fairlie DP, Smythe ML, Milburn PJ, Bielefeldt-Ohmann H, Zheng Y, McManus DP (2001) Proteolysis of human hemoglobin by schistosome cathepsin D. Mol Biochem Parasitol 112:103–112

Caffrey CR (2007) Chemotherapy of schistosomiasis: present and future. Curr Opin Chem Biol 11:433–439

Chen MG (2005) Use of praziquantel for clinical treatment and morbidity control of schistosomiasis japonica in China: a review of 30 years' experience. Acta Trop 96:168–176

Dabo A, Doucoure B, Koita O, Diallo M, Kouriba B, Klinkert MQ, Doumbia S, Doumbo O (2000) Reinfection by Schistosoma haematobium and mansoni despite repeated praziquantel treatment in office du Niger (Mali). Med Trop (Mars) 60:351–355 (in French)

Danso-Appiah A, de Vlas SJ (2002) Interpreting low praziquantel cure rates of Schistosoma mansoni infections in Senegal. Trends Parasitol 18:125–129

Danso-Appiah A, Utzinger J, Liu J, Olliaro P (2008) Drugs for treating urinary schistosomiasis. Cochrane Database Syst Rev (3):CD000053

Doenhoff MJ, Cioli D, Utzinger J (2008) Praziquantel: mechanisms of action, resistance and new derivatives for schistosomiasis. Curr Opin Infect Dis 21:659–667

Fan PC, Lin PP (1976) Studies on morphological characteristics of Japanese strain of Schistosoma japonicum in rabbits. Int J Zoonoses 3:19–32

Fenwick A, Savioli L, Engels D, Bergquist NR, Todd MH (2003) Drugs for the control of parasitic diseases: current status and development in schistosomiasis. Trends Parasitol 19:509–515

Foley M, Tilley L (1997) Quinoline antimalarials: mechanisms of action and resistance. Int J Parasitol 27:231–240

Foley M, Tillley L (1998) Quinoline antimalarials: mechanisms of action and resistance and prospects for new agents. Pharmacol Ther 79:55–87

Keiser J, Utzinger J (2007) Advances in the discovery and development of novel trematocidal drugs. Expert Opin Drug Discov 2(Suppl. 1):S9–S23

Keiser J, Chollet J, Xiao SH, Mei JY, Jiao PY, Utzinger J, Tanner M (2009) Mefloquine—an aminoalcohol with promising antischistosomal properties in mice. PLoS Negl Trop Dis 3:e350

Kloetzel K, Lewert RM (1966) Pigment formation in Schistosoma mansoni infections in the white mouse. Am J Trop Med Hyg 15:28–31

Kuntz AN, Davioud-Charvet E, Sayed AA, Califf LL, Dessolin J, Arnér ES, Williams DL (2007) Thioredoxin glutathione reductase from Schistosoma mansoni: an essential parasite enzyme and a key drug target. PLoS Med 4:e206

Lawrence JD (1973) The ingestion of red blood cells by Schistosoma mansoni. J Parasitol 59:60–63

Morales ME, Rinaldi G, Gobert GN, Kines KJ, Tort JF, Brindley PJ (2008) RNA interference of Schistosoma mansoni cathepsin D, the apical enzyme of the hemoglobin proteolysis cascade. Mol Biochem Parasitol 157:160–168

N'Goran EK, Gnaka HN, Tanner M, Utzinger J (2003) Efficacy and side-effects of two praziquantel treatments against Schistosoma haematobium infection, among schoolchildren from Côte d'Ivoire. Ann Trop Med Parasitol 97:37–51

Ohnmacht CJ, Patel AR, Lutz RE (1971) Antimalarials. 7. Bis(trifluoromethyl)-(2-piperidyl)-4-quinolinemethanols. J Med Chem 14:926–928

Raso G, N'Goran EK, Toty A, Luginbühl A, Adjoua CA, Tian-Bi NT, Bogoch II, Vounatsou P, Tanner M, Utzinger J (2004) Efficacy and side effects of praziquantel against Schistosoma mansoni in a community of western Côte d'Ivoire. Trans R Soc Trop Med Hyg 98:18–27

Sabah AA, Fletcher C, Webbe G, Doenhoff MJ (1985) Schistosoma mansoni: reduced efficacy of chemotherapy in infected T-cell-deprived mice. Exp Parasitol 60:348–354

Sabah AA, Fletcher C, Webbe G, Doenhoff MJ (1986) Schistosoma mansoni: chemotherapy of infections of different ages. Exp Parasitol 61:294–303

Sayed AA, Simeonov A, Thomas CJ, Inglese J, Austin CP, Williams DL (2008) Identification of oxadiazoles as new drug leads for the control of schistosomiasis. Nat Med 14:407–412

Steinmann P, Keiser J, Bos R, Tanner M, Utzinger J (2006) Schistosomiasis and water resources development: systematic review, meta-analysis, and estimates of people at risk. Lancet Infect Dis 6:411–425

Utzinger J, Xiao SH, Tanner M, Keiser J (2007) Artemisinins for schistosomiasis and beyond. Curr Opin Investig Drugs 8:105–116

Van Nassauw L, Toovey S, Op V, den Bosch J, Timmermans JP, Vercruysse J (2008) Schistosomicidal activity of the antimalarial drug, mefloquine, in Schistosoma mansoni-infected mice. Travel Med Infect Dis 6:253–258

Wu Z, Bu K, Yuan L, Yang G, Zhu J, Liu Q (1993) Factors contributing to reinfection with schistosomiasis japonica after treatment in the lake region of China. Acta Trop 54:83–88

Xiao SH, Shao BR, Xue YQ, Pan QR (1980) The actions of pyquiton on the morphological changes of schistosomes, oviposition of female worms and hatching of ova. J Chin Med 60:137–141 (in Chinese)

Xiao SH, Shao BR, Yu YG (1984) Preliminary studies on the mode of action of pyquiton against Schistosoma japonicum. Chin Med J 97:839–848

Xiao SH, Yue WJ, Yang YQ, You JQ (1987) Susceptibility of Schistosoma japonicum of different developmental stages to praziquantel. Chin Med J 10:759–768

Xiao SH, Guo J, Chollet J, Wu JT, Tanner M, Utzinger J (2004) Effect of artemether on Schistosoma mansoni: dose–efficacy relationship, and changes in worm morphology and histopathology. Chin J Parasitol Parasit Dis 22:148–153

Xiao SH, Keiser J, Chollet J, Utzinger J, Dong Y, Endriss Y, Vennerstrom JL, Tanner M (2007) In vitro and in vivo activities of synthetic trioxolanes against major human schistosome species. Antimicrob Agents Chemother 51:1440–1445

Yolles TK, Moore DV, De Giusti DL, Ripsom CA, Meleney HE (1947) A technique for the perfusion of laboratory animals for the recovery of schistosomes. J Parasitol 33:419–426

Yue WJ, You JQ, Mei JY (1985) Prophylactic activity of praziquantel in animals infected with Schistosoma japonicum. Acta Pharmacol Sin 6:186–188

Zhang CW, Xiao SH, Utzinger J, Chollet J, Keiser J, Tanner M (2009) Histopathological changes in adult Schistosoma japonicum harbored in mice treated with a single dose of mefloquine. Parasitol Res 104:1407–1416
Acknowledgments
This investigation received financial support from the National Institute of Parasitic Diseases, Chinese Center for Disease Control and Prevention (Shanghai, China). J. Utzinger (project no. PPOOB-102883, PPOOB-119129) and J. Keiser (project no. PPOOA-114941) are grateful to the Swiss National Science Foundation for the financial support.
About this article
Cite this article
Xiao, S., Chollet, J., Utzinger, J. et al. Effect of single-dose oral mefloquine on the morphology of adult Schistosoma japonicum in mice. Parasitol Res 105, 853 (2009). https://doi.org/10.1007/s00436-009-1471-4
Received:

Accepted:

Published:
Keywords
Mefloquine

Schistosomiasis

Praziquantel

Artemether

Female Worm