Abstract
Scanning electron examination of trematode specimens belonging to Nicolla skrjabini (Iwanitzky 1928), collected from brown trout Salmo trutta fario L. in the Czech Republic, made it possible to study their surface morphology including details not described previously. The tegument bears numerous characteristic papillae mainly around and inside the suckers and around the genital pore and minute sensory organs near the anterior body end. Surface morphology may prove to be useful in distinguishing Nicolla spp.
This is a preview of subscription content, log in to check access.
Access options
Buy single article
Instant access to the full article PDF.
US$ 39.95
Price includes VAT for USA
Subscribe to journal
Immediate online access to all issues from 2019. Subscription will auto renew annually.
US$ 199
This is the net price. Taxes to be calculated in checkout.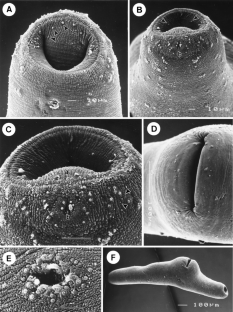 References
Caira JN (1989) A revision of the North American papillose Allocreadiidae (Digenea) with independent cladistic analyses of larval and adult forms. Bull Univ Nebraska State Mus 11:1–58

Choudhury A, Nelson PA (2000) Redescription of Crepidostomum opeongoensis Caira, 1985 (Trematoda: Allocreadiidae) from fish hosts Hiodon alosoides and Hiodon tergisus (Osteichthyes: Hiodontidae). J Parasitol 86:1305–1312

Moravec F (2002) External morphological differences between Crepidostomum farionis and Crepidostomum metoecus (Trematoda: Allocreadiidae), parasites of salmonids, as revealed by SEM. Folia Parasitol 49:211–217

Moravec F (2004) Metazoan parasites of salmonid fishes of Europe. Academia, Prague
Acknowledgements
Thanks are due to the staff of the Laboratory of Electron Microscopy, BC ASCR, in České Budějovice for their technical help. The paper was supported by research projects of the Institute of Parasitology, BC AS CR (Z60220518 and LC522).
About this article
Cite this article
Moravec, F. Surface morphology of Nicolla skrjabini (Trematoda: Opecoelidae), a common parasite of European freshwater fishes, as revealed by SEM. Parasitol Res 105, 577 (2009). https://doi.org/10.1007/s00436-009-1465-2
Received:

Accepted:

Published:
Keywords
Brown Trout

Ventral Sucker

Oral Sucker

Sensory Receptor

Genital Pore