Abstract
The Giardia lamblia life cycle is characterized by two phases during which two major cell differentiation processes take place: encystation and excystation. During encystation, the trophozoites transform into cysts, the resistance form. Once ingested by a susceptible host, the cysts are stimulated to excyst in the stomach, and the excysted trophozoites adhere to the epithelium of the upper small intestine. Our work analyses the effects of four benzimidazole derivatives during Giardia differentiation into cysts and evaluates the excystation efficiency of water resistant cysts. Albendazole (AB) showed the most significant results by inhibiting encystation about 30% and a decreasing rate of excystation efficiency. The ultrastructural organization of the cyst adhesive disk was notably affected by AB treatment. Although other benzimidazoles showed some effect on encystation, they were not able to inhibit the excystation process. It is known that the benzimidazoles affect the cytoskeleton of many organisms but how it interferes in Giardia differentiation processes is our main focus. The importance of studying Giardia's differentiation under drug action is reinforced by the following arguments: (1) Cysts eliminated by hosts undergoing treatment could still be potentially infective; (2) once the host has been treated, it would be desirable that the shedding of cysts into the environment is avoided; (3) the prevention of Giardia dissemination is a question of extreme importance mainly in underdeveloped countries, where poor sanitary conditions are related to high rates of giardiasis. This report concerns the importance of keeping the environment free from infective cysts and on Giardia's drug resistance and differentiating abilities.
This is a preview of subscription content, log in to check access.
Access options
Buy single article
Instant access to the full article PDF.
US$ 39.95
Price includes VAT for USA
Subscribe to journal
Immediate online access to all issues from 2019. Subscription will auto renew annually.
US$ 199
This is the net price. Taxes to be calculated in checkout.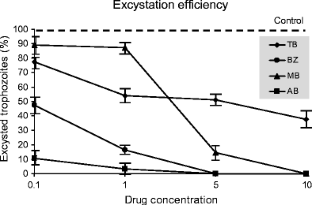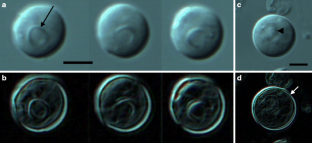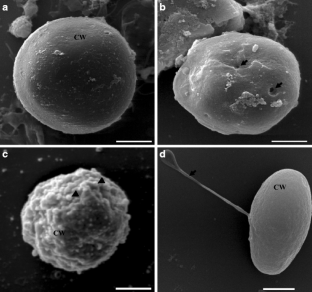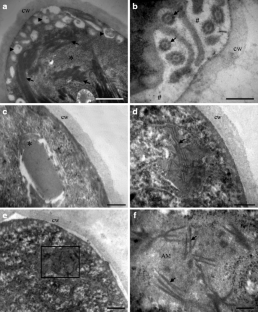 References
Adam RD (2001) Biology of Giardia lamblia. Clin Microbiol Rev 14:447–475

Bernal-Redondo R, Martínez-Méndez LG, Mendoza-Chavez A, Velasco-Perales D, Chavez-Munguia B (2004) Evaluation of the in vitro effect of albendazole, metronidazole and nitazoxanide on viability and structure of Giardia lamblia cysts. J Submicrosc Cytol Pathol 36:241–245

Boucher SM, Gillin FD (1990) Excystation of in vitro-derived Giardia lamblia cysts. Infect Immun 58:3516–3522

Campanati L, Monteiro-Leal LH (2002) The effects of the antiprotozoal drugs metronidazole and furazolidone on trophozoites of Giardia lamblia (P1 strain). Parasitol Res 88:80–85

Campanati L, Troester H, Monteiro-Leal LH, Spring H, Trendelenburg MF, de Souza W (2003) Tubulin diversity in trophozoites of Giardia lamblia. Histochem Cell Biol 119:323–331

Cedillo-Rivera R, Muñoz O (1992) In-vitro susceptibility of Giardia lamblia to albendazole, mebendazole and other chemotherapeutic agents. J Med Microbiol 37:221–224

Chávez B, Espinosa-Cantellano M, Cedillo Rivera R, Ramírez A, Martínez-Palomo A (1992) Effects of albendazole on Entamoeba histolytica and Giardia lamblia trophozoites. Arch Med Res 23:63–67

Cruz A, Sousa MI, Azeredo Z, Leite E, Figueiredo de Sousa JC, Cabral M (2003) Isolation, excystation and axenization of Giardia lamblia isolates: in vitro susceptibility to metronidazole and albendazole. J Antimicrob Chemother 51:1017–1020

Edlind TD, Hang TL, Chakraborty PR (1990) Activity of the anthelmintic benzimidazoles against Giardia lamblia in vitro. J Infect Dis 162:1408–1411

Faubert G, Reiner DS, Gillin FD (1991) Giardia lamblia: regulation of secretory vesicle formation and loss of ability to reattach during encystation in vitro. Exp Parasitol 72:345–354

Gardner TB, Hill DR (2001) Treatment of Giardiasis. Clin Microbiol Rev 14:114–128

Gillin FD, Boucher SE, Rossi SS, Reiner DS (1989) Giardia lamblia: the roles of bile, lactic acid, and pH in the completion of the life cycle in vitro. Exp Parasitol 69:164–174

Gottig N, Elías EV, Quiroga R, Nores MJ, Solari AJ, Touz MC (2006) Active and passive mechanisms drive secretory granule biogenesis during differentiation of the intestinal parasite Giardia lamblia. J Biol Chem 281:18156–18166

Hall A, Nahar Q (1993) Albendazole as a treatment for infections with Giardia duodenalis in children in Bangladesh. Trans R Soc Trop Med Hyg 87:84–86

Hausen MA, Freitas-Jr JC, Monteiro-Leal LH (2006) The effects of metronidazole and furazolidone during Giardia differentiation into cysts. Exp Parasitol 113:135–141

Holberton DV (1973) Fine structure of the ventral disk apparatus and the mechanism of attachment in the flagellate Giardia muris. J Cell Sci 13:11–41

Isaac-Renton JL, Shahriari H, Bowie WR (1992) Comparison of an in vitro method and an in vivo method of Giardia excystation. Appl Environ Microbiol 58:1530–1533

Jarroll EL, Sener K (2003) Potential drug targets in cyst-wall biosynthesis by intestinal protozoa. Drug Resist Update 6:239–246

Kane AV, Ward HD, Keusch GT, Pereira ME (1991) In vitro encystation of Giardia lamblia: large-scale production of in vitro cysts and strain and clone differences in encystation efficiency. J Parasitol 77:974–981

Keister DB (1983) Axenic cultivation of Giardia lamblia in TYI-S-33 medium supplemented with bile. Trans R Soc Trop Med Hyg 77:487–488

Keith CL, Radecki SV, Lappin MR (2003) Evaluation of fenbendazole for treatment of Giardia infection in cats concurrently infected with Cryptosporidium parvum. Am J Vet Res 64:1027–1029

Luján HD, Mowatt MR, Nash TE (1997) Mechanisms of Giardia lamblia differentiation into cysts. Microbiol Mol Biol Rev 61:294–304

MacDonald LM, Armson A, Thompson AR, Reynoldson JA (2004) Characterisation of benzimidazole binding with recombinant tubulin from Giardia duodenalis, Encephalitozoon intestinalis, and Cryptosporidium parvum. Mol Biochem Parasitol 138:89–96

Mariante RM, Vancini RG, Melo AL, Benchimol M (2005) Giardia lamblia: evaluation of the in vitro effects of nocodazole and colchicine on trophozoites. Exp Parasitol 110:62–72

Meng TC, Hetsko ML, Gillin FD (1993) Antigenic switching of TSA 417, a trophozoite variable surface protein, following completion of the life cycle of Giardia lamblia. Infect Immun 12:5394–5397

Morgan UM, Reynoldson JA, Thompson RC (1993) Activities of several benzimidazoles and tubulin inhibitors against Giardia spp. in vitro. Antimicrob Agents Chemother 37:328–331

Olson ME, Morck ME, Ceri H (1996) The efficacy of a Giardia lamblia vaccine in kittens. Can J Vet Res 60:249–256

Palm D, Weiland M, McArthur AG, Winiecka-Krusnell J, Cipriano MJ, Birkeland SR, Pacocha SE, Davids B, Gillin F, Linder E, Svärd S (2005) Developmental changes in the adhesive disk during Giardia differentiation. Mol Biochem Parasitol 141:199–207

Reiner DS, Hetsko ML, Gillin FD (1995) A lipoprotein-cholesterol-albumin serum substitute stimulates Giardia lamblia encystation vesicle formation. J Eukaryot Microbiol 42:622–627

Reiner DS, McCaffery JM, Gillin FD (2001) Reversible interruption of Giardia lamblia cyst wall protein transport in a novel regulated secretory pathway. Cell Microbiol 3:459–472

Reiner DS, Hetsko ML, Meszaros JG, Sun CH, Morrison HG, Brunton LL, Gillin FD (2003) Calcium signaling in excystation of the early diverging eukaryote, Giardia lamblia. J Biol Chem 278:2533–2540

Reynoldson JA, Thompson RC, Meloni BP (1991) In vivo efficacy of albendazole against Giardia duodenalis in mice. Parasitol Res 77:325–328

Teixeira JC, Heller L, Barreto ML (2007) Giardia duodenalis infection: risk factors for children living in sub-standard settlements in Brazil. Cad Saude Publica 23:1489–1493

Touz MC, Rópolo AS, Rivero MR, Vranych CV, Conrad JT, Svard SG, Nash TE (2008) Arginine deiminase has multiple regulatory roles in the biology of Giardia lamblia. J Cell Sci 121:2930–2938

Upcroft P, Upcroft JA (2001) Drug targets and mechanisms of resistance in the anaerobic protozoa. Clin Microbiol Rev 14:150–164

Vesy CJ, Peterson WL (1999) Review article: the management of Giardiasis. Aliment Pharmacol Ther 13:843–850
Acknowledgments
This work is dedicated to the memory of Professor Luiz Henrique Monteiro Leal. The authors thank Dalva Lira for technical assistance in cell culture and to Mr. David G. Straker for reviewing the English. This work was supported by Conselho Nacional de Desenvolvimento Científico e Tecnológico (CNPq), Coordenação de Aperfeiçoamento de Pessoal de Nível Superior (CAPES), Sub-Reitoria de Pós-graduação e Pesquisa (SR2-UERJ), Instituto Oswaldo Cruz/Fundação Oswaldo Cruz, and Fundação Carlos Chagas Filho de Amparo à Pesquisa do Estado do Rio de Janeiro (FAPERJ). The experiments were performed in accordance with the established by the Guidelines on the Care and Use of Animals for Experimental Purposes and Infectious Agents (NACLAR).
About this article
Cite this article
Hausen, M.A., de Oliveira, R.P., Gadelha, A.P.R. et al. Giardia lamblia: a report of drug effects under cell differentiation. Parasitol Res 105, 789 (2009). https://doi.org/10.1007/s00436-009-1463-4
Received:

Accepted:

Published:
Keywords
Benzimidazole

Cyst Wall

Albendazole

Differential Interference Contrast

Giardiasis