Abstract
The unforeseen outbreak of bluetongue in north-western Europe in August 2006 raised the question, which Culicoides spp. were involved in the transmission of bluetongue virus (BTV). Based on the decision 2007/20/EU of December 2006, a large-scale entomological surveillance programme was initiated in the five affected EU member states including Germany. This paper reports on the entomological findings obtained from March/April 2007 to May 2008 at 15 sampling sites in the federal states of Lower Saxony (eastern region), Mecklenburg-Western Pomerania, Brandenburg and Saxony-Anhalt: The number of captured biting midges in one trap varied from none or few Culicoides during winter (December 2007 to April 2008) to up to more than 12,500 individuals during summer and autumn. Catches of the C. obsoletus group were consistently higher than those of the C. pulicaris group. C. imicola, the principal afro-asiatic vector of BTV, was not detected. High numbers of midges were caught inside the cattle sheds. Eleven pools of biting midges were RT-PCR-positive to BTV-8 including pools of non-engorged midges of the C. obsoletus and of the C. pulicaris groups. The first BTV-genome positive pool of midges was detected in August 2007; the remaining genome-positive pools were detected during October and November 2007.
This is a preview of subscription content, log in to check access.
Access options
Buy single article
Instant access to the full article PDF.
US$ 39.95
Price includes VAT for USA
Subscribe to journal
Immediate online access to all issues from 2019. Subscription will auto renew annually.
US$ 199
This is the net price. Taxes to be calculated in checkout.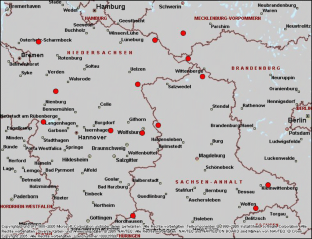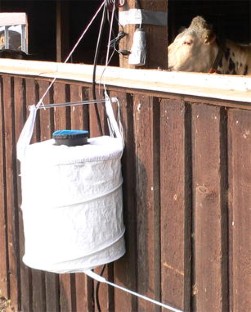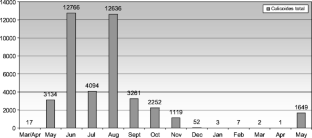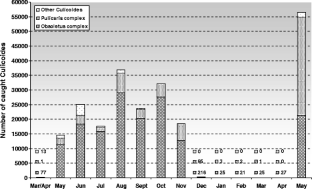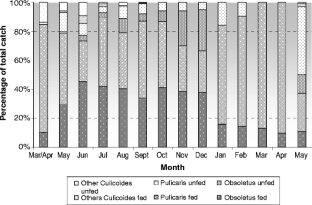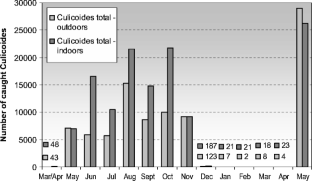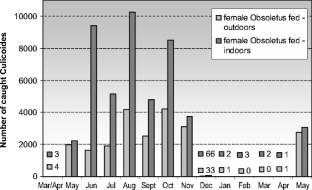 References
Baldet T, Delécolle J-C, Cêtre-Sossah C, Mathieu B, Meiswinkel R, Gerbier G (2008) Indoor activity of Culicoides associated with livestock in the bluetongue virus (BTV) affected region of northern France during autumn 2006. Prev Vet Med 87:84–97

Bartsch S, Bauer B, Wiemann A, Clausen P-H, Steuber S (2009) Feeding patterns of biting midges of the Obsoletus and Pulicaris complexes on selected farms in Brandenburg, Germany. Parasitol Res (in press)

Boorman J (1991) A review of Culicoides subgenus Avaritia species (Insecta, Diptera: Ceratopogonidae), vectors of viruses of sheep, cattle and horses, with particular references to Culicoides imicola in Europe and the Mediterranean region. Report prepared for The Overseas Development Adminstration, pp 1–54

Carpenter S, McArthur C, Selby R, Ward R, Nolan DV, Mordue Luntz AJ, Dallas JF, Tripet F, Mellor PS (2008) Experimental infection studies of UK Culicoides species midges with bluetongue virus serotypes 8 and 9. Vet Rec 163:589–592

Conraths FJ, Gethmann JM, Staubach C, Mettenleiter TC, Beer M, Hoffmann B (2009) Epidemiology of bluetongue virus serotype 8, Germany. Emerg Infect Dis. doi:10.3201/eid1503.081210

Delécolle JC (1985) Nouvelle contribution à l´étude systématique et iconographique des espèces du genre Culicoides (Diptera: Ceratopogonidae) du Nord-Est de la France. Thèse d´ Université. Université Louis Pasteur de Strasbourg UER Sciences Vie et Terre

EFSA (2008) Opinion of the Scientific Panel on Animal Health and Welfare on request from the Commission on bluetongue. The EFSA Journal 735:1–70

Goffredo M, Romeo G, Monaco F, Di Gennaro A, Savini G (2004) Laboratory survival and blood feeding response of wild-caught Culicoides obsoletus Complex (Diptera: Ceratopogonidae) through natural and artificial membranes. Vet Ital 40:282–285

Mehlhorn et al (2009) Bluetongue Disease in Germany (2007–2008): Monitoring of entomological aspects. Parasitol Res (in press)

Mehlhorn H, Walldorf V, Klimpel S, Jahn B, Jaeger F, Eschweiler J, Hofmann B, Beer M (2007) First occurrence of Culicoides obsoletus - transmitted Bluetongue virus epidemic in Central Europe. Parasitol Res 101:219–228

Meiswinkel R, Baldet T, de Deken R, Takken W, Delécolle J-C, Mellor PS (2008) The 2006 outbreak of bluetongue in northern Europe - The entomological perspective. Prev Vet Med 87:55–63
Acknowledgements
We are indebted to the farmers for their support. Our thanks are also due to the veterinary practitioners who were instrumental in contacting the farmers. Finally, we have to thank the Federal Ministry of Food, Agriculture and Consumer Protection, Germany for funding this survey.
About this article
Cite this article
Clausen, P., Stephan, A., Bartsch, S. et al. Seasonal dynamics of biting midges (Diptera: Ceratopogonidae, Culicoides spp.) on dairy farms of Central Germany during the 2007/2008 epidemic of bluetongue. Parasitol Res 105, 381 (2009). https://doi.org/10.1007/s00436-009-1417-x
Received:

Accepted:

Published:
Keywords
Reverse Transcriptase Polymerase Chain Reaction

Dairy Farm

Wild Ruminant

Bluetongue Virus

Cattle Shed