Abstract
Within the countrywide monitoring of Culicoides species established by the German Federal Ministry of Food, Agriculture and User Protection (BMELV), the group Regensburg evaluated nine BG-Sentinel™ Midge traps located at cattle farms in the federal states Baden-Württemberg (BW) and Bavaria (BY) between March 2007 and May 2008. The highest numbers of midges were found in the months October and August. BTV serotype 8 genome was detected in four batches in the months September and October 2007.
This is a preview of subscription content, log in to check access.
Access options
Buy single article
Instant access to the full article PDF.
US$ 39.95
Price includes VAT for USA
Subscribe to journal
Immediate online access to all issues from 2019. Subscription will auto renew annually.
US$ 199
This is the net price. Taxes to be calculated in checkout.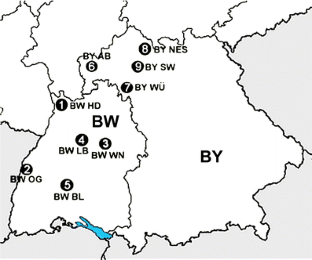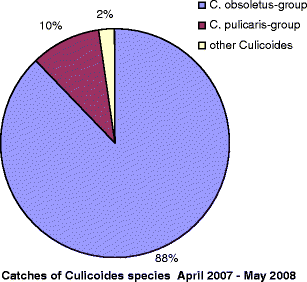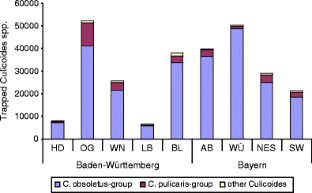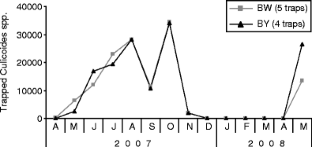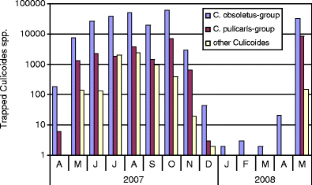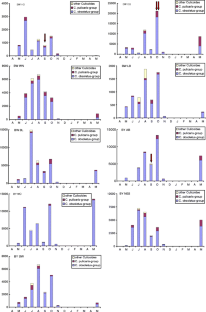 References
Mehlhorn H, Walldorf V, Klimpel S, Jahn B, Jaeger F, Eschweiler J, Hofmann B, Beer M (2007) First occurrence of Culicoides obsoletus—transmitted Bluetongue virus epidemic in Central Europe. Parasitol Res 101:219–228

Service MW (1969) Studies the biting habits of Culicoides impunctatus Goetghebuer, C.obsoletus (Meigen) and C.punctatus (Meigen) (Diptera;Ceratopogonidae) in Southern England. Proceedings of the Royal Entomological Society of London (A) 44:1–10

Service MW (1971) Adult flight activities of British Culicoides Species. J Med Entomol 8:605–609
Acknowledgements
The excellent compliance and technical assistance of the farmers to run the traps each month is gratefully acknowledged. The authors are very grateful to Andrea Poppek for excellent technical assistance.
About this article
Cite this article
Hörbrand, T., Geier, M. Monitoring of Culicoides at nine locations in Southern Germany (2007–2008). Parasitol Res 105, 387 (2009). https://doi.org/10.1007/s00436-009-1415-z
Received:

Accepted:

Published:
Keywords
Federal State

Catch Rate

Cattle Farm

Bluetongue Virus

Trap Location