Abstract
The present study was aimed at developing a SYBR Green™-based real-time polymerase chain reaction (PCR) assay for a rapid differentiation of the genotype G1 from the cluster of genotypes G2/G3 of Echinococcus granulosus, using as marker the 12S mtDNA gene. Eleven hydatid cysts from water buffaloes and 19 from cattle were used. Fourteen samples (identified as G1 using sequencing) showed a mean melting temperature (T m) of 76.4°C and 16 samples (identified as G2/G3 using sequencing) showed a mean T m of 77.0°C. The detected mean difference of the T m of 0.6°C between G1 and G2/G3 genotypes might allow a fast and simple discrimination of these genotypes. In conclusion, the real-time PCR developed in the present study provides a powerful tool for molecular studies on E. granulosus with possibilities for extension to other genotypes using different molecular targets.
This is a preview of subscription content, log in to check access.
Access options
Buy single article
Instant access to the full article PDF.
US$ 39.95
Price includes VAT for USA
Subscribe to journal
Immediate online access to all issues from 2019. Subscription will auto renew annually.
US$ 199
This is the net price. Taxes to be calculated in checkout.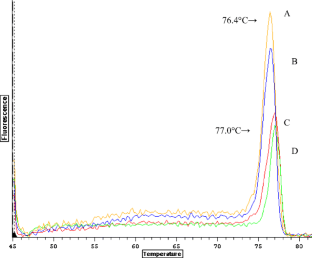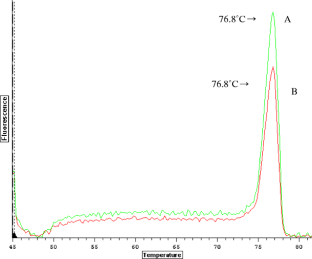 References
Boufana BS, Campos-Ponce M, Naidich A, Buishi I, Lahmar S, Zeyhle E, Jenkins DJ, Combes B, Wen H, Xiao N, Nakao M, Ito A, Qiu J, Craig PS (2008) Evaluation of three PCR assays for the identification of the sheep strain (genotype 1) of Echinococcus granulosus in canid feces and parasite tissues. Am J Trop Med Hyg 78:777–783

Busi M, Snábel V, Varcasia A, Garippa G, Perrone V, De Liberato C, D'Amelio S (2007) Genetic variation within and between G1 and G3 genotypes of Echinococcus granulosus in Italy revealed by multilocus DNA sequencing. Vet Parasitol 30:75–83

Capuano F, Rinaldi L, Maurelli MP, Perugini AG, Veneziano V, Garippa G, Genchi C, Musella V, Cringoli G (2006) Cystic echinococcosis in water buffaloes: epidemiological survey and molecular evidence of ovine (G1) and buffalo (G3) strains. Vet Parasitol 30:262–268

Dinkel A, Njoroge EM, Zimmermann A, Wälz M, Zeyhle E, Elmahdi IE, Mackenstedt U, Romig T (2004) A PCR system for detection of species and genotypes of the Echinococcus granulosus-complex, with reference to the epidemiological situation in eastern Africa. Int J Parasitol 34:645–653

Espy MJ, Uhl JR, Sloan LM, Buckwalter SP, Jones MF, Vetter EA, Yao JD, Wengenack NL, Rosenblatt JE, Cockerill FR 3rd, Smith TF (2006) Real-time PCR in clinical microbiology: applications for routine laboratory testing. Clin Microbiol Rev 19:595

Harasawa R, Mizusawa H, Fujii M, Yamamoto J, Mukai H, Uemori T, Asada K, Kato I (2005) Rapid detection and differentiation of the major mycoplasma contaminants in cell cultures using real-time PCR with SYBR Green I and melting curve analysis. Microbiol Immunol 49:859–863

Herrmann MG, Durtschi JD, Bromley LK, Wittwer CT, Voelkerding KV (2006) Amplicon DNA melting analysis for mutation scanning and genotyping: cross-platform comparison of instruments and dyes. Clin Chem 52:494–503

Ito A, Nakao M, Sako Y (2007) Echinococcosis: serological detection of patients and molecular identification of parasites. Future Microbiol 2:439–449

Lavikainen A, Lehtinen MJ, Meri T, Hirvela-Koski V, Meri S (2003) Molecular genetic characterization of the Fennoscandian cervid strani, a new genotypic group (G10) of Echinococcus granulosus. Parasitology 127:207–215

McManus DP (2002) The molecular epidemiology of Echinococcus granulosus and cystic hydatid disease. Trans R Soc Trop Med Hyg 96:151–157

McManus DP, Thompson RC (2003) Molecular epidemiology of cystic echinococcosis. Parasitology 127:S37–S51

Montgomery J, Witter CT, Palais R, Zhou L (2007) Simultaneous mutation scanning and genotyping by high-resolution DNA melting analysis. Nat Protoc 2:59–66

Morsczeck C, Langendorfer D, Schierholz JM (2004) A quantitative real-time PCR assay for the detection of tetR of Tn10 in Escherichia coli using SYBR Green and the Opticon. J Biochem Biophys Methods 59:217–227

Nakao M, McManus DP, Schantz PM, Craig PS, Ito A (2007) A molecular phylogeny of the genus Echinococcus inferred from complete mitochondrial genomes. Parasitology 134:713–722

Rinaldi L, Maurelli MP, Capuano F, Perugini AG, Veneziano V, Cringoli G (2008) Molecular update on cystic echinococcosis in cattle and water buffaloes of Southern Italy. Zoonoses Public Health 55:119–123

Santa Lucia J Jr (1998) A unified view of polymer, dumbbell, and oligonucleotide DNA nearest-neighbor thermodynamics. Proc Natl Acad Sci U S A 95:1460–1465

Thompson RC, McManus DP (2002) Towards a taxonomic revision of the genus Echinococcus. Trends Parasitol 18:452–457

Von Ahsen N, Wittwer CT, Schütz E (2001) Oligonucleotide melting temperatures under PCR conditions: nearest-neighbor corrections for Mg(2+), deoxynucleotide triphosphate, and dimethyl sulfoxide concentrations with comparison to alternative empirical formulas. Clin Chem 47:1956–1961
Additional information
Maria Paola Maurelli and Laura Rinaldi contributed equally to this work.
About this article
Cite this article
Maurelli, M.P., Rinaldi, L., Capuano, F. et al. Development of a real-time PCR for the differentiation of the G1 and G2/G3 genotypes of Echinococcus granulosus . Parasitol Res 105, 255 (2009). https://doi.org/10.1007/s00436-009-1388-y
Received:

Accepted:

Published:
Keywords
Hydatid Cyst

Echinococcus

Water Buffalo

Echinococcus Granulosus

Cycler Block