Abstract
Giardia intestinalis can develop resistance to albendazole, although the molecular mechanism is not understood. The aim of this study was to investigate the differences and permanent mutation in the β-giardin gene of G. intestinalis strains: sensitive, resistant, or recovered-resistance to albendazole. The β-giardin gene was amplified by nested polymerase chain reaction. The IC50 values varied from 0.29 to 0.38 μg/mL for strains sensitive to albendazole. For resistant strains, the IC50 range was 1.31–2.12 μg/mL. Recovered-sensitivity albendazole strains' IC50 values were 0.33–0.49 μg/mL, and for strains with recovered-resistance, the IC50 was 1.42–2.74 μg/mL. β-giardin amplicon (720 bp) was sequenced and analysis sequence revealed several amino acid mutations from resistant and recovered-sensitive strains of G. intestinalis. Most of the mutations were located in the ROD domain of β-giardin with a change from the sequence "TIARERA" in sensitive strains instead "IDRPRE" in resistant strains. A comparative sequence analysis in resistant, recovered-sensitive, and resistant-recovered strains revealed permanent mutation. This is the first report of combinatorial serine–proline–arginine repeats in the ROD domain of β-giardin, whereas such repeats have been reported previously in the HEAD domain of SF-assemblin proteins. This is the first time that the resistance to albendazole correlates with genetics but it is not necessarily caused by mutations in the β-giardin gene of G. intestinalis.
This is a preview of subscription content, log in to check access.
Access options
Buy single article
Instant access to the full article PDF.
US$ 39.95
Price includes VAT for USA
Subscribe to journal
Immediate online access to all issues from 2019. Subscription will auto renew annually.
US$ 199
This is the net price. Taxes to be calculated in checkout.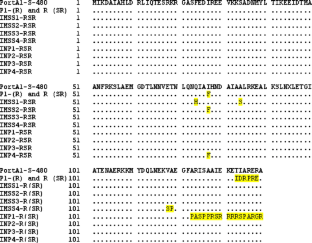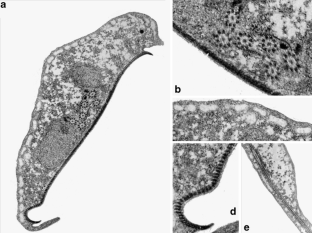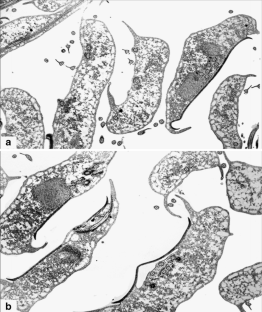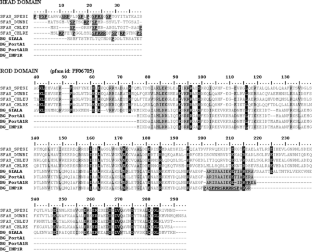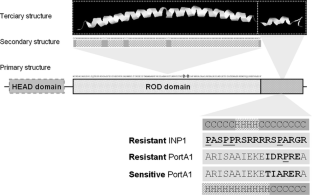 References
Aggarwal A, Nash TE (1989) Characterization of a 33-kilodalton structural protein of Giardia lamblia and localization to the ventral disk. Infect Immun 57:1305–1310

Alonso RA, Peattie DA (1992) Nucleotide sequence of a second alpha giardin gene and molecular analysis of the alpha giardin genes and transcripts in Giardia lamblia. Mol Biochem Parasitol 50:95–104

Al-Waili NS, Hasan NU (1992) Mebendazole in giardial infection: a comparative study with metronidazole. J Infect Dis 165:1170–1171

Bennett-Lovsey RM, Hebert AD, Sternberg MJ, Kelley LA (2008) Exploring the extremes of sequence/structure space with ensemble fold recognition in the program Phyre. Proteins 70:611–625

Boreham PFL, Smith NC, Shepherd RW (1988) Drug resistance and the treatment of giardiasis. In: Wallis PM, Hammond BR (eds) Advances in Giardia research. University of Calgary Press, Calgary, pp 3–7

Brasseur P, Favennec L (1995) Two cases of giardiasis unsuccessfully treated by albendazole. Parasite 2:422

Burge C, Karlin S (1997) Prediction of complete gene structures in human genomic DNA. J Mol Biol 268:78–94

Cedillo-Rivera R, Enciso-Moreno JA, Martínez-Palomo A, Ortega-Pierres G (1991) Isolation and axenization of Giardia lamblia isolates from symptomatic and asymptomatic patients in Mexico. Arch Invest Med 22:79–85

Chang JF, Hall BE, Tanny JC, Moazed D, Filman D, Ellenberge T (2003) Structure of the coiled-coil dimerization motif of Sir4 and its interaction with Sir3. Structure 11:637–649

Edlind TD, Li J, Visvesvara GS, Vodkin MH, McLaughlin GL, Katiyar SK (1996) Phylogenetic analysis of beta-tubulin sequences from amitochondrial protozoa. Mol Phylogenet Evol 5:359–367

Farthing MJ (1996) Giardiasis. Gastroenterol Clin North Am 25:493–515

Faubert GM (1996) The immune response to Giardia. Parasitol Today 12:140–145

Hall T (1997) BioEdit: biological sequence alignment editor written for Windows 95/98/NT/2000/XP version 7.0.5. Distributed by the author. Ibis Therapeutics, a division of Isis Pharmaceuticals, Carlsbad, CA

Hall A, Nahar Q (1993) Albendazole as a treatment for infections with Giardia duodenalis in children in Bangladesh. Trans R Soc Trop Med Hyg 87:84–86

Hill DR, Pohl R, Pearson RD (1986) Giardia lamblia: a culture method for determining parasite viability. Am J Trop Med Hyg 35:1129–1133

Holberton D, Baker DA, Marshall J (1988) Segmented alpha-helical coiled-coil structure of the protein giardin from the Giardia cytoskeleton. J Mol Biol 204:789–795

Jiménez-Cardoso E, Flores-Luna A, Pérez-Urizar J (2004) In vitro activity of two phenyl-carbamate derivatives, singly and in combination with albendazole against albendazole-resistant Giardia intestinalis. Acta Trop 92:237–244

Jones DT (1999) Protein secondary structure prediction based on position-specific scoring matrices. J Mol Biol 292:195–202

Kollaritsch H, Jeschko E, Wiedermann G (1993) Albendazole is highly effective against cutaneous larva migrans but not against Giardia infection: results of an open pilot trial in travellers returning from the tropics. Trans R Soc Trop Med Hyg 87:689

Lacey E (1990) Mode of action of benzimidazoles. Parasitol Today 6:112–115

Lalle M, Jiménez-Cardosa E, Caccio SM, Pozio E (2005) Genotyping of Giardia duodenalis from humans and dogs from Mexico using a beta-giardin nested polymerase chain reaction assay. J Parasitol 91:203–205

Lane S, Lloyd D (2002) Current trends in research into the waterborne parasite Giardia. Crit Rev Microbiol 28:123–147

Lechtreck KF, Melkonian M (1998) SF-assemblin, striated fibers, and segmented coiled coil proteins. Cell Motil Cytoskeleton 41:289–296

Lechtreck KF, Silflow CD (1997) SF-assemblin in Chlamydomonas sequence conservation and localization during the cell cycle. Cell Motil Cytoskeleton 36:190–201

Lechtreck KF, Frins S, Bilski J, Teltenkötter A, Weger K, Malkonian M (1996) The cruciated microtubule-associated fibers of the green alga Dunaliella bioculata consist of a 31 kDa SF-assemblin. J Cell Sci 109:827–835

Li W, Jaroszewski L, Godzik A (2002) Tolerating some redundancy significantly speeds up clustering of large protein databases. Bioinformatics 18:77–82

Lindquist HD (1996) Induction of albendazole resistance in Giardia lamblia. Microb Drug Resist 2:433–434

Lopez R, Silventoinen V, Robinson S, Kibria A, Gish W (2003) WU-Blast2 server at the European Bioinformatics Institute. Nucleic Acids Res 31:3795–3798

MacDonald LM, Armson A, Thompson AR, Reynoldson JA (2004) Characterization of benzimidazoles binding with recombinant tubulin from Giardia duodenalis, Encephalitozoon intestinalis, and Cryptosporidium parvum. Mol Biochem Parasitol 138:89–96

Meyer EA (1976) G. lamblia: isolation and axenic cultivation. Exp Parasitol 39:101–105

Moreno S, Nurse P (1990) Substrates for p34cdc2 in vivo veritas. Cell 61:549–551

Muller J, Ley S, Felger I, Hemphill A, Muller N (2008) Identification of differentially expressed genes in a Giardia lamblia WB C6 clone resistant to nitazoxanida and metronidazole. J Antimicrob Chemother 62:72–82

Nohria A, Alonso RA, Peattie DA (1992) Identification and characterization of gamma-giardin and the g-giardin gene from Giardia lamblia. Mol Biochem Parasitol 56:27–37

Ortega YR, Adam RD (1997) Giardia: overview and update. Clin Infect Dis 25:545–549

Peattie DA, Alonso RA, Hein A (1989) Ultrastructural localization of giardins to the edges of disk microribbons of Giardia lamblia and the nucleotide and deduced protein sequence of alpha giardin. J Cell Biol 109:2323–2335

Ponce-Macotela M, Martínez-Gordillo MN, Bermúdez-Cruz RM, Salazar-Schettino PM, Ortega-Pierres G, Ey P (2002) Unusual prevalence of the G. intestinalis A-ll subtype amongst isolates from humans and domestic animals in Mexico. Int J Parasitol 32:201–202

Romero-Cabello R, Robert L, Muñoz-García R, Tanaka J (1995) Randomized study comparing the safety and efficacy of albendazole and metronidazole in the treatment of giardiasis in children. Rev Latinoam Microbiol 37:315–323

Sagolla MS, Dawson SC, Mancuso JJ, Cande WZ (2006) Three-dimensional analysis of mitosis in the binucleate parasite Giardia intestinalis. J Cell Sci 119:4889–900

Sambrook J, Fritsch EF, Maniatis F (1987) Purification of nucleic acids. Molecular cloning: a laboratory manual, 2nd edn. Cold Spring Harbor Laboratory Press, New York

Thompson JD, Gibson TJ, Plewniak F, Jeanmougin F, Higgins DG (1997) The Clustal_X windows interface: flexible strategies for multiple sequence alignment aided by quality analysis tools. Nucleic Acids Res 25:4876–4882

Upcroft P, Upcroft JA (2001) Drug targets and mechanisms of resistance in the anaerobic protozoa. Clin Microbiol Rev 14:150–164

Weber K, Geisler N, Plessmann U, Bremerich A, Lechtreck KF, Melkonian M (1993) SF-assemblin, the structural protein of the 2-nm filaments from striated microtubule associated fibers of algal flagellar roots forms a segmented coiled coil. J Cell Biol 121:837–845
About this article
Cite this article
Jiménez-Cardoso, E., Eligio-García, L., Cortés-Campos, A. et al. Changes in β-giardin sequence of Giardia intestinalis sensitive and resistant to albendazole strains. Parasitol Res 105, 25 (2009). https://doi.org/10.1007/s00436-009-1363-7
Received:

Accepted:

Published:
Keywords
Resistant Strain

Albendazole

Sensitive Strain

Tinidazole

Giardiasis