Abstract
New research has shown that mefloquine, an arylaminoalcohol used against malaria, is active against Schistosoma japonicum and Schistosoma mansoni in vivo. To enhance our understanding of the potential mechanism of action of mefloquine against schistosomiasis, we examined the dynamics of histopathological changes in adult S. japonicum. Mice infected with S. japonicum for 35 days were treated intragastrically with a single dose of mefloquine (400 mg/kg). One to 35 days after mefloquine administration, drug-induced histopathological alterations were studied. Twenty-four hours after treatment, S. japonicum showed signs of degeneration, including focal roughing and swelling of the tegument and/or muscles, dilatation of the gut, focal desquamation of gut epithelial cells, and a decrease in pigment particles. There was extensive degeneration of vitelline cells and appearance of pigment particles visible in the cytoplasm in female worms. The extent and severity of histopathological changes increased over time; 48 h posttreatment, two thirds of female worms and a quarter of male worms were classified as dead. Three to 14 days posttreatment, typical histological changes observed in surviving male worms were vesiculation, swelling of parenchymal tissues, and dilatation of gut. In females, there was disintegration and infiltration of inflammatory cells, forming dead worm abscesses and early stage of dead worm granuloma. Finally, 35 days posttreatment, only dead male and female worm granuloma were found. Our results provide further evidence of in vivo activity of mefloquine against adult schistosomes.
This is a preview of subscription content, log in to check access.
Access options
Buy single article
Instant access to the full article PDF.
US$ 39.95
Price includes VAT for USA
Subscribe to journal
Immediate online access to all issues from 2019. Subscription will auto renew annually.
US$ 199
This is the net price. Taxes to be calculated in checkout.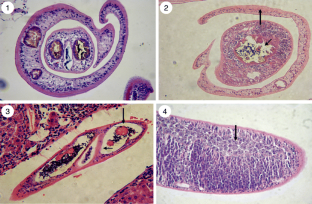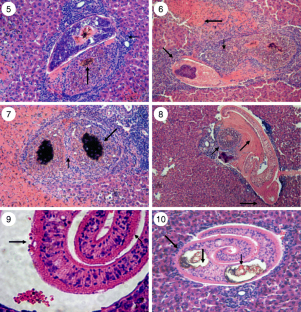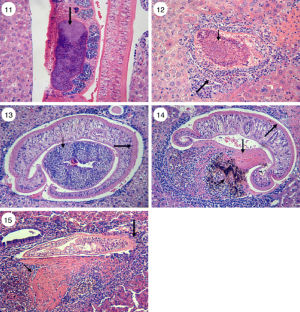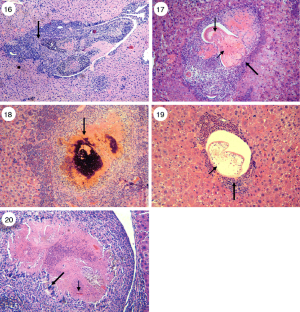 References
Abdulla MH, Lim KC, Sajid M, McKerrow JH, Caffrey CR (2007) Schistosomiasis mansoni: novel chemotherapy using a cysteine protease inhibitor. PLoS Med 4:e14

Caffrey CR (2007) Chemotherapy of schistosomiasis: present and future. Curr Opin Chem Biol 11:433–439

Chen MG (2005) Use of praziquantel for clinical treatment and morbidity control of schistosomiasis japonica in China: a review of 30 years' experience. Acta Trop 96:168–176

Cioli D, Pica-Mattoccia L (2003) Praziquantel. Parasitol Res 90:S3–S9

Cioli D, Valle C, Angelucci F, Miele AE (2008) Will new antischistosomal drugs finally emerge? Trends Parasitol 24:379–382

Doenhoff MJ, Cioli D, Utzinger J (2008) Praziquantel: mechanisms of action, resistance and new derivatives for schistosomiasis. Curr Opin Infect Dis 21:659–667

Fenwick A, Savioli L, Engels D, Bergquist NR, Todd MH (2003) Drugs for the control of parasitic diseases: current status and development in schistosomiasis. Trends Parasitol 19:509–515

Hotez PJ, Brindley PJ, Bethony JM, King CH, Pearce EJ, Jacobson J (2008) Helminth infections: the great neglected tropical diseases. J Clin Invest 118:1311–1321

Keiser J, Utzinger J (2007a) Artemisinins and synthetic trioxolanes for treatment of helminth infections. Curr Opin Infect Dis 20:605–612

Keiser J, Utzinger J (2007b) Food-borne trematodiasis: current chemotherapy and advances with artemisinins and synthetic trioxolanes. Trends Parasitol 23:555–562

Keiser J, Chollet J, Xiao SH, Mei JY, Jiao PY, Utzinger J, Tanner M (2009) Mefloquine-an aminoalcohol with promising antischistosomal properties in mice. PLoS Negl Trop Dis 3:e350

Kuntz AN, Davioud-Charvet E, Sayed AA, Califf LL, Dessolin J, Arnér ES, Williams DL (2007) Thioredoxin glutathione reductase from Schistosoma mansoni: an essential parasite enzyme and a key drug target. PLoS Med 4:e206

Lawrence JD (1973) The ingestion of red blood cell by Schistosoma mansoni. J Parasitol 59:50–63

Rozman RS, Molek NA, Koby R (1978) The absorption, distribution, and excretion in mice of the antimalarial mefloquine. Drug Metab Dispos 6:654–658

Sabah AA, Fletcher C, Webbe G, Doenhoff MJ (1986) Schistosoma mansoni: chemotherapy of infections of different ages. Exp Parasitol 61:294–303

Sayed AA, Simeonov A, Thomas CJ, Inglese J, Austin CP, Williams DL (2008) Identification of oxadiazoles as new drug leads for the control of schistosomiasis. Nat Med 14:407–412

Shaw MK, Erasmus DA (1983) Schistosoma mansoni: the effects of a subcurative dose of praziquantel on the ultrastructure of worms in vivo. Z Parasitenkd 69:73–90

Steinmann P, Keiser J, Bos R, Tanner M, Utzinger J (2006) Schistosomiasis and water resources development: systematic review, meta-analysis, and estimates of people at risk. Lancet Infect Dis 6:411–425

Utzinger J, Keiser J (2004) Schistosomiasis and soil-transmitted helminthiasis: common drugs for treatment and control. Expert Opin Pharmacother 5:263–285

Utzinger J, Xiao SH, N'Goran EK, Bergquist R, Tanner M (2001) The potential of artemether for the control of schistosomiasis. Int J Parasitol 31:1549–1562

Utzinger J, Xiao SH, Tanner M, Keiser J (2007) Artemisinins for schistosomiasis and beyond. Curr Opin Investig Drugs 8:105–116

Van Nassauw L, Toovey S, Van Op den Bosch J, Timmermans JP, Vercruysse J (2008) Schistosomicidal activity of the antimalarial drug, mefloquine, in Schistosoma mansoni-infected mice. Travel Med Infect Dis 6:253–258

Vennerstrom JL, Arbe-Barnes S, Brun R, Charman SA, Chiu FC, Chollet J, Dong Y, Dorn A, Hunziker D, Matile H, McIntosh K, Padmanilayam M, Santo Tomas J, Scheurer C, Scorneaux B, Tang Y, Urwyler H, Wittlin S, Charman WN (2004) Identification of an antimalarial synthetic trioxolane drug development candidate. Nature 430:900–904

Woodrow CJ, Krishna S (2006) Antimalarial drugs: recent advances in molecular determinants of resistance and their clinical significance. Cell Mol Life Sci 63:1586–1596

Wu LJ, Yang HZ, Yang YQ (1983) Histological and histochemical changes of Schistosoma japonicum and host liver caused by artemether. Acta Pharmaceut Sin 18:7–14

Xiao SH (2005) Study on prevention and cure of artemether against schistosomiasis. Chin J Schistosomiasis Cont 17:310–320

Xiao SH, Yang YQ, Shu YS, Wang ZW (1981) Ultrastructural changes of the tegument, syncithium, vitelline cells and muscles of Schistosoma japonicum caused by pyquiton. Acta Zoo Sin 27:305–309

Xiao SH, Yang YQ, Yang HZ, Guo HF, Shao BR (1983) Observation on tegument damage of Schistosoma japonicum and penetration of host leucocytes into the worm body caused by pyquiton. Acta Pharmaceut Sin 18:241–246

Xiao SH, Shao BR, Yu YG (1984a) Preliminary studies on the mode of action of pyquiton against Schistosoma japonicum. Chin Med J 97:839–848

Xiao SH, Friedman PA, Catto BA, Webster LT Jr (1984b) Praziquantel-induced vesicle formation in the tegument of male Schistosoma mansoni is calcium dependent. J Parasitol 70:177–179

Xiao SH, Yue WJ, Yang YQ, You JQ (1987a) Susceptibility of Schistosoma japonicum of different developmental stages to praziquantel. Chin Med J 100:759–768

Xiao SH, Guo HF, You JQ, Qiu LZ (1987b) Impact on neutrophil chemotaxis induced by Schistosoma japonicum after activity of praziquantel. Shanghai J Immunol 7:285–286

Xiao SH, Booth M, Tanner M (2000) The prophylactic effects of artemether against Schistosoma japonicum infections. Parasitol Today 16:122–126

Xiao SH, Shen BG, Utzinger J, Chollet J, Tanner M (2002) Ultrastructural alterations in adult Schistosoma mansoni caused by artemether. Mem Inst Oswaldo Cruz 97:717–724

Xiao SH, Guo J, Chollet J, Wu JT, Tanner M, Utzinger J (2004) Effect of artemether on Schistosoma mansoni: dose-efficacy relationship, and changes in worm morphology and histopathology. Chin J Parasitol Parasit Dis 22:148–153

Xiao SH, Keiser J, Chollet J, Utzinger J, Dong Y, Endriss Y, Vennerstrom JL, Tanner M (2007) In vitro and in vivo activities of synthetic trioxolanes against major human schistosome species. Antimicrob Agents Chemother 51:1440–1445

Yang YQ, Yang HZ, Xiao SH, Shao BR (1979) Observation on the histopathological changes of Schistosoma japonicum and host liver caused by pyquiton in experimental chemotherapy. Acta Acad Med Sin 1:7–12

Yue WJ, You JQ, Mei JY (1985) Prophylactic activity of praziquantel in animals infected with Schistosoma japonicum. Acta Pharmacol Sin 6:186–188
Acknowledgments
This investigation received financial support from the National Institute of Parasitic Diseases, Chinese Center for Disease Control and Prevention (Shanghai, China). J. Utzinger (project no. PPOOB-102883, PPOOB-119129) and J. Keiser (project no. PPOOA-114941) are grateful to the Swiss National Science Foundation for financial support.
About this article
Cite this article
Zhang, C., Xiao, S., Utzinger, J. et al. Histopathological changes in adult Schistosoma japonicum harbored in mice treated with a single dose of mefloquine. Parasitol Res 104, 1407 (2009). https://doi.org/10.1007/s00436-009-1341-0
Received:

Accepted:

Published:
Keywords
Mefloquine

Schistosomiasis

Praziquantel

Artesunate

Artemether