Abstract
Blastocystis from infected stools of a person who showed chronic symptoms of abdominal discomfort and diarrhea were examined over a 6-month period, using transmission electron microscopy, for the ultrastructural changes from vacuolar to cystic stage. The study confirms the irregular shedding phenomenon of the organism previously reported, and for the first time, records sequential changes in encystation in stools collected over a time period. The study also confirms the existence of a precystic stage which has an immature cell wall consisting of a layer of a homogenous electron-dense mass surrounding the cell which acts as a intermediatory stage between the vacuolar and cystic stage.
This is a preview of subscription content, log in to check access.
Access options
Buy single article
Instant access to the full article PDF.
US$ 39.95
Price includes VAT for USA
Subscribe to journal
Immediate online access to all issues from 2019. Subscription will auto renew annually.
US$ 199
This is the net price. Taxes to be calculated in checkout.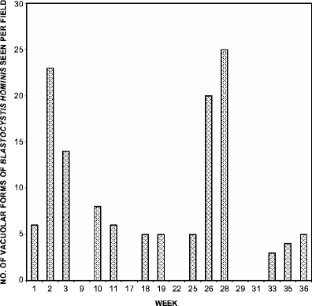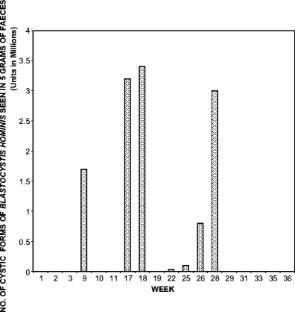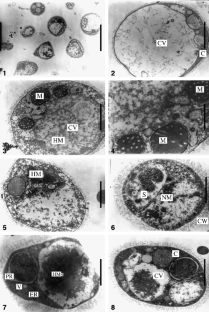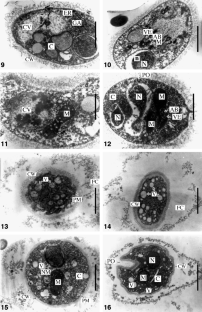 References
Bannykh S, Balch WE (1997) Membrane dynamics at the endoplasmic reticulum-Golgi Interface. J Cell Biol 138:1–4

Bowers B, Korn ED (1969) The fine structure of Acanthamoeba Castellanii (Neff strain). II Encystment. J Cell Biol 41:786–805

Chappell CL, Okhuysen PC, Sterling CR, DuPont HL (1996) Cryptosporidium parvum: intensity of infection and oocyst excretion patterns in healthy volunteers. J Infect Dis 173:232–236

Chen XQ, Singh M, Howe J, Ho LC, Tan SW, Yap EH (1999) In vitro encystation and encystation of Blastocystis ratti. Parasitology 118(Pt 2):151–160

Dunn LA (1992) Variation among cultured stocks of Blastocystis hominis (Brumpt 1912). Ph.D. thesis. The University of Queensland, Brisbane, Australia

Dunn LA, Boreham PFL, Stenzel DJ (1989) Ultrastructural variation of Blastocystis hominis stocks in culture. Int J Parasitol 19:43–56

Farrington M, Lloyd S, Winters S, Smith J, Rubenstein D (1995) Patterns of Cryptosporidium antigen and oocyst excretion in calves studied by reverse passive haemagglutination and light microscopy. Vet Parasitol 60:7–16

Gillin FD, Reiner DS, Gault MJ, Douglas H, Das S, Wunderlich A, Sauch JF (1987) Encystation and expression of cyst antigens by Giardia lamblia in vitro. Science 235(4792):1040–1043

Griffiths AJ, Hughes DE (1969) The physiology of encystment of Hartmanella castellanii. J Protozool 16(1):93–99

Moe KT, Singh M, Howe J, Ho LC, Tan SW, Ng GC, Chen XQ, Yap EH (1996) Observations on the ultrastructure and viability of the cystic stage of Blastocystis hominis from human feces. Parasitol Res 82:439–444

Reiner DS, Douglas H, Gillin FD (1989) Identification and localization of cyst-specific antigens of Giardia lamblia. Infect Immun 57(3):963–968

Reiner DS, McCaffery M, Gillin FD (1990) Sorting of cyst wall proteins to a regulated secretory pathway during differentiation of the primitive eukaryote, Giardia lamblia. Eur J Cell Biol 53(1):142–53

Schuster F (1963) An electron microscope study of the Amoebo-flagellate, Naegleria gruberi (Schardinger). 11. The cyst stage. J Protozool 10:313–320

Stenzel DJ, Boreham PFL (1991) A cyst-like stage of Blastocystis hominis. Int J Parasitol 21:613–615

Stenzel DJ, Boreham PFL, McDougall R (1991) Ultrastructure of Blastocystis hominis in human stool samples. Int J Parasitol 21:807–812

Suresh K, Ng GC, Ramachandran NP, Ho LC, Yap EH, Singh M (1993) In vitro encystment and experimental infections of Blastocystis hominis. Parasitol Res 79:456–460

Suresh K, Khairul Anuar A, Saminathan T, Ng KP, Init I (1997) In vitro culture technique: a better diagnostic tool for Blastocystis hominis. Int Med Res J 1(1):05–07

Tan KSW (2004) Blastocystis in humans and animals: new insights using modern methodologies. Vet Parasitol 126:121–144

Tan TC, Suresh K (2006) Amoeboid form of Blastocystis hominis—a detailed ultrastructural insight. Parasit Res 99(6):737–742

Tan HK, Zierdt CH (1973) Ultrastructure of Blastocystis hominis. Z Parasitenkd 42:315–324

Vennila GD, Suresh K, Khairul Anuar A et al (1999) Irregular shedding of Blastocystis hominis. Parasitol Res 85(2):162–164

Villar J, Carbajal JA, Lanuza MD, Muñoz C, Borrás R (1998) In vitro encystation of Blastocystis hominis: a kinetics and cytochemistry study. Parasitol Res 84(1):54–58

Zaman V, Khan KZ (1994) A comparison of direct microscopy with culture for the diagnosis of Blastocystis. Southeast Asian J Trop Med Public Health 25:792–793

Zaman V, Howe J, Ng M (1995) Ultrastructure of Blastocystis hominis cysts. Parasitol Res 81:465–469

Zaman V, Zaki M, Manzoor M, Howe J, Ng M (1999) Postcystic development of Blastocystis hominis. Parasitol Res 85:437–440

Zierdt CH (1986) Cytochrome-free mitochondria of an anaerobic protozoan—Blastocystis hominis. J Protozool 33:67–69

Zierdt CH (1988) Blastocystis hominis, a long-misunderstood intestinal parasite. Parasitol Today 4:15–17

Zierdt CH, Donnolley CT, Muller J, Constantopoulos (1988) Biochemical and ultrastructural study of Blastocystis hominis. J Clin Microbiol 26:965–970
About this article
Cite this article
Suresh, K., Venilla, G.D., Tan, T.C. et al. In vivo encystation of Blastocystis hominis . Parasitol Res 104, 1373–1380 (2009). https://doi.org/10.1007/s00436-009-1340-1
Received:

Accepted:

Published:

Issue Date:
Keywords
Stool Sample

Cystic Form

Cyst Wall

Golgi Complex

Life Cycle Stage