Abstract
Gerbils (Meriones unguiculatus) were inoculated intraperitoneally (i.p.) with Neospora caninum tachyzoites to examine parasite distribution and histological lesions at different time points over a 9-day period of infection. Gerbils were sacrificed 12 h post-infection (PI), then daily intervals up to day 9 PI. The parasite was detected by PCR assay targeting the Nc5 sequence of N. caninum. The parasite was not found in any organs until day 5 PI, however, from day 8 PI onwards, they were detected in all the organs examined as demonstrated by PCR. The first target organs in acute N. caninum infection were liver, spleen, and kidney, but not the blood as was expected. Histologic lesions were detected in the liver and spleen only, no lesions were found in other organs examined until the end of the experiment. Notably, the focal miliary hepatitis was observed in the liver of infected gerbils just after 1 day post-inoculation, whereas splenic lesions were not found until day 5 PI. These results reinforce the applicability of gerbils as a suitable model of acute neosporosis and provide new insights into the response of gerbils to N. caninum intraperitoneal infection.
This is a preview of subscription content, log in to check access.
Access options
Buy single article
Instant access to the full article PDF.
US$ 39.95
Price includes VAT for USA
Subscribe to journal
Immediate online access to all issues from 2019. Subscription will auto renew annually.
US$ 199
This is the net price. Taxes to be calculated in checkout.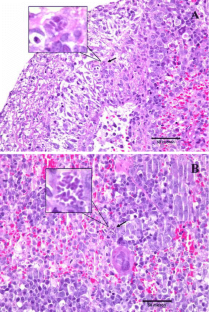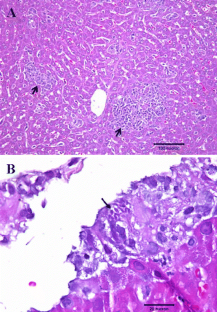 References
Ammann P, Waldvogel A, Breyer I, Esposito M, Muller N, Gottstein B (2004) The role of B- and T-cell immunity in toltrazuril-treated C57BL/6 WT, microMT and nude mice experimentally infected with Neospora caninum. Parasitol Res 93:178–187

Anderson ML, Andrianarivo AG, Conrad PA (2000) Neosporosis in cattle. Anim Reprod Sci 60–61:417–431

Atkinson R, Harper PA, Ryce C, Morrison DA, Ellis JT (1999) Comparison of the biological characteristics of two isolates of Neospora caninum. Parasitology 118(Pt 4):363–370

Baszler TV, Long MT, McElwain TF, Mathison BA (1999) Interferon-gamma and interleukin-12 mediate protection to acute Neospora caninum infection in BALB/c mice. Int J Parasitol 29:1635–1646

Cho JH, Chung WS, Song KJ, Na BK, Kang SW, Song CY, Kim TS (2005) Protective efficacy of vaccination with Neospora caninum multiple recombinant antigens against experimental Neospora caninum infection. Korean J Parasitol 43:19–25

Collantes-Fernandez E, Zaballos A, Alvarez-Garcia G, Ortega-Mora LM (2002) Quantitative detection of Neospora caninum in bovine aborted fetuses and experimentally infected mice by real-time PCR. J Clin Microbiol 40:1194–1198

Collantes-Fernandez E, Alvarez-Garcia G, Perez-Perez V, Pereira-Bueno J, Ortega-Mora LM (2004) Characterization of pathology and parasite load in outbred and inbred mouse models of chronic Neospora caninum infection. J Parasitol 90:579–583

Collantes-Fernandez E, Lopez-Perez I, Alvarez-Garcia G, Ortega-Mora LM (2006) Temporal distribution and parasite load kinetics in blood and tissues during Neospora caninum infection in mice. Infect Immun 74:2491–2494

Cuddon P, Lin DS, Bowman DD, Lindsay DS, Miller TK, Duncan ID, deLahunta A, Cummings J, Suter M, Cooper B et al (1992) Neospora caninum infection in English Springer Spaniel littermates. Diagnostic evaluation and organism isolation. J Vet Intern Med 6:325–332

Dubey JP (1999) Neosporosis—the first decade of research. Int J Parasitol 29:1485–1488

Dubey JP, Lindsay DS (1996) A review of Neospora caninum and neosporosis. Vet Parasitol 67:1–59

Dubey JP, Lindsay DS (2000) Gerbils (Meriones unguiculatus) are highly susceptible to oral infection with Neospora caninum oocysts. Parasitol Res 86:165–168

Dubey JP, Schares G, Ortega-Mora LM (2007) Epidemiology and control of neosporosis and Neospora caninum. Clin Microbiol Rev 20:323–367

Eperon S, Bronnimann K, Hemphill A, Gottstein B (1999) Susceptibility of B-cell deficient C57BL/6 (microMT) mice to Neospora caninum infection. Parasite Immunol 21:225–236

Finney DJ (1964) Statistical methods in biological assay, 2nd edn. Charles Griffin, London, pp 524–530

Gondim LF, Saeki H, Onaga H, Haritani M, Yamane I (1999) Maintenance of Neospora caninum tachyzoites using Mongolian gerbils (Meriones unguiculatus). NZ Vet J 47:36–36

Gondim LF, Pinheiro AM, Santos PO, Jesus EE, Ribeiro MB, Fernandes HS, Almeida MA, Freire SM, Meyer R, McAllister MM (2001) Isolation of Neospora caninum from the brain of a naturally infected dog, and production of encysted bradyzoites in gerbils. Vet Parasitol 101:1–7

Kang SW, Lee EH, Jean YH, Choe SE, Van Quyen D, Lee MS (2008) The differential protein expression profiles and immunogenicity of tachyzoites and bradyzoites of in vitro cultured Neospora caninum. Parasitol Res 103:905–913

Liddell S, Jenkins MC, Dubey JP (1999) Vertical transmission of Neospora caninum in BALB/c mice determined by polymerase chain reaction detection. J Parasitol 85:550–555

Lindsay DS, Lenz SD, Blagburn BL, Brake DA (1999) Characterization of temperature-sensitive strains of Neospora caninum in mice. J Parasitol 85:64–67

Long MT, Baszler TV, Mathison BA (1998) Comparison of intracerebral parasite load, lesion development, and systemic cytokines in mouse strains infected with Neospora caninum. J Parasitol 84:316–320

Lunden A, Wright S, Allen JE, Buxton D (2002) Immunisation of mice against neosporosis. Int J Parasitol 32:867–876

Macaldowie C, Maley SW, Wright S, Bartley P, Esteban-Redondo I, Buxton D, Innes EA (2004) Placental pathology associated with fetal death in cattle inoculated with Neospora caninum by two different routes in early pregnancy. J Comp Pathol 131:142–156

Muller N, Zimmermann V, Hentrich B, Gottstein B (1996) Diagnosis of Neospora caninum and Toxoplasma gondii infection by PCR and DNA hybridization immunoassay. J Clin Microbiol 34:2850–2852

Nishikawa Y, Xuan X, Nagasawa H, Igarashi I, Fujisaki K, Otsuka H, Mikami T (2001) Prevention of vertical transmission of Neospora caninum in BALB/c mice by recombinant vaccinia virus carrying NcSRS2 gene. Vaccine 19:1710–1716

Quinn HE, Miller CM, Ryce C, Windsor PA, Ellis JT (2002) Characterization of an outbred pregnant mouse model of Neospora caninum infection. J Parasitol 88:691–696

Ramamoorthy S, Sriranganathan N, Lindsay DS (2005) Gerbil model of acute neosporosis. Vet Parasitol 127:111–114

Walsh CP, Duncan RB, Zajac AM, Blagburn BL, Lindsay DS (2000) Neospora hughesi: experimental infections in mice, gerbils, and dogs. Vet Parasitol 92:119–128

West D, Pomroy W, Collett M, Hill F, Ridler A, Kenyon P, Morris S, Pattison R (2006) A possible role for Neospora caninum in ovine abortion in New Zealand. Small Ruminant Research 62:135–138

Yamage M, Flechtner O, Gottstein B (1996) Neospora caninum: specific oligonucleotide primers for the detection of brain "cyst" DNA of experimentally infected nude mice by the polymerase chain reaction (PCR). J Parasitol 82:272–279
Acknowledgments
This study was financed by a grant from the National Veterinary Research and Quarantine Service, Korean Ministry of Agriculture and Forestry, Korea. The authors wish to thank Khac-Minh Thai and Van Phan Le for their helpful discussions.
About this article
Cite this article
Kang, S., Park, S., Choe, S. et al. Characterization of tissue distribution and histopathological lesions in Neospora caninum experimentally infected gerbils. Parasitol Res 104, 1261–1268 (2009). https://doi.org/10.1007/s00436-008-1322-8
Received:

Accepted:

Published:

Issue Date:
Keywords
Polymerase Chain Reaction Assay

Polymerase Chain Reaction Result

Histologic Lesion

Splenic Lesion

Meriones Unguiculatus