Abstract
A sensitive and inexpensive method for DNA isolation and amplification by polymerase chain reaction (PCR) from single unembryonated Ascaris sp. eggs is described. The resistant shell of single eggs was crushed mechanically and PCR applied to the crude egg contents without any further purification steps. The ITS1 region of the rDNA and three regions of the mtDNA could be successfully amplified. Using two primer sets, it was possible to amplify the rDNA and mtDNA simultaneously in one single reaction. The ability to perform PCR on single unembryonated eggs may result in better and more precise species identification of eggs recovered from faecal material, environmental samples and possibly archaeological samples. In addition, single egg PCR makes it possible to perform population genetic studies without having to recover adult worms by deworming or autopsy.
This is a preview of subscription content, log in to check access.
Access options
Buy single article
Instant access to the full article PDF.
US$ 39.95
Price includes VAT for USA
Subscribe to journal
Immediate online access to all issues from 2019. Subscription will auto renew annually.
US$ 199
This is the net price. Taxes to be calculated in checkout.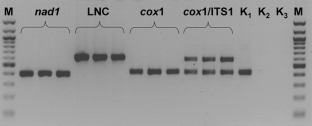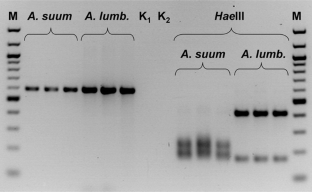 References
Anderson TJC (1995) Ascaris infections in humans from North America: molecular evidence for cross-infection. Parasitology 110:215–219

Anderson TJC (2001) The dangers of using single locus markers in parasite epidemiology: Ascaris as a case study. Trends Parasitol 17:183–188

Anderson TJC, Komuniecki R, Komuniecki PR, Jaenike J (1995a) Are mitochondria inherited paternally in Ascaris? Int J Parasitol 25:1001–1004

Anderson TJC, Romero-Abal ME, Jaenike J (1995b) Mitochondrial DNA and Ascaris microepidemiology: the composition of parasite populations from individual hosts, families and villages. Parasitology 110:221–229

Blair D, Agatsuma T, Watanobe T, Okamoto M, Ito A (1997) Geographical genetic structure within the human lung fluke, Paragonimus westermani, detected from DNA sequences. Parasitology 115:411–417

Boes J, Nansen P, Stephenson LS (1997) False-positive Ascaris suum egg counts in pigs. Int J Parasitol 27:833–838

Bouchet F, Lefevre C, West D, Corbett D (1999) First paleoparasitological analysis of a midden in the Aleutian Islands (Alaska): results and limits. J Parasitol 85:369–372

Bouchet F, Guidon N, Dittmar K, Harter S, Ferreira LF, Chaves SM, Reinhard K, Araujo A (2003) Parasite remains in archaeological sites. Mem Inst Oswaldo Cruz 98:47–52

Bundy DAP, Thompson DE, Cooper ES, Blanchard J (1985) Rate of expulsion of Trichuris trichiura with multiple and single dose regimens of albendazole. Trans R Soc Trop Med Hyg 79:641–644

Criscione CD, Anderson JD, Sudimack D, Peng W, Jha B, Williams-Blangero S, Anderson TJC (2007) Disentangling hybridization and host colonization in parasitic roundworms of humans and pigs. Proc Biol Sci 274:2669–2677

Fernandes A, Ferreira LF, Goncalves ML, Bouchet F, Klein CH, Iguchi T, Sianto L, Araujo A (2005) Intestinal parasite analysis in organic sediments collected from a 16th-century Belgian archeological site. Cad Saude Publica 21:329–332

Gasser RB, Chilton NB, Hoste H, Beveridge I (1993) Rapid sequencing of rDNA from single worms and eggs of parasitic helminths. Nucleic Acids Res 21:2525–2526

Gasser RB, Monti JR, Bao-Zhen Q, Polderman AM, Nansen P, Chilton NB (1998) A mutation scanning approach for the identification of hookworm species and analysis of population variation. Mol Biochem Parasitol 92:303–312

Grillo V, Jackson F, Cabaret J, Gilleard JS (2007) Population genetic analysis of the ovine parasitic nematode Teladorsagia circumcincta and evidence for a cryptic species. Int J Parasitol 37:435–447

Hawdon JM, Li T, Zhan B, Blouin MS (2001) Genetic structure of populations of the human hookworm, Necator americanus, in China. Mol Ecol 10:1433–1437

Iniguez AM, Reinhard KJ, Araujo A, Ferreira LF, Vicente ACP (2003) Enterobius vermicularis: Ancient DNA from North and South American human coprolites. Mem Inst Oswaldo Cruz 98:67–69

Marota I, Basile C, Ubaldi M, Rollo F (2002) DNA decay rate in papyri and human remains from Egyptian archaeological sites. Am J Phys Anthropol 117:310–318

Mochizuki R, Endoh D, Onuma M, Fukumoto S (2006) PCR-based species-specific amplification of ITS of Mecistocirrus digitatus and its application in identification of GI nematode eggs in bovine faeces. J Vet Med Sci 68:345–351

Murrell KD, Nawa Y (1998) Animal waste: risk of zoonotic parasite transmission. Rev Environ Health 13:169–178

Nejsum P, Frydenberg J, Roepstorff A, Parker ED (2005a) Population structure in Ascaris suum (Nematoda) among domestic swine in Denmark as measured by whole genome DNA fingerprinting. Hereditas 142:7–14

Nejsum P, Parker ED, Frydenberg J, Roepstorff A, Boes J, Haque R, Astrup I, Prag J, Sørensen UBS (2005b) Ascariasis is a zoonosis in Denmark. J Clin Microbiol 43:1142–1148

Nielsen MK, Peterson DS, Monrad J, Thamsborg SM, Olsen SN, Kaplan RM (2008) Detection and semi-quantification of Strongylus vulgaris DNA in equine faeces by real-time quantitative PCR. Int J Parasitol 38:443–453

Oliveros R, Cutillas C, de Rojas M, Arias P (2000) Characterization of four species of Trichuris (Nematoda: Enoplida) by their second internal transcribed spacer ribosomal DNA sequence. Parasitol Res 86:1008–1013

Peng W, Zhou X, Cui X, Crompton DW, Whitehead RR, Xiong J, Wu H, Peng J, Yang Y, Wu X, Xu K, Yan Y (1996) Ascaris, people and pigs in a rural community of Jiangxi Province, China. Parasitology 113:545–557

Peng W, Anderson TJC, Zhou X, Kennedy MW (1998) Genetic variation in sympatric Ascaris populations from humans and pigs in China. Parasitology 117:355–361

Peng WD, Yuan K, Hu M, Zhou XM, Gasser RB (2005) Mutation scanning-coupled analysis of haplotypic variability in mitochondrial DNA regions reveals low gene flow between human and porcine Ascaris in endemic regions of China. Electrophoresis 26:4317–4326

Redman E, Packard E, Grillo V, Smith J, Jackson F, Gilleard JS (2008) Microsatellite analysis reveals marked genetic differentiation between Haemonchus contortus laboratory isolates and provides a rapid system of genetic fingerprinting. Int J Parasitol 38:111–122

Roepstorff A, Pearman M (2006) Parasitter (in Danish). In: Iversen M, Robinson DE, Hejermind J, Christensen C (eds) Viborg Søndersø 1018–1030: Arkæologi og naturvidenskab i et værkstedsområde fra vikingetid. Jysk Arkæologisk Selskab, 205–213

Stukenbrock EH, Rosendahl S (2005) Development and amplification of multiple co-dominant genetic markers from single spores of arbuscular mycorrhizal fungi by nested multiplex PCR. Fungal Genet Biol 42:73–80

Traub RJ, Robertson ID, Irwin P, Mencke N, Thompson RC (2002) The role of dogs in transmission of gastrointestinal parasites in a remote tea-growing community in northeastern India. Am J Trop Med Hyg 67:539–545

Zarlenga DS, Barry CM, Gasbarre LC, Boyd PC (2001) A multiplex PCR assay for differentiating economically important gastrointestinal nematodes of cattle. Vet Parasitol 97:199–209

Zhu X, Chilton NB, Jacobs DE, Boes J, Gasser RB (1999) Characterisation of Ascaris from human and pig hosts by nuclear ribosomal DNA sequences. Int J Parasitol 29:469–478
Acknowledgements
Tim J.C. Anderson is acknowledged for useful comments to the manuscript.
About this article
Cite this article
Carlsgart, J., Roepstorff, A. & Nejsum, P. Multiplex PCR on single unembryonated Ascaris (roundworm) eggs. Parasitol Res 104, 939 (2009). https://doi.org/10.1007/s00436-008-1307-7
Received:

Accepted:

Published:
Keywords
Internal Transcribe Spacer

Adult Worm

Ascaris

Multiplex Polymerase Chain Reaction

Population Genetic Study