Abstract
A field study was conducted to evaluate the effect of a single oral treatment with 20 mg/kg body weight (BW) of toltrazuril (Baycox® 5% suspension)—TOL—in comparison to a single oral treatment with 1 mg/kg BW of diclazuril (Vecoxan® suspension orale, 2.5 mg/ml)—DIC—and an untreated control group (CTRL) on naturally acquired Eimeria infections in lambs. On a French sheep farm with a known history of coccidiosis, 75 housed lambs aged 10–14 days were randomised and allocated to one of three groups. During an observation period of 60 days after treatment, clinical (faecal consistency, BW) and parasitological parameters (oocyst excretion) were evaluated. Excretion in the negative control group started 3 days after treatment and peaked on the 31st day with a prevalence of 80%. Animals were predominantly infected with Eimeria ovinoidalis. Treatment with toltrazuril, but not with diclazuril, resulted in significantly reduced numbers of excreting animals. The number of excretion days and the average oocyst excretion decreased significantly in both the TOL and the DIC groups compared to the CTRL, with the TOL group showing significantly fewer excretion days and excretion intensities than the DIC group. Changes in the faecal consistency were moderate throughout the study and not significantly different between the groups. Daily weight gains were higher in the TOL group compared to the DIC and CTRL groups which did not differ. This study demonstrates the good efficacy of toltrazuril administered orally to lambs in the prepatent period in subclinical natural Eimeria infections in housed lambs.
This is a preview of subscription content, log in to check access.
Access options
Buy single article
Instant access to the full article PDF.
US$ 39.95
Price includes VAT for USA
Subscribe to journal
Immediate online access to all issues from 2019. Subscription will auto renew annually.
US$ 199
This is the net price. Taxes to be calculated in checkout.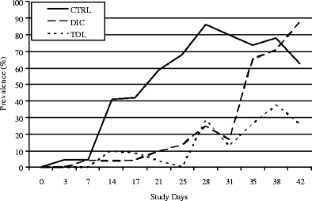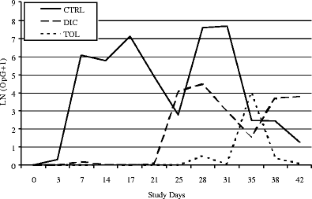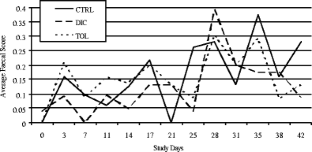 References
Alzieu JP, Mage C, Maes L, de Mûelenaere C (1999) Economic benefits of prophylaxis with diclazuril against subclinical coccidiosis in lambs reared indoors. Vet Rec 17:442–444

Berriatua E, Green LE, Morgan KL (1994) A descriptive epidemiological study of coccidiosis in early lambing housed flocks. Vet Parasitol 54:337–351

Catchpole J, Norton CC, Gregory MW (1993) Immunisation of lambs against coccidiosis. Vet Rec 132:56–59

Gjerde B, Helle O (1986) Efficacy of toltrazuril in the prevention of coccidiosis in naturally infected lambs on pasture. Acta Vet Scand 27:124–137

Gjerde B, Helle O (1991) Chemoprophylaxis of coccidiosis in lambs with a single oral dose of toltrazuril. Vet Parasitol 38:97–107

Gregory MW (1990) Pathology of coccidial infections. In: Long PL (ed) Coccidiosis of man and domestic animals. CRC, Boca Raton, pp 235–261

Gregory MW, Catchpole J (1989) Ovine coccidiosis: heavy infection in young lambs increases resistance without causing disease. Vet Rec 124:458–461

Haberkorn A, Stoltefuss J (1987) Studies on the activity spectrum of toltrazuril, a new anticoccidial agent. Vet Med Nachr 1:22–32

Kaufmann J (1996) Parasitic infections of domestic animals: a diagnostic manual. Birkhäuser, Basel, p 423

Lindsay DS, Todd KS (1993) Coccidia of mammals. In: Kreier JP (ed) Parasitic protozoa, 2nd edn. Academic, San Diego, pp 89–131

Maes L, Coussement W, Vanparijs O, Verheyen F (1989) Species-specificity action of diclazuril (Clinacox) against different Eimeria species in the chicken. In: Coccidia and Intestinal Coccidiomorphs. Proc. 5th Int. Coccidiosis Conference, Tours, France. INRA, Paris, pp 259–226

Mage C (2008) Parasites des Moutons—Prévention, Diagnostic, Traitement. 2nd edition, France Agricole (Editions), Paris, p 113

Mage C, Le Sueur C, Perzo JF (2007) Controle des coccidioses chez des veaux charolais sous la mère par le toltrazuril. Bull GTV 39:111–115

Mundt HC, Daugschies A (2007) Current understanding of the epidemiology of intestinal coccidiosis in mammalian livestock. In: Fürll M (ed) Production diseases in farm animals. Merkur Druck und Kopier-Zentrum GmbH, Leipzig, pp 90–107

Mundt HC, Rödder F, Mengel H, Bangoura B, Ocak M, Daugschies A (2007) Control of coccidiosis due to Eimeria bovis and Eimeria zuernii in calves with toltrazuril under field conditions in comparison with diclazuril and untreated controls. Parasitol Res 101:93–104

Pellérdy LP (1974) Coccidia and coccidiosis, 2nd edn. Paul Parey, Berlin, p 959

Platzer B, Prosl H, Cieslicki M, Joachim A (2005) Epidemiology of Eimeria infections in an Austrian milking sheep flock and control with diclazuril. Vet Parasitol 129:1–9

Taylor MA (1995) Diagnosis and control of coccidiosis in sheep. In Practice 17:172–177

Taylor MA, Catchpole J (1994) Coccidiosis of domestic ruminants. Appl Parasitol 35:73–86

Taylor SM, Kenny J (1988) Coccidiocidal efficacy of a single treatment of toltrazuril in naturally infected lambs. Vet Rec 123:573

Taylor M, Catchpole J, Marshall R, Norton CC, Green J (1995) Eimeria species of sheep. In: Eckert J, Braun R, Shirley MW, Coudert P (eds) Guidelines on techniques in coccidiosis research. European Commission, Luxemburg, pp 25–39

Taylor MA, Catchpole J, Marshall J, Marshall RN, Hoeben D (2003) Histopathological observations on the activity of diclazuril (Vecoxan) against the endogenous stages of Eimeria crandallis in sheep. Vet Parasitol 116:305–314

Yvoré P, Esnault A, Besnard J (1980) Les coccidioses des petits ruminants: coccidioses ovines. Bull Groupement Techn Vét 2:15
Acknowledgements
Thanks are due to Dr. Jean-Marc Toullieu and his team for the laboratory analysis and to Marion Ocak for performing the statistical analysis.
About this article
Cite this article
Le Sueur, C., Mage, C. & Mundt, H. Efficacy of toltrazuril (Baycox® 5% suspension) in natural infections with pathogenic Eimeria spp. in housed lambs. Parasitol Res 104, 1157–1162 (2009). https://doi.org/10.1007/s00436-008-1305-9
Received:

Accepted:

Published:

Issue Date:
Keywords
Untreated Control Group

Coccidiosis

Prepatent Period

Daily Weight Gain

CTRL Group