Abstract
Culex tritaeniorhynchus Giles, 1901 and Culex quinquefasciatus Say, 1823 is an important vector of Japanese encephalitis and Bancroftian filariasis, respectively in India and South East Asian countries. In this paper, we are describing the surface morphology and morphometrics of the egg of C. tritaeniorhynchus in comparison with C. quinquefasciatus for the first time. The results indicated that eggs of both the species appears to be similar to great extent in surface morphology, however, morphometrics provide 56.81% demarking attributes out of 44 attributes at various significant levels (p < 0.05–0.001), i.e., egg length, width and ratio of length/width, attributes of micropylar apparatus including corolla, disc, mound, tubercles size, and length of tubercular rows in micropylar region, size and density of tubercles, exochorionic pore in conical-shaped regions of eggs, and size of tubercular wheel units. Structurally, the additional presence of large tubercles strengthens the micropylar region to bear various collapsing forces in these species.
This is a preview of subscription content, log in to check access.
Access options
Buy single article
Instant access to the full article PDF.
US$ 39.95
Price includes VAT for USA
Subscribe to journal
Immediate online access to all issues from 2019. Subscription will auto renew annually.
US$ 199
This is the net price. Taxes to be calculated in checkout.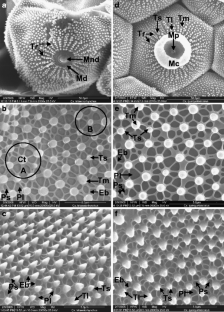 References
CDC [Centers for Disease Control and Prevention] (2008) CDC Division of Vector-Borne Infectious Diseases (DVBID). Japanese encephalitis. http://www.cdc.gov/ncidod/dvbid/jencephalitis/index.htm

Chade DD, Haeger JS (1986) A description of the egg of Culex (Culex) nigripalpus Theobald from Florida, with notes on five egg rafts (Diptera: Culicidae). Mosq Syst 18:288–292

Christophers SR (1945) Structure of the Culex egg and egg raft in relation to function (Diptera). Trans Royal Entomo Soc Lond 95:25–34

Clements AN (1996) The biology of mosquitoes, Volume 1. Development, nutrition and reproduction, Chapter-3, the egg shell. Chapman & Hall, 2-6 Boundary Row, London SE1 8HN, UK, pp 63–73

Harbach RE, Knight KL (1978) A mosquito taxonomic glossary. XV. The egg. Mosq Syst 10:249–298

Hinton HE (1968) Structure and protective devices of the egg of the mosquito Culex pipiens. J Insect Physiol 14:145–161

Junkum A, Jitpakdi A, Komalamisra N, Jariyapan N, Somboon P, Bates PA, Choochote W (2004) Comparative morphometry and morphology of Anopheles aconitus form B and C eggs under scanning electron microscope. Rev Inst Med Trop de Sao Paulo 46:257–262

Lounibos LP, Coetzee M, Duzak D, Nishimura N, Linley JR, Service MW, Cornel AJ, Fontenille D, Mukwaya LG (1999) A description and morphometric comparison of eggs of species of the Anopheles gambiae complex. J Am Mosq Control Assoc 15:157–185

Reisen WK, Lothrop H, Chiles R, Madon M, Cossen C, Woods L, Husted S, Kramer V, Edman J (2004) West Nile virus in California. Emerg Infect Dis 8:1369–1377

Sabesan S, Palaniyandi M, Das PK, Michael E (2000) Mapping of lymphatic filariasis in India. Ann Trop Med Parasit 94:591–606

Service MW, Duzak D, Linley JR (1997) SEM examination of the eggs of five British Aedes species. J Am Mosq Control Assoc 13:47–65

Sirivanakaran S (1976) Medical entomology studies—III.A revision of the subgenus Culex in the Oriental region (Diptera: Culicidae). Contrib Amer Ent Inst 12:1–272
Acknowledgment
The authors express their gratitude to Dr. R. Vijayaraghawan, Director, Defence Research and Development Establishment, Gwalior, for encouragement and interest in the work.
About this article
Cite this article
Suman, D.S., Shrivastava, A.R., Parashar, B.D. et al. Scanning electron microscopic studies on egg surface morphology and morphometrics of Culex tritaeniorhynchus and Culex quinquefasciatus (Diptera: Culicidae). Parasitol Res 104, 173–176 (2008). https://doi.org/10.1007/s00436-008-1162-6
Received:

Accepted:

Published:

Issue Date:
Keywords
West Nile Virus

Posterior Region

Japanese Encephalitis

Primary Vector

South East Asian Country