Abstract
The heartworm Acanthocheilonema spirocauda (Leidy, Proc Acad Nat Sci Philadelphia 10:110–112, 1858) Anderson, 1992 is described from material collected from harbour seals in Scandinavia and compared with types and other specimens described by Anderson (Can J Zool 37:481–493, 1959) from harbour seals in eastern USA. Most morphometric characters of the material from USA fall within the ranges established for the Scandinavian one. Some intraspecific variability in the organisation of papillae on the male tail was detected among the Scandinavian specimens. Differences between the specimens from Scandinavia and Eastern USA are also found in the organisation of papillae on the tail of males and females. An excretory pore was not discernible, but a clearly hemizonid-like structure is described. For the first time, scanning electron micrographs present external morphological structures of the species.
This is a preview of subscription content, log in to check access.
Access options
Buy single article
Instant access to the full article PDF.
US$ 39.95
Price includes VAT for USA
Subscribe to journal
Immediate online access to all issues from 2019. Subscription will auto renew annually.
US$ 199
This is the net price. Taxes to be calculated in checkout.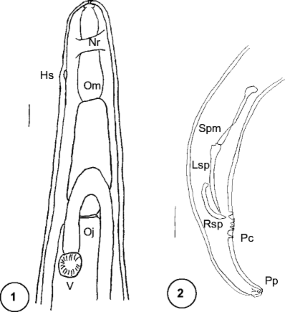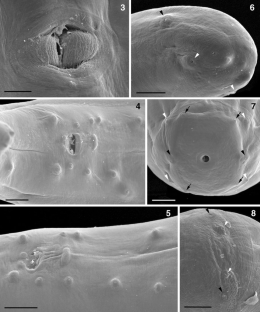 References
Adamson ML, Roth M (1990) Prevalence and intensity of Pseudodelphis oligocotti n. gen., n. sp. (Dracunculoidea; Guyanemidae) in the tidepool sculpin, Oligocottus maculosus (Scorpaeniformes; Cottidae). J Parasitol 76:509–514

Anderson RC (1959) The taxonomy of Dipetalonema spirocauda (Leidy, 1858) n. comb. (=Skrjabinaria spirocauda) and Dirofilaria roemeri (Linstow, 1905) n. comb. (=Dipetalonema roemeri). Can J Zool 37:481–493

Anderson RC (1992) Nematode parasites of vertebrates. Their development and transmission, 2nd edn. CABI, Wallingford

Anderson RC, Bain O (1976) Keys to the genera of the order Spirurida, part 3, Diplotriaenoidea, Aproctoidea and Filarioidea. In: Anderson RC, Chabaud AG, Willmott S (eds) CIH keys to the nematode parasites of vertebrates. CABI, Wallingford, pp 59–116

Bain O, Baker M, Chabaud AG (1982) Nouvelles données sur la lignée Dipetalonema (Filarioidea, Nematoda). Ann Parasitol 57:593–620

Leidenberger S, Hårding K, Härkönen T (2007) Phocid seals, seal lice and heartworms: a terrestrial host–parasite system conveyed to the marine environment. Dis Aquat Org 77:235–253

Leidy J (1858) Contributions to helminthology. Proc Acad Nat Sci Philadelphia 10:110–112

Maggenti AR, Maggenti MA, Gardner SL (2005) Armand R. Maggenti online dictionary of invertebrate zoology. http://digitalcommons.unl.edu/onlinedictinvertzoology/2

Poinar GO, Quentin JC (1972) The development of Abbreviata caucasica (von Linstow) (Spirurida: Physalopteridae) in an intermediate host. J Parasitol 58:23–28

Smith JL (1980) Redescription of Dipetalonema (Acanthocheilonema) procyonis Price 1955 (Nematoda: Filarioidea) from the racoon. J Parasitol 66:333–336

Westerling B, Stenman O, Rudbäck E (2005) Pathology of seals from the Finnish coastal waters, Lake Saimaa and Lake Ladoga in the years 1982–2004. Proceedings from the Symposium on Biology and Management of Seals in the Baltic area, 15–18 February 2005, Helsinki, pp 76–79
Acknowledgements
We are grateful to Dr. Eric Hoberg and Patricia Pilitt for arranging the loan of types and other specimens from the USNPC. Dr. Elín Sigvaldadóttir (SMNH) is thanked for assistance with arranging the SEM plate. The study was partially funded by a stipend to SB from Riksmusei Vänner to invite SL as a guest researcher in the SMNH.
About this article
Cite this article
Leidenberger, S., Boström, S. Characterization of the heartworm Acanthocheilonema spirocauda (Leidy, 1858) Anderson, 1992 (Nematoda: Onchocercidae) in Scandinavia. Parasitol Res 104, 63–67 (2008). https://doi.org/10.1007/s00436-008-1159-1
Received:

Accepted:

Published:

Issue Date:
Keywords
Harbour Seal

Intraspecific Variability

Nerve Ring

Excretory Pore

Morphometric Character