Abstract
Interconversion between tachyzoites and bradyzoites of Neospora caninum plays a pivotal role in transmission of the parasite. Although significant efforts have been made toward understanding the mechanisms that trigger and control stage conversion of the parasite, little is known about this process. We used annealing control primer (ACP)-based polymerase chain reaction (PCR) technique to characterize the differences in transcription between tachyzoites and bradyzoites of N. caninum. The in vitro stage conversion of N. caninum-infected Vero cells was induced by treatment of infected cultures with 70 μM sodium nitroprusside. Subsequently, the gene expression profiles of the tachyzoites and bradyzoites were analyzed through comparison of the level of messenger RNA expression. ACP-based PCR revealed 85 amplicons that were consistently differentially expressed between tachyzoite and bradyzoite stages. Of the 85 differentially expressed transcripts identified, ten were cloned into Topo TA cloning vector, sequenced, and further analyzed by the Basic Local Alignment Search Tool. These differentially expressed transcripts include a combination of known genes and as yet unidentified genes. The present work provides candidate genes for further investigation on molecular basis of stage conversion from tachyzoites to bradyzoites of N. caninum.
This is a preview of subscription content, log in to check access.
Access options
Buy single article
Instant access to the full article PDF.
US$ 39.95
Price includes VAT for USA
Subscribe to journal
Immediate online access to all issues from 2019. Subscription will auto renew annually.
US$ 199
This is the net price. Taxes to be calculated in checkout.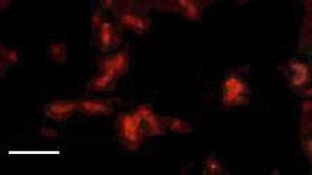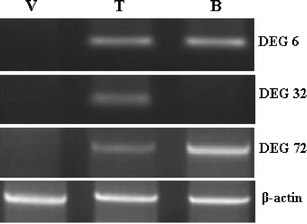 References
Anderson ML, Andrianarivo AG, Conrad PA (2000) Neosporosis in cattle. Anim Reprod Sci 60:417–431

Buxton D, McAllister MM, Dubey JP (2002) The comparative pathogenesis of neosporosis. Trends Parasitol 18:546–552

Chakrabarti R, Walker JM, Chapman EG, Shepardson SP, Trdan RJ, Curole JP, Watters GT, Stewart DT, Vijayaraghavan S, Hoeh WR (2007) Reproductive function for a C-terminus extended, male-transmitted cytochrome c oxidase subunit II protein expressed in both spermatozoa and eggs. FEBS Lett 581:5213–5219

Cui XS, Shin MR, Lee KA, Kim NH (2005) Identification of differentially expressed genes in murine embryos at the blastocyst stage using annealing control primer system. Mol Reprod Dev 70:278–287

Dubey JP (1999) Neosporosis—the first decade of research. Int J Parasitol 29:1485–1458

Dubey JP, Schares G, Ortega-Mora LM (2007) Epidemiology and control of neosporosis and Neospora caninum. Clin Microbiol Rev 20:323–367

Ellis JT, Ryce C, Atkinson R, Balu S, Jones P, Harper PA (2000) Isolation, characterization and expression of a GRA2 homologue from Neospora caninum. Parasitology 120:383–390

Fernandez-Garia A, Risco-Castillo V, Zaballos A, Alvarez-Garcia G, Ortega-Mora LM (2006) Identification and molecular cloning of the Neospora caninum SAG4 gene specifically expressed at bradyzoite stage. Mol Biochem Parasitol 146:89–97

Fuchs N, Sonda S, Gottstein B, Hemphill A (1998) Differential expression of cell surface- and dense granule-associated Neospora caninum proteins in tachyzoites and bradyzoites. J Parasitol 84:753–758

Gondim LFP, McAllister MM, Pitt WC, Zemlicka DE (2004) Coyotes (Canis latrans) are definitive hosts of Neospora caninum. Int J Parasitol 34:159–161

Hwang IT, Kim YJ, Kim SH, Kwak CI, Gu YY, Chun JY (2003) Annealing control primer system for improving specificity of PCR amplification. BioTechniques 35:1180–1184

Hwang KC, Lee HY, Cui XS, Kim JH, Kim NH (2005) Identification of maternal mRNAs in porcine parthenotes at the 2-cell stage: a comparison with the blastocyst stage. Mol Reprod Dev 70:314–323

Kalurachchi K, Uma K, Zimmermann RA, Nikonowicz EP (1997) Structural features of the binding site for ribosomal protein S8 in Escherichia coli 16S rRNA defined using NMR spectroscopy. Proc Natl Acad Sci USA 94:2139–2144

Kim YJ, Kwak CI, Gu YY, Hwang IT, Chun JY (2004) Annealing control primer system for identification of differentially expressed genes on agarose gels. Biotechniques 36:424–426

Lally N, Jenkins M, Liddell S, Dubey JP (1997) A dense granule protein (NCDG1) gene from Neospora caninum. Mol Biochem Parasitol 87:239–243

Lindsay DS, Blagburn BL, Dubey JP (1992) Factors affecting the survival of Neospora caninum bradyzoites in murine tissues. J Parasitol 78:70–72

Lindsay DS, Dubey JP, Duncan RB (1999) Confirmation that the dog is a definitive host for Neospora caninum. Vet Parasitol 82:327–333

Lyons RE, McLeod R, Roberts CW (2002) Toxoplasma gondii tachyzoite–bradyzoite interconversion. Trends in Parasitology 18:198–201

McAllister MM, Parmley SF, Weiss LM, Welch YJ, McGuire AM (1996) An immunohistochemical method for detecting bradyzoite antigen (BAG5) in Toxoplasma gondii-infected tissues cross-reacts with a Neospora caninum bradyzoite antigen. J Parasitol 82:354–355

Nevskaya N, Tishchenko S, Nikulin A, Al-Karadaghi S, Liljas A, Ehresmann B, Ehresmann C, Garber M, Nikonov S (1998) Crystal structure of ribosomal protein S8 from Thermus thermophilus reveals a high degree of structural conservation of a specific RNA binding site. J Mol Biol 279:233–244

Ramamoorthy S, Sanakkayala N, Vemulapalli R, Duncan RB, Lindsay DS, Schurig GS, Boyle SM, Sriranganathan N (2007) Prevention of vertical transmission of Neospora caninum in C57BL/6 mice vaccinated with Brucella abortus strain RB51 expressing N. caninum protective antigens. Int J Parasitol 37:1531–1538

Risco-Castillo V, Fernandez-Garcia A, Zaballos A, Aguado-Martinez A, Hemphill A, Rodriguez-Bertos A, Alvarez-Garcia G, Ortega-Mora LM (2007) Molecular characterisation of BSR4, a novel bradyzoite-specific gene from Neospora caninum. Int J Parasitol 37:887–896

Shin MR, Cui XS, Jun JH, Jeong YJ, Kim NH (2005) Identification of mouse blastocyst genes that are downregulated by double-stranded RNA-mediated knockdown of Oct-4 expression. Mol Reprod Dev 70:390–396

Smith JE (1995) A ubiquitous intracellular parasite: the cellular biology of Toxoplasma gondii. Int J Parasitol 25:1301–1309

Vonlaufen N, Guetg N, Naguleswaran A, Muller N, Bjorkman C, Schares G, von Blumroeder D, Ellis J, Hemphill A (2004) In vitro induction of Neospora caninum bradyzoites in vero cells reveals differential antigen expression, localization, and host-cell recognition of tachyzoites and bradyzoites. Infect Immun 72:576–583

West DM, Pomroy WE, Collett MG, Hill FI, Ridler AL, Kenyon PR, Morris ST, Pattison RS (2006) A possible role for Neospora caninum in ovine abortion in New Zealand. Small Rumin Res 62:135–138
Acknowledgment
This study was financed by a grant from the National Veterinary Research and Quarantine Service, Korean Ministry of Agriculture and Forestry. The authors wish to thank Khac-Minh Thai and Dung Tien Le for their helpful discussions.
Electronic supplementary material
Below is the link to the electronic supplementary material.
Differential expression of transcripts between two developmental stages. ACP-based PCR is applied to identify DEGs between tachyzoites and bradyzoites using GP, a combination of 120 arbitrary primers and two anchored oligo(dT) primers of ACP-based fishing kit (See-Gene, Seoul, Korea). Gels are photographed to show differential banding patterns between tachyzoites (2) and bradyzoites (3), and Vero cells (1) produced in vitro after ACP-based PCR. The amplified cDNA products are separated on 1.5% standard agarose gels stained with ethidium bromide (DOC 7.13 MB)
About this article
Cite this article
Kang, S., Kweon, C., Lee, E. et al. The differentiation of transcription between tachyzoites and bradyzoites of in vitro cultured Neospora caninum . Parasitol Res 103, 1011–1018 (2008). https://doi.org/10.1007/s00436-008-1082-5
Received:

Accepted:

Published:

Issue Date:
Keywords
Vero Cell

Tissue Cyst

Amplify Polymerase Chain Reaction Product

Stage Conversion

Specific Polymerase Chain Reaction Product